The Best Ice Cubes Trays To Get Your Party Swinging
Novelty ice cubes trays are such fun, and can be, if you excuse the pun, a great 'ice-breaker' helping to get your party conversation flowing and setting a light hearted mood.
Novelty Ice Cubes To Get Your Party Swinging
I like to make novelty ice cubes for my parties, I think that the comments they receive when floating in someone's drink just helps to get the conversation started and flowing, and if you can find an ice cube that fits in with the theme of your party then that's even better!
Novelty ice cubes are such fun and can be, if you excuse the pun, a great 'ice-breaker' helping to get the party conversation flowing and setting a light hearted mood.
Simply fill the novelty Ice Cubes Trays with water or even juice for something a little more colourful and interesting.
My guests certainly seem to appreciate a little novelty which makes their drinks a lot more fun, and from guitars to dinosaurs there is almost certainly an ice cube tray for any themed party.
So, on this page I will show you a few of those fun, novelty ice cube trays for you and your guests to enjoy.
Gin And Titonic Anyone?
The gin and titonic novelty ice cubes are always a great talking point with their floating ice bergs and listing ocean liners.  I think that they look at their best in clear drinks such as gin or vodka and tonic, but they are still great in other cold drinks too.
These ice cubes trays would be a great addition to an Oscars themed party, or if you are looking for a gift for the person who has everything they would make a really fun gift for any Leonardo DiCaprio, Kate Winslet, Titanic or Poseidon Adventure fans.
If you only buy one of these ice cube trays you would probably have to plan in ahead for your party and make several batches of icebergs and ships in advance to keep in the freezer and use as required, its easily done but obviously less time consuming if you have two or three of the ice cubes trays.
The Gin And Titonic Ice Cube Trays Consist Of 4 Sunken Ships And 4 Ice Bergs
For The Perfect G&T
Take a tall glass and fill it with ice, (the icebergs and listing ocean liners from the Gin and Tironic ice cube set work well), add 1 part gin to three parts tonic water, add a wedge of lemon or lime and mix well. Sit back, relax, sip your drink and enjoy!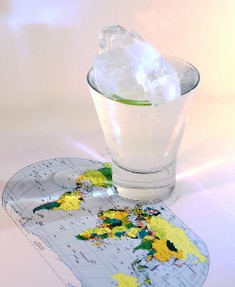 Photo courtesy of Adrian Midgley
Guitars And Musical Notes Ice Cubes Trays
A must have for those guitar lovers or those who like to host parties!
When you think of parties you think of fun, music and drinks. And these cool ice cube trays are just the thing to make your drinks sing! The guitars are great, they use a cocktail stirrer for the neck of the guitar to complete the look.
There are 3 guitars to a pack so you may want to buy additional sets if you need a quantity of the guitar ice cubes for a party.
Guns And Bullets Ice Cubes Trays
Imagine a James Bond, or Mobster themed party or even a Murder Mystery party.
These great gun and bullet novelty ice cube trays are just the thing to get the conversation flowing and set the tone of the party.
The detail on the guns is very good and you wont be disappointed in them.
One thing to note with silicon ice cube trays is that they are flexible and you may find it easier to place the tray on a plate before putting in the freezer to prevent spillages.
Ice Cube Trays For Your Halloween Party
Use different colored juices for great effects for your Halloween ice cubes.
The pumpkins look great made up in orange juice.
Or, for the extra wow factor go for the lighted pumpkins. 
You can freeze them and use them in drinks or even use them as a Halloween decoration. They are completely safe and non toxic, and can be used in flashing mode or with a steady light.
Ice Cube Trays For Your Kids Party
Little girls especially will love the Ice Princess star shaped ice cube wand and stars and Ice Palace Ice Cube Trays, and, the Mickey Mouse design goes down well with everybody!
And for the bigger 'kids' who are old enough to remeber, the space invaders ice cube tray will bring memories of past childhoods flooding back!
Personally I like the rubber ducky ice cube tray, I think the ice cubes would look great made up in orange or lemon juice.
Declare Your Love...
.... not just for Valentines Day, although admittedly that would be a perfect occasion to use them, as would birthdays and anniversaries, but you can use these ice cubes at any time to pop into your loved ones drink just as a reminder that you love them, a romantic gesture like that is always appreciated!
These ice cube trays would also make perfect jello molds for a romantic treat, just fill the molds with strawberry jello.
Frozen Fruit Also Makes Great Ice Cubes
I have shown you some of the best novelty ice cubes trays available, but, in addition you can also try chopping into chunks an orange, lemon and a lime (leaving the skins on), place them on a tray and freeze for 4 to 5 hours.
The citrus 'ice cubes' add another dimension to your drink, they provide a hint of fresh sharpness, look good and work well with, or, in place of your chosen ice cubes to chill your drinks.
---
Disclosure: This page generates income for authors based on affiliate relationships with our partners, including Amazon, Google and others.