The Concept of Freedom – A Cartoon Motivator
"You can shackle my body but you can never shackle my mind. My mind shall always be free to create, to inspire, to live my life - my way."
The Concept of Freedom – a Space Explorer's View
Being free to live your life – your way!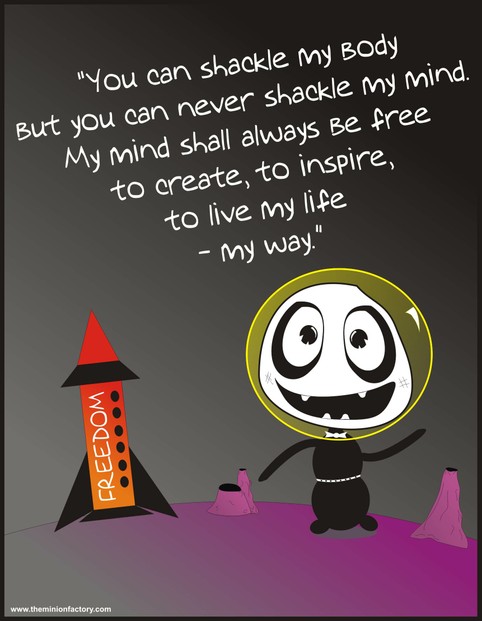 The Concept of Freedom – a Space Explorer's View
You are always free!
Free to dream, free to hope, free to be free...
As a kid, and even a young teenager, I have always loved to sneak out late at night, my trusty telescope clutched under my arm, a flask of hot chocolate in my hand. Alone, when all else was silent and peaceful in the world, I would set up my telescope and gaze upon the bright starry heavens in wonder. Few things in life are as sobering as realizing that each and every star out there is unique, with its own setup of planets and moons. It makes you feel small, alive and yes, it adds such vibrant colors to the world! At that serene and perfect moment it was just me, my thoughts and the entire unending universe that lay before me.
Looking back now I realize that my parents always knew about my late night wanderings, yes, even during school weeks I'd sneak out, and stay out until the very early morning. With the wisdom of a young adult I now know that they were silently approving of my behavior, that in a way they sensed that like them, I too am a dreamer and that is a trait that should always be encouraged, allowed space to grow.
You see, it was during those serene moments, looking up at the stars that I first really and truly started valuing my freedom. I have the freedom to express my thoughts, the freedom to dream, the freedom to hope. I didn't want that moment to end. I longed to cling on to that moment, to always carry with me the banner of freedom that I so enjoyed. It wasn't long before I decided to start doing something about it…
I went to the local arts and crafts store and bought baskets full of glow in the dark paint. Each afternoon, right after dinner, and yes, after my homework was done, I'd take to the ceiling of my bedroom with excitement. Using the glow in the dark paint, and several huge tomes that I borrowed from the library, I started recreating the night sky on my ceiling. I always thought that my parents wouldn't notice. In a way I hoped that they wouldn't. You see, I was afraid that they might not approve of me painting my bedroom ceiling. How silly I was back then. They understood perfectly well what I was trying to accomplish, and they gave me all the support and freedom that I needed.
So it went on for several painstaking weeks. Never let anybody tell you that hand-painting a ceiling with glow in the dark paint is easy business! It is tough work, but the reward was more than worth it!
Laying on my bed, the lights switched off, I could stare up and no longer see the limiting ceiling of my bedroom, for through hard work and dedication it was replaced with a blanket of stars; stars that represented to me some of the very best qualities of mankind.
Those are the qualities that every dreamer posses. Every person on earth is a dreamer, so we all share those qualities – the ability to transform our dreams and manifest them, with hard work, reasoning and dedication, into the real world.
It is not what you look at that matters, it is what you see that matters.
Another Daily cartoon Motivator by Abie Davis (The Minion Factory)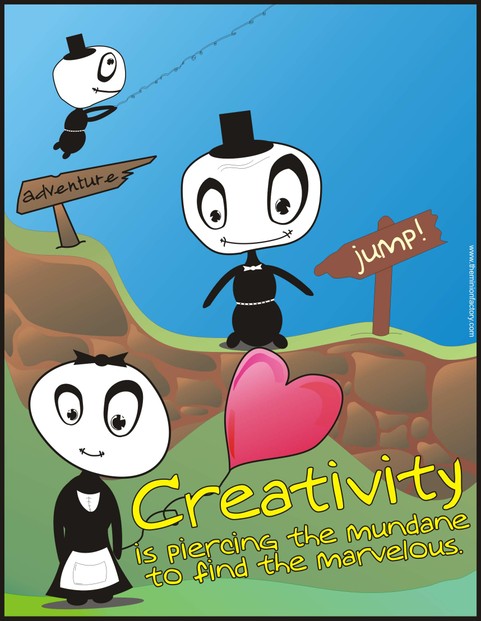 It is not what you look at that matters, it is what you see that matters.
It is not what you look at that matters, it is what you see that matters.
You have the freedom to choose!
 Why did I tell you this story? What is the point in sharing this with you? Oh dear reader, this story illustrates another of my famous cartoons – It is not what you look at that matters, it is what you see that matters. It makes sense, doesn't it?
You could choose to live in an ordinary and mundane world. You could look at the world all around you and see sadness, suffering, failure and pain. Or… or you could decide to look at the world and realize that you, as one person, can make a difference. All you have to do is realize that you can change the ceiling of your limits into a blanket of stars. The question is not "can you?" the question is – Will you?
You might also like
Who Is Happy?
What determines, defines happiness? Is it having the most stuff? Are people ...
Illusion
The world is full of mystery and illusion. Here I explain my views about it,
---
Disclosure: This page generates income for authors based on affiliate relationships with our partners, including Amazon, Google and others.