The VTech InnoTab Interactive Learning Tablet
by brumnick
Thinking about buying one of these great learning tablets for your child? Find out all you need to know here.
If you find that your children has plenty of toys but these do not really teach them anything valuable, consider the VTech InnoTab Interactive Learning Tablet. The VTech learning tablet enables children to learn in a way that is effective. Since children are able to have fun in the process of learning, the VTech educational toy is able to hold their attention. Through this kids interactive learning tablet, children are able to enhance their creativity, learn how to read and also play the most fun educational games. And through simple actions as dragging, flicking, patting and tapping, children are able to enhance their psychomotor skills.
Buy The VTech Learning Tablet HERE!
Or the LeapFrog Leap Pad...
Vtech Learning Tablet Product Features
5" touch screen that presents animations in full color
Sensor detects when unit is tilted, working to adjust the view immediately
Applications include a Calculator, Interactive Globe, Clock, Friends List, Art Studio, Photo Viewer, Media Player for Videos and MP3s, eBook Reader
Extra cartridges and apps with exclusive characters available for purchase, and help kids enhance their logic, reading and creative side
VTech's Learning Lodge Navigator accommodates downloaded games and eBooks
Personal report of kids' progress
Included memory is 64MB, memory expansion available through SD card slot
Can connect to a desktop PC or Mac using a USB cable (included)
The Official VTech Commercial
All Children Will Love The VTech Interactive Learning Tablet
I myself have used the VTech learning tablet and I see how it helps my son Connor learn. It's a lot like my tablet - but for kids - so the animations are more fun for children. I've downloaded some photos to teach my son about different animals and objects, and the MP3 player's sound quality (Connor loves Disney songs!) is nothing short of amazing. I think there is nothing educational that I won't be able to teach Connor using this learning tablet, and I would definitely recommend it to parents that want their kids to play games that are fun, and learn at the same time.
The VTech learning tablet is a great means for kids aged 4 to 9 to learn new things, at a pace that is perfect for them. It features many apps and new content can always be downloaded, so kids are not likely to get tired of the tablet fast. I got this for my 5 year-old a couple of months back, and this has turned out to be one of his favorite toys. Before this, he always tried to play with my iPad, but he wasn't exactly getting anything done with the apps I had installed, and so I figured he should get something more suitable. My son always plays with his VTech learning tablet at home or in the car, even before going to sleep. His eyes lit up when I first taught him how to tap, slide, pat, flick and drag to navigate and play.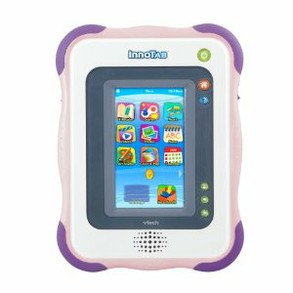 Available In Blue Or Pink
VTech Learning Tablet Apps
There are some basic apps that the VTech Innotab has installed as standard so there is always something to keep your child busy through learning.
E-reader
Art Studio
Organizer
Videos
Motion Games
Coloring
Music, and
Photos
Interactive And Animated E-books Using The E-Reader
The E reader ob the Innotab is great for bringing books to life so that your child can really nurture their own imagination.  These E books are all interactive and allow the child to be read to by the tablet, with the words highlighted as they are spoken.  The books come alive if your child presses animations on the screen and they can interact with characters and objects.  The tablet also allows your child to select words so that they can understand how they sound and how they are pronunciated which helps massively with increasing their own reading ability whilst enjoying fun comprehension and phonics exercises.
Motion Games On The VTech InnoTab
This wonderful interactive tablet has a built in motion sensor which allows your child to play great games that require motor actions such as flicking items on the screen, dragging and dropping and tapping.  These skills are great for coordination and really help your child develop properly.  My sons favorite games are a driving game were he steers the car by tilting the whole tablet like a stearing wheel and a maze game which is great for developing his logic and motor skills.  You have to drag and drop objects on the screen so your little character can move about and then tilt the tablet to make hime move the way you want hime to. Its wonderful to see the fun he gets from these games knowing that he is learning whilst really enjoying himself!
There are many extra games available to download through VTech for no additional cost whatsoever but if your child has a particular favorite character at the time then you can buy these character games at an extra cost.  The best prices I have found are available through amazon and I have supplied the links below.
These character games include Disney Pixar Cars, Toy Story, Dora the Explorer, Mickey Mouse, Disney Fairies, Sponge Bob Square Pants, Disney Princesses, Scooby Doo ans Penguins of Madagascar.  All are available by clinking any of the three games below.
Loads Of Different Games Available With Your Childs Favorite Characters
Click for more options
Getting The Creative Juices Flowing With The VTech Interactive Learning Tablet
The main feature for me is the wonderful creative apps that this tablet has.  At the moment my son is a bit to young for most of them but there is great potential.  His favorite at the moment is the interactive coloring books that allow the child to color in pictures and then when they pick the tablet up the picture comes to life in 3D! This makes my kid giggle everytime!
The other thing he loves is the fact he can draw on photos of mommy and daddy.  We can upload photos and then through the app he can draw over the photos so he has been adding lots of facial hair and hats as you can imagine!
When he is a bit older there is another great app that allows him to draw freehand on it with loads of differenteffects, similar to what I have on my Ipad.  I think he will absolutely love that!
Organization With The InnoTab Tablet
This is a lovely feature that I'm sure my son will use a lot as he gets older but is probably a bit too young at the moment.  The InnoTab has a built in organizer that has an address book and calendar, a calculator and a clock.  It also allows the child to store and organize their own photos and videos which they can take with an add on camera and a place to store and listen to music as MP3 files so they can listen whenever they want.
VTech Camera to use in conjunction with the InnoTab Tablet
Which Interactive Learning Tablet Would You Prefer For Your Child?
---
Disclosure: This page generates income for authors based on affiliate relationships with our partners, including Amazon, Google and others.