The work of a Plumber
A plumber is a person who takes care of all the leaky faucets and water pipes.He is responsible for installing and maintaining water systems.
A Plumber
Who is a Plumber?
A Plumber is a person who specializes in maintaining and installaing fixtures for gas, water, sewerage, and drainage purposes. He is of a great value to the society and offers valuable services. The word 'plumber' has been derived from the word 'plumbum' which means 'lead' because lead was used in ancient times for the building of pipes and the persons who worked with lead came to be known as plumber.
The work of a plumber is a combination of physical strenghth and mental intelligence. He is responsible for reviewing  building plans and specifications to determine the layout for plumbing and related materials. Proper maintainence and installation services are performed by him according to the proper codes of installations. 
The main task of a plumbing is plumbing which includes working with pipes, heaters, tubing and plumbing fixtures for portable drinking water and the drainage systems for proper disposal of waste. A plumber works with many equipments,the common ones are Hack saw, Shovels, Chisels, Pipe cutter, Flashlight, Steel pipe cutter, wrench, Plunger, Sink auger, Toilet auger, Plumber's putty etc.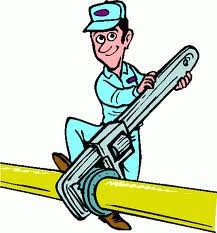 Plumber
Common Plumbing Problems
When should we call a Plumber?
Plumbing problems are common problems for every household and therefore a plumber is of great importance for all of us. The common plumbing problems are discussed below:-
 1- Running toilets which can cause continous waterflow leading to the wastage of water.
2- Toilet clogs,casused due to the building up of waster matter.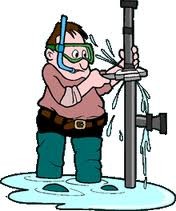 3- Shower leaks or clogged showerhead.
4- Noisy pipes.
5- Problem of garbage disposal caused due to burning of the motor.
6- Low water pressure caused due to Damaged aerators.
7- Metal pipe corrosion which may lead to colored tap water.
8- Gas leaks caused due to ruptured pipes.
9- Freezing pipes which may lead to the bursting of pipes.
10- Water hammering caused due to sudden valve closure.
11- Vibrating pipes.
12- Slab leaks.
There are several plumbers around; and you can hire the best plumber who can ensure safety to your house. Remember plumbing requires experience and professional effort so do not try and do it yourself(Except for minor problems). 
Duties and Responsibilities of a Plumber
Importance of a Plumber
A Plumber performs the following duties:-
1- Installation of plumbing systems.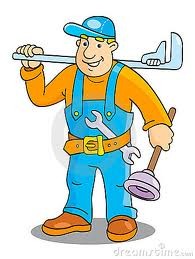 2- Maintainance and repairing of plumbing systems.
3- Assembling and installing valves and fittings.
4- Testing of pipes and fixtures.
5- Maintainence of building codes.
6- Installations and maintainence of equipments ensuring that it meets environmental protection
requirements.
7- Preparing budgets and maintaing daily reports.
8- Scheduling of work.
9- Good knowledge of ice machines, thermostats, vaccum cleaners, pipes, gas piping, water heaters, boilers, iron pipes, air chambers, risers etc.
10- Working in cooperation with other trades and laborers to ensure that all specifications, legislation and policies are met, ensuring efficient completion of any project.
Useful Plumbing resources
---
Disclosure: This page generates income for authors based on affiliate relationships with our partners, including Amazon, Google and others.