Things To Look For When Searching For A Stainless Steel Range Hood
by qharris
One shouldn't over look the importance of range hoods in the kitchen. The article below details the two main options when faced with selecting range hoods for your kitchen.
There are many things that are needed in a kitchen these days, however, one of the most important and one of the most often overlooked item in a modern day kitchen is the range hood. Today, with the trend of kitchen appliances going more along the lines of a stainless steel look, a stainless steel range hood might be in order.
What these range hoods do is offer a very valuable service to most kitchens. The first thing it does is help to remove heat that can build up over most range tops. In addition, with steam rolling off of pots and pans on a range top, a hood helps to remove any unwanted moisture. Lastly, a range hood allows for grease that can sometimes be lifted up into the air to be captured.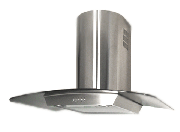 When it comes to a stainless steel range hoods, you are going to have two separate options. The first option is a hood that ventilates old air out of the kitchen through a specific ventilation tube. This is often the most recommended option, however, if your kitchen doesn't have a dedicated ventilation tube, then this option might not be the best way to go.
The other type of range hood is one that recirculates the air in a kitchen and helps to catch any fumes, moisture and grease in a filter that is on the bottom side of the hood itself. While this option is not as beneficial as a hood that vents air outside, if you have no way of ventilating air outside, this is going to be your best option.
Whether you are using a stainless steel range hood that vents air outside or recirculates the air, your range hood will have a filter. These filters are very important to the inner workings of your hood. They allow the air to be filtered, they allow the fan to work efficiently and they allow for grease to be caught.
Now many hoods come with filters that can be cleaned and reused. Some need to be replaced. However, in any event, you should maintain your hood filter and give it the attention it requires when it requires it. In addition, make sure your hoods filter is easily accessible.
When you are considering a stainless steel range hood you need to take more things into account than just the size of the hood. You also need to consider things like if the hood range offers lighting and how well it lights your range surface.
Another issue that you will want to look for is a range hood that has quiet operations. While a range hood is a necessity in a kitchen, the last thing you want is a noisy range hood. While a quiet range hood is an excellent thing, you need to remember that the most quiet or noiseless options are also likely to be the most expensive options as well.
Range Hood Picture

Range Hood
Are you considering buying a stainless steel range hood?
---
Disclosure: This page generates income for authors based on affiliate relationships with our partners, including Amazon, Google and others.