Tips When Moving
by mandeesears
Relocating is a chore and since I am approaching my 28th move, I thought I would share these tips when moving. They will come in handy and make your relocation go smoother.
Tips When Moving - Across Town or Country
I've had some experience...
Statistics show that the average American moves 10 times in their lifetime. I've got that beat -- all to heck. 
Having been raised in a military family and the fact that my dad loved the adventure of moving to a new place even when he wasn't in the military, coupled with the moves I've made since marrying, I have moved most of my life -- getting ready for number 28 as I write this article. That is close to 3 times the average. (I always said I was above average! LOL) 
Some moves were completed by moving companies and others we did ourselves. Over the years, I have picked up some valuable tidbits that come in handy when you are ready to pick up and move yourself. I hope you can benefit from them. 
One tip is to make sure you let everyone know your new address. Utility companies, loans, neighbors, your insurance company and the newspaper boy. You'd be surprised how many people forget to let important people and companies know their new address!
Did You Know...
Americans live in their home an average of 5 years.
source: US Census Bureau
How to Pack for Moving
Pre-Planning is Key
Packing is the biggest challenge when moving if you don't have a full service moving company. You can learn from professional movers by reading some of their packing tips: 
Plan to start packing a few weeks prior to the move. Pack items you don't use everyday like pictures, wall art and knick knacks. Packing won't seem so overwhelming if you spread it out. 
Use uniform sized, medium boxes for the majority of your packing. These are 18" x 18" x 16" and 3 cubic feet or "3 Cubes". They will be easier to carry, load and stack. Use specially made boxes for Dishes (dish pack), clothing (wardrobe box), mirror, lamp and electronics. These help to protect your goods.  
Use quality packing products. Skimping here will ultimately damage your treasured possessions. Replacing them will cost a lot more than spending a bit extra on quality moving products. 
Reinforce all the boxes with 2 extra strips of tape on the top and bottom. (see diagram)
Try to pack 1 room at a time,leaving out only what you will need immediately upon arriving at your new destination. 
Pack each box full using paper and filler items like pillows, towels and linens. The less space for items to move around during transit the more protected they are. Less space = less damage
Disassemble items that you can. This will take less space and allow you to ensure the items are protected.  
Do NOT overpack. Boxes should close easily but snuggly. Bulging boxes = damaged goods. Do NOT under pack. Boxes will crumple when stacked and you risk damage.  
Tips When Moving Furniture
Protecting the investment you have made in your home furnishings is important while moving. Make good use of furniture pads, blankets or bubble wrap to protect vulnerable corners of tables, dressers and the like. 
Removing legs of furniture when possible will also protect it better. Put all the nuts and bolts in a plastic sandwich bag and seal. Tape it to the underside of the piece of furniture so it is readily available at your new home. 
Secure doors and drawers of furniture for the move. Movers plastic wrap comes on a spool with a handle. This makes it easy to apply. The plastic wrap sticks to itself but won't mar your furniture. 
Use blankets or furniture bags to protect upohlstered sofas, mattresses, chairs, etc...
If using a dolly or hand truck, wrap it with a furniture pad and secure with packing tape. This will ensure your furniture isn't scrapped or gouged by the hand truck as you use it.  
2009 to 2010 US Mobility Chart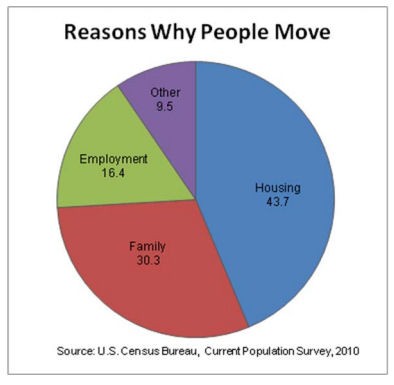 Reasons People Move
Readying Your Appliances for a Move
Here are a few tips that will make the re-set-up at your new home easier where your applicances are concerned. 
For a washing machine, disconnect and empty all hoses and then store them in the tub of the washer. Stabilize the washer tub during the move by placing a towel between the tub and the wall of the appliance or by using an tub brace (available from most appliance stores). 
Clean and dry all appliances at least a day or two prior to the move. Tape electrical cords to the back of the appliance to avoid accidents or damage. 
Remove wire racks and broiler pans from ovens. 
Refrigerators should be unplugged at least 24 hours prior to moving. Defrost and clean thoroughly. Remove all racks and shelves from refrigerators prior to moving. 
Tape all doors and lids shut for safety. 
How to Pack
by North American Van Lines
Essential Packing Supplies
Favorite Tip When Moving
You should see how my mother packs a car, rental truck or van. I swear, there is never an inch of extra space, everything is neat and secure. She could put professional movers to shame. 
One of my favorite tips from mom is to use stuffed animals, toss pillows, cushions and the like to fill in any holes or space around an odd shaped piece of furniture. She places the item in a garbage bag and then stuffs it into the offending empty spaces instead of just another box. 
She says they don't weigh anything and do more good cushioning other boxes and items than they would in a box that might get crushed. 
Thanks mom! 
---
Disclosure: This page generates income for authors based on affiliate relationships with our partners, including Amazon, Google and others.