Top 5 Rhinestone iPod Touch Cases
by puzzlemaker
Sparkly rhinestone cases with lots of bling for your iPod Touch 4.
Pink, Sparkly, Jeweled, Rhinestone, 3D, Foo-Foo iPod Case
Best iPod Case for a Teenage Girl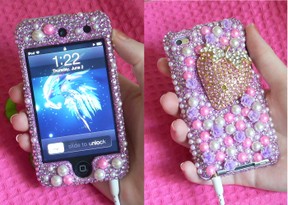 When my daughter sat down to pick out a case for her 4th generation iPod Touch, I was amazed at the number of options. I casually observed as she looked at hundreds of designs and finally narrowed it down to five. Who knew there were so many sparkly blingy choices in iPod Touch cases
? The cases she drooled over had any combination of gems, jewels, crystals, pearls, roses, butterflies, swirly patterns etc. and some even had 3D designs. Yes, I said 3D designs where the butterfly (or other design) sticks up off of the case. Honestly, the cases are pretty amazing. Here are her top 5 choices - The best iPod Touch cases chosen by a very girly 13 year old who loves all that bling. Which one did she choose? This one...

3D iPod Touch Case with Rhinestones, Pearls and Roses - See Product Below
Here it is! A Jeweled, Blingy, Pink Pearl, Rose and Strawberry 3D iPod Touch Case
Can it get any more girly?
More About These Sparkly iPod Touch Cases
Things we wondered when we ordered it
Is the case hard? Yes, the case is a hard case, comes in two pieces and it snaps together around the iPod.
Is the color in the Amazon photo accurate? The color is not exactly as the photo (see our personal photos of the case). My daughter says she likes the color better than the picture because the case has more color definition.
Do the openings in the case line up with ports, camera etc.? Yes they do. All the openings in the case line up exactly as they should for the iPod (even though the picture looks like they are off a little). On the iPod Touch Cases there will be several cutouts. This allows easy access to ports and buttons. On the 4th generation case there are cutouts for: 
Front Camera, Back Camera, Microphone, Home Button, Power Button, Volume Buttons, Speaker, Headphone Jack, and the USB port
Is she happy with her purchase? YES!
#3 - Pink Butterfly Rhinestone Cases - Totally Girly
3D Design with a Butterfly
Ad
#2 Choice - Blue Plaid Rhinestone Case
This was choice #1 for a long time
#4 Hello Kitty with Pink Leopard Print Background
A Cute Combination
Ad
#5 - iPod Touch Rainbow Colors Case
When You Can't Decide on a Color - Get Them All!
Ad
Here's a Look at the Runners Up
Lots of Rhinestones and Lots of Bling
#2 Ah yes, this was her favorite for months before she changed her mind. She looked at this blue plaid case over and over and over again. She says she may get it in the future as a back-up.
#3 3D Butterflies. When she saw the 3D cases it was love at first sight.This is her second favorite 3D case for iPods.
#4 My daughter has never been crazy about Hello Kitty, but because this 4th Generation iPod Case also has the pink leopard print she just couldn't resist the combination of cute and wild animal print.
#5 She loves rainbows and the bright beautiful colors of this rainbow designed case were eye catching.
Which is Your Favorite Blingy iPod Touch Case?
If You are One Step Behind Technology (like I was) Then You May be Interested in...
What is an iPod anyway?
More Totally Unique iPod Touch Cases
You might also like
DIY Ukulele Case
Learn how to make an inexpensive case for your new ukulele using the cardboar...
How To Chose An MP3 Player
MP3 players are extremely popular and convenient. MP3 players are discussed ...
---
Disclosure: This page generates income for authors based on affiliate relationships with our partners, including Amazon, Google and others.