What is Ebates?
by puzzlemaker
Take a look at these examples from my own personal account which explain exactly what Ebates is, how to use it and get other answers to frequently asked questions.
Ebates: How it works, the best way to use it and more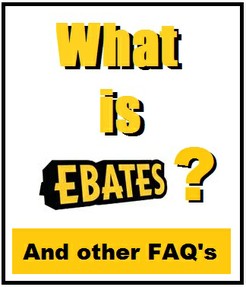 What is Ebates? Good question. I think the best way to explain what Ebates is and how to use it is to show a few examples.These examples of purchases and cash back are from my own personal account.
If you want to go straight to the examples, scroll down a little.
Ebates is a free, simple to use cash-back program for internet purchases. It is not a discount program for purchases. In other words, you won't get a reduced price at check-out, but you will get a rebate back on your purchases in cash.
I learned about Ebates about a month before Christmas in 2008 and skeptically gave it a try. By the end of the Christmas shopping season that year, I had earned $16.27. This was an accumulation from several purchases. It was a nice little perk and enough to buy a couple of pizzas.
Oh, and just for the record, if you'd rather donate your earnings to charity, you can do that too.
OK, honestly, what are you thinking so far?
This excellent 2 minute video about Ebates sums it all up
How does Ebates work? How do you earn cash cack?
Go to Ebates.com, click on the website link you'll be purchasing from THEN make your purchase as usual. That's it.
Earning cash back is really easy. Let's say you want to buy a book from Barnes and Noble. Normally you'd go straight to the Barnes and Noble website and make your purchase. Doing it this way, you'll earn no cash back. BUT if you open a free account at Ebates, this is how you'll do it: Go to Ebates, click on the Barnes and Noble logo (which will take you straight to Barnes and Noble), then check out as usual and you'll earn 3%-6% cash back into your Ebates account (some stores are more than 20%) . That's all you do.
In a day or two you'll get an email from Ebates with the details of your cash back amount. When you earn $5 or more, they'll send you a check (or deposit the amount into your paypal account). Enough rambling!
Take a look at these examples.

What is Ebates? First Example
Example #1: How I Used Ebates to Buy My Dishwasher
Here's a purchase I made and how much I earned into my Ebates account
Here's my first example. It's a purchase I made in January 2011.
What I purchased:  A dishwasher (kitchen appliance)
Website purchased from: Home Depot
Cost of dishwasher:  $278.00
Cash back I earned by using Ebates: $8.34 (3% of my purchase)
Why did I purchase my dishwasher by clicking through Ebates? Because I earned 3% cash back, shipping was free and I didn't mind waiting a few days for delivery.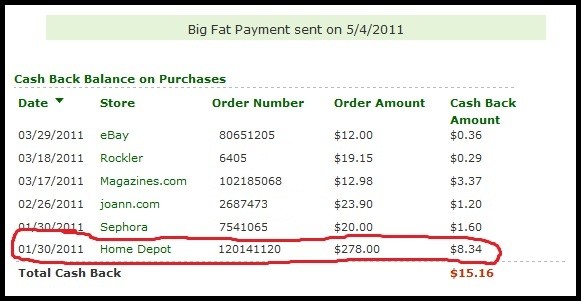 Examples of Cash Back from Ebates
Personal Examples of Cash Back

What is Ebates? Second Example
Example #2: Buying a Comforter Set for My Daughter
All you do is click through Ebates
Here's another example. It's a purchase I made in December 2009
What I purchased:  A comforter set
Website purchased from: Target
Cost of comforter set:  $79.99
Cash back I earned by using Ebates: $4.00 (5% of my purchase)
Why did I purchase the comforter set online by clicking through Ebates? My daughter picked out this exact set at a local Target store, but by the time we returned to buy it, they were sold out. BUT when I checked online at Target, they were still available. Sooooo, I went to Ebates, clicked on Target, then made my purchase as normal and earned 5% cash back. Shipping was free.
I'll get a small reward.
And so will you.
Usually when you sign up there is a $5 sign-up reward, but I have seen them offer it in the form of a gift card too. When you click on any link on this page, you'll see what the current reward is. Enjoy!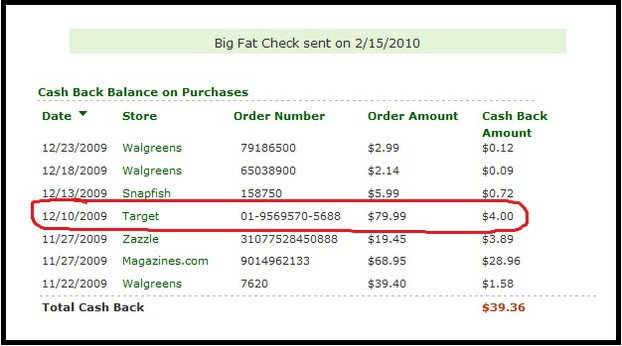 Using Ebates for online purchases
Honest answers about using Ebates, FAQ's and more
Please read
Do you trust and recommend Ebates?
Yes, I do. I've used them for almost 3 years and have no complaints.
Have they ever messed up one of your cash back amounts?
Yes, they missed one, but corrected it as soon as I notified them of it. I knew something was wrong when I clicked through to make my purchase because there was an error in the link. So I kept my eye on the cash-back for that purchase.
Once you sign up do they send you a million emails?
Well, no. But during special double cash back offers, they'll send you emails. And, of course, they send confirmation emails after you earn cash back.
Is this a scam?
No.
What if you go to Ebates, click through to your store of choice, then get distracted and click away, then go back to your store? Do you still get the cash back?
NO!!!! If you do that, you'll be "breaking" the path. You MUST click through Ebates and don't leave the store's website until you make your purchase. Sometimes if I get confused as to whether or not I've clicked away, I'll just close out all my tabs and start over.
Can you use coupon codes with Ebates?
Yes. Matter of fact they offer lots of coupon codes you may not find anywhere else. Basically, you make all purchases as you normally would - except you click through the Ebates website.
When does Ebates pay out the cash back?
Here's the schedule. It' quarterly. Feb 15, May 15, August 15, and Nov 15.
How do you get paid?
There are a few options. You can get a check in the mail (I'll try to add a photo of one of mine). Or you can get paid by Paypal (I just signed up for this). Or you can give your money to a charity or someone else. Update: I've added pictures below.
How to get paid from Ebates - 3 Options

How to get paid from Ebates
Name some stores listed at Ebates - There are 100's more
All earn you a rebate when you make a purchase
Home Depot     Target     Magazines.com     Kmart
Abebooks     Apple Small Business     Office Depot
Groupon     WalMart     HSN     Disney Store
You might be interested in these related articles and links
---
Disclosure: This page generates income for authors based on affiliate relationships with our partners, including Amazon, Google and others.