Unexplained Vomiting in a Healthy Baby
by wrylilt
If a baby starts throwing up but has no other symptoms of a sickness it can be worrying and hard to diagnose.
If you have a baby that is throwing up copious amounts it can be very worrying - especially if it happens repeatedly and continues for more than a day or two.
Unexplained vomiting is different than simply spitting up or reflux - vomiting happens repeatedly and usually has a bad smell because it's been sitting in the baby's stomach for a longer period of time. It also starts fairly suddenly and may not have anything else accompanying it.
This article relates to babies who have unexplained vomiting with no accompanying symptoms.
If you're baby seems to be acting completely as usual but is vomiting every few hours, it's natural to be worried.
It's not unlikely that a doctor may tell you to simply go home and come back if baby's condition deteriorates. If baby throws up for more than a few days the doctor may try a few tests, but if nothing else is out of the ordinary, they may just tell you to try some panadol and leave it at that.
So what should I do?
It can be very worrying to have unexplained problems of any sort with your baby and the worst thing about unexplained vomiting is the worry.
If you can keep meals to a small and regular amount as well as give baby regular amounts of panadol the vomiting will go away. Try and give liquids in small amounts every half hour or so - they're more likely to keep them down.
In fact if baby isn't suffering from any other symptoms it's a good sign - it means that they're keeping down some nutrients and aren't too sick.
So, as hard as it is, wait it out, because they will get better. But remember - if you're seriously worried, always see your doctor or visit your local hospital.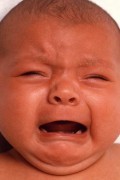 Some sick babies have lots of symptom...
Normal Signs of a Sick Baby
Most babies that are vomiting also have most of these signs as well. However some babies remain healthy in every other area and exhibit none of these symptoms.
Diarrhoea.
Temperature.
Unusual irritability.
Dehydration.
Refusal of food or drinks.
My Experience
My daughter threw up for 8 days with no other symptoms when she was nine months old. 
She began by throwing up every 1-3 hours and after three days was still throwing up every 3-6 hours. Despite tests for various problems by the doctor, no illness or infection came to light.
It took eight days before she stopped. And stop she did - with no obvious reason behind any of it.
---
Disclosure: This page generates income for authors based on affiliate relationships with our partners, including Amazon, Google and others.