Vintage Christmas Jewlery
by fitzcharming
An American tradition for generations
Wearing Christmas themed jewelry has been a tradition honored by American women for decades.  And collecting vintage Christmas jewelry has become a hot trend.  What a great way to display your collection - you get to wear it for several weeks for the festive holidays.
There are so many choices when purchasing vintage jewelry it can be overwhelming.  Where to begin? I've been collecting Christmas jewelry for a few years and can share what I've learned.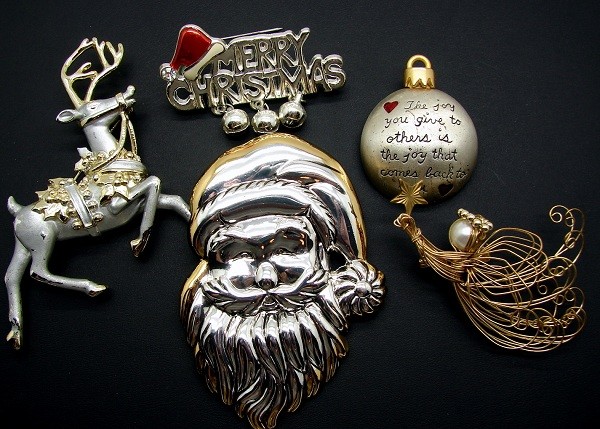 Christmas Jewelry
Fine Vintage Jewelry vs Costume Vintage Jewelry
I collect both fine jewelry, which is made from precious metals, and costume jewelry.  At first glance you may think that fine vintage jewelry is much more expensive than costume pieces, but sometimes the opposite is true.  The price of a high quality designer piece of costume jewelry will surprise you. 
One reason is that costume jewelry is more fragile and needs special care when wearing and cleaning.  As a general rule it wasn't made to last forever like find jewelry.  Costume jewelry should be put on after hairspray, makeup, and fragrance, and should never be immersed in liquids.  Women in the past probably didn't use the proper care because they had no idea their jewelry would be collectible.  They just wanted to wear their latest Christmas baubles during the season. 
Another reason the value of costume jewelry is skyrocketing is because the American designers and jewelry houses that produced mid century costume jewelry sold high quality handmade pieces.  The jewelry was made by the most popular jewelry artisans of the times.  Many of the signed costume jewelry that has survived is in high demand now. The combination of scarcity and demand....well you remember economics 101.  It translates to high prices.
Vintage Christmas Charm Bracelets
Charm bracelets are a fun jewelry accessory at Christmas time.  The jingling sound they make on your wrist is a festive sound during the season.  This sterling silver Christmas theme charm bracelet I call my "shabby sheek" bracelet.  It's got 3D charms with chippy enamel that looks well loved.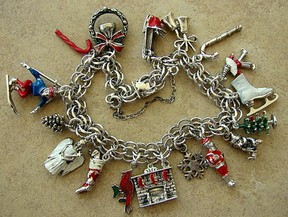 Most of the charms are vintage but there are few new ones in the mix.  The vintage bracelet is a triple curb link with a box style clasp.  I always get lots of complements when wearing it and I've had several folks ask me to make them one.
Sarah Coventry And Dept 56 Christmas Charm Bracelets
The 2 Christmas charm bracelets shown below are also in my collection.  The left picture is a goldtone Sarah Coventry bracelet filled with cute enamel charms.  Sarah Coventry was a jewelry line that was sold at home party demonstrations from the 1950s to the early 1980s.  This one is from around 1976. 
The sterling silver charm bracelet on the right features Department 56 collectible village building replicas.  Each is a mini version of a real Dept 56 collectible and is marked on the bottom.  There are a couple more that I still need to find and this one will be complete.  This bracelet is very heavy and I don't wear it, I just take it out and display it on my dressing table during the holidays. 
Vintage Christmas Charm Bracelets
Enjoy Reading More About My Christmas Jewelry Collections
Vintage Christmas Holiday Pins
How many ways can jewelry designers create Christmas Tree pins?  You would be surprised. Thousands of ways actually. Every year since the 1940s jewelry designers have been coming out with new styles and variations on old styles.  There's a whole sub-culture of Christmas tree pin collectors that cant wait to snatch them up from department store displays. Once they are sold out the value goes up.  And of course the older Christmas tree pins in good condition are worth the most.  I've got a few in my collection and love wearing them at Christmas.
| | |
| --- | --- |
| Vintage Unsigned Christmas Tree Pin | Vintage Trifari Christmas Wreath Pin |
More Vintage Jewelry Articles With Pictures From My Collections
Vintage Christmas Earrings
Christmas earrings are another way to add a bit of holiday jewelry bling to your wardrobe.  Earrings can be subtle and discrete, perfect for traditional office during the day, or bangly and bold, to announce your Christmas spirit in the evenings.  Clip styles and pierced Christmas earrings are available very inexpensively in department stores or on the web, making Christmas earrings great for a starter collection.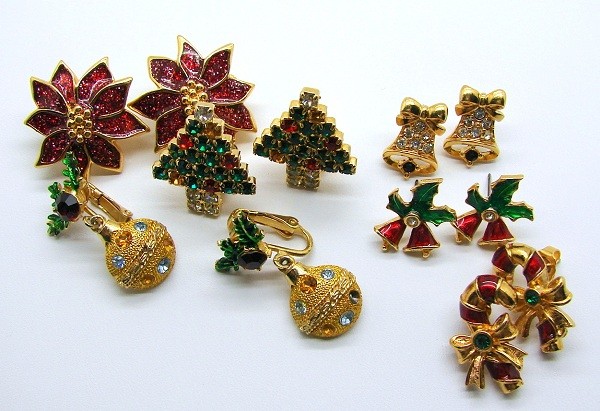 Sparkly Christmas Earrings
---
Disclosure: This page generates income for authors based on affiliate relationships with our partners, including Amazon, Google and others.