What You Don't Know About Trees Could Be Costing You More Than You Think
by jblack
Planting trees isn't just for the environmentally-conscious. Trees offer some surprising practical benefits to all.
More Reasons to Love Trees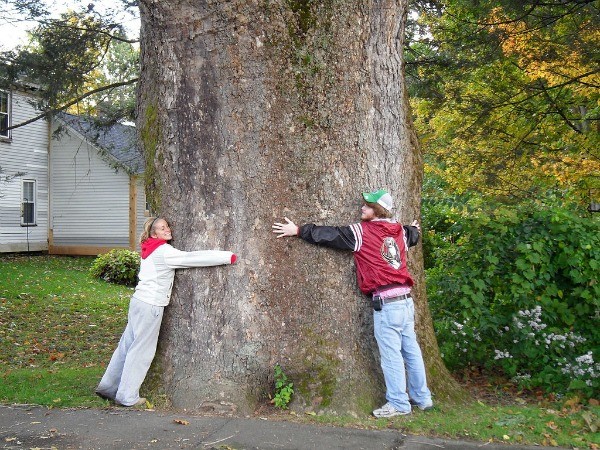 Giving Trees Some Love
Why You Should Become a Tree Hugger
While the term "tree hugger" is sometimes used in a derogatory way to refer to environmentally-conscious people, there are some very practical reasons why people should love trees beyond the positive environmental impact they provide.
Yes, trees do provide vital environmental benefits.  Trees reduce soil erosion, provide habitats for wildlife, remove carbon dioxide from the atmosphere, and produce oxygen.  Yet there are some tangible economic benefits associated with trees that are available to everyone.  According to Dr. Greg McPherson, Director for the Center for Urban Forest Research in Davis, California, "If you plant a tree today on the west side of your home, in 5 years your energy bills should be 3% less. In 15 years the savings will be nearly 12%."
Planting new trees is one real and simple solution to rising energy prices, says the USDA Forest Service.  The agency explains that trees save energy in three important ways.  They provide shade which reduces the amount of radiant energy absorbed by structures.  Through the process known as evapotranspiration, the moisture in tree leaves is converted to a vapor that helps cool surrounding air.  As windbreaks, trees reduce the velocity of wind thereby slowing the infiltration of warmer or cooler air into building interiors.
Dr. McPherson estimates that there are "hundreds of millions" of tree planting sites that exist on the east and west sides of buildings in the western United States and claims that planting trees on these sites could save "billions of dollars" in energy costs.
Energy cost savings aren't the only economic benefits homeowners can reap from planting new trees on their property.   Beyond the curb appeal that landscaping adds to homes, trees also have real value in monetary terms.
Arbor National Mortgage & American Forests, as quoted at the website the Arbor Day Foundation, a nonprofit conservation and education organization, notes that one study found that, "83% of Realtors believe that mature trees have a 'strong or moderate impact' on the salability of homes listed for under $150,000; on homes over $250,000, this perception increases to 98%."   "Healthy, mature trees add an average of 10 percent to a property's value," says the USDA Forest Service.
Planting Trees
While planting trees may not be as simple as just digging a hole, it is a simpler exercise that many might believe.  As adapted from the book, Midwest Home Landscaping: Including Southern Canada, by Roger Holmes and Rita Buchanan, here are a few proven tips for successfully planting and growing new trees;
Dig a planting hole that is several inches wider than the root ball to a depth that will keep the top of the root ball a little above grade level.   Pack the bottom of the hole so that the root ball doesn't sink.
If the root ball is wrapped in burlap, remove any string that secures the burlap around the trunk.  Loosen and fold the burlap down around the sides of the root ball but don't try to remove it entirely.  The roots will grow through the burlap and the material will eventually decompose.
Set the plant in the hole with the best side facing the direction from which it will most usually be viewed.
Fill the hole around the sides of the root ball with firmly packed soil but don't add more than an inch of soil over the top of the ball.
Establish a four to six foot, grass free perimeter around the tree.  Covering the area with a one to three inch layer of mulch will suppress grass and weed growth, reduce water loss and add nutrients to the soil as it decomposes.  Don't mound the mulch around the base of the tree as this can cause disease and insect infestations.
Water new trees well at the time of planting and provide adequate watering to keep the soil moist.  Rainfall alone is not usually adequate for newly planted trees.  During hot, dry weather, new trees may need to be watered two to three times per week.
For best results, new trees should be planted when weather conditions are cool to help the plants get established in advance of spring rains and summer heat.  In most locations, according to Treesaregood.com, fall or early spring is generally the ideal times for planting. 
Choosing trees that are best suited to a particular location and climate is also an important consideration.  The Arbor Day Foundation website makes that simple with a "hardiness zone" tool that provides recommendations for trees that grow best in the various plant hardiness zones that exist through the U.S. and Canada.  By simply entering the applicable zip code, users receive information on their specific plant hardiness zone and the most popular trees that grow in that zone.
Sources for Trees
Trees can be purchased from plant nurseries, landscaping retailers, and home improvement stores.  The cost of trees is based on size in that taller, more mature plants command higher prices.  As an alternative, tree plantings can be obtained very economically directly from the Arbor Day Foundation.
For the $10 cost of an Arbor Day Foundation membership (as of January 2012), the organization will provide new members with ten, six to twelve inch trees for planting, customized to the member's particular hardiness zone location.  In addition, members receive discounts of 33-56 percent off on more than one hundred other trees and shrubs available for purchase from the Arbor Day Foundation.
The Least You Should Know About Trees
Trees provide a myriad of environmental and real economic benefits.  Planting new trees can help you do your part in saving the planet, increase your property values, and provide some substantial savings in energy costs.  Trees can be planted and grown by just about anyone and especially through organizations like the Arbor Day Foundation, they can be easily obtained at a reasonable cost.
Sources:
---
Disclosure: This page generates income for authors based on affiliate relationships with our partners, including Amazon, Google and others.