Who is the Real Barbara Radisavljevic?
by BarbRad
She is one who discovers herself daily through writing, learns daily through reading and interacting with people, and then offers the results to God for his perspective.
I've Always Wanted to be a Writer
It all started with letters.
Since I was young I wanted to be a writer. But I had nothing to say except to individuals. I had many pen pals when I was in high school and college who helped me connect with other cultures. One was even a German gal whose English was as bad as my German, which was much better in college when I was taking it than it is today. She wrote in German and I wrote in English and we somehow managed to communicate.
I also wrote to a 17-year-old Greek girl when I was 17. We corresponded for about three years. By that time I was in college. She asked me to send her an American dress. She was shocked that I sent a new one. I didn't realize she'd have to pay duties on it, and it would never have occurred to me to send anything used as a gift. My shock came when she told me she was marrying a man who was in his thirties. I couldn't even conceive of marrying a man twice my age. 
One of my most interesting pen pals was Bert, from Sweden. He drew pictures, really ink art, mostly of the backends of animals. I still have one or two of them. On the back of these he would write his letters or even poetry. Somehow, after college was over, these communications died out. Perhaps we had too many new responsibilities, such as marriage or new jobs, to continue to have the time .
I never stopped writing letters, though, until I got the Internet and email came into existence. One letter was jokingly called a "term paper" by one correspondent -- a young man who was a close friend of the family who had many questions about the direction his life was taking. He was one of several college students in my church I wrote to back then, since my husband and I were the sponsors of the college group. Someday I may write more about this phase of my life. 
Although I did take public speaking in high school and enjoyed it, writing was the form of communication I liked best. I don't think well on my feet, but written communication gives me a change to weigh my words, whether in a short note or an article on line. I find it difficult to retain information I hear or even read unless I interact with it in writing. I guess you could say I write to learn, as well as to work through my experiences, find meaning in them, and share them with others. 
As the experiences of my life unfolded, and I was too busy to think much of writing anything but lesson plans and letters, I was gradually, but almost unconsciously, gathering material that would become part of my writing today. These experiences were my growing up in my family and being close to my family through my adult years, and being there when my mom died. They include working in the public library,  living in a UCLA  dormitory, marriage, teaching, book selling, adoptive parenting, and home schooling. They include working in several churches in a volunteer capacity as a Sunday School Teacher, choir member, youth worker, and Bible study leader. I have also experienced the death of both parents, both in-laws, and both children. Some of the most important lessons I've learned I probably will never be free to write about because I would not be able to do so without telling stories others might rather not have told. There are few stories that are not part of the stories of others. 
I did not find my public writer's voice until I found Squidoo. Through contacts at Squidoo I found the other writing sites  I've written for, including Wizzley . My Squidoo friends also introduced me to Zazzle. I finally feel as though I fit somewhere, and I hope that my writing may be used to help others find where they fit into the scheme of life. 
Writing is What Makes My Heart Sing
It also makes me realize who I am.
What do you know about BarbRad?
That's one of my pen names that I use on Persona Paper, HubPages and Wizzley
If you are on Facebook, you probably have been getting wall posts about "________ has answered a question about you. " I pretty well ignore these because I don't do Facebook apps, though I occasionally do post the real answer for those who might really want to know. In the polls below, I'm going to throw some of these questions to you to see what you say. I'll also give you some questions I did not get off my Facebook page. I'll give you the right answers at the end. 
Has Barb ever had a weird tattoo?
This may not be worded exactly as on Facebook, but like the other questions, it's close enough.
Is Barb really, really ugly?
I couldn't believe this one was really being asked about anyone.
Would Barb rather have a cat or a dog if she were to get a pet?
Right now she has no time for pets.
Does Barb really, really like pizza?
What do you think?
Which came first in Barb's life?
This is Barb Radisavljevic
I'm in my element here, near a vineyard, on Valentine's Day, on the way to the ocean.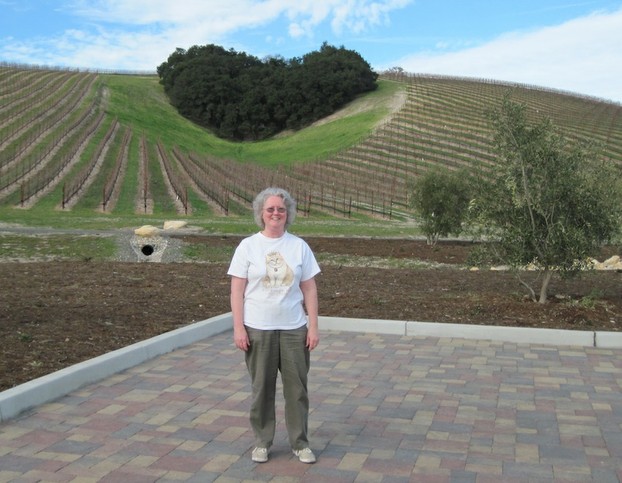 Barb below Heart Hill at Niner Estates in Paso Robles
What Does the Name Barbara Radisavljevic Mean?
Does she change when she is BarbRad, WannaB Writer, or barbsbooks?
There is some doubt as to the meaning of my first name. When my parent's named me, they thought the name Barbara meant "gift from God." I have no idea where they got this meaning. When I took Latin, barbara meant "foreign, stranger, alien, or barbarian." (Don't ask my husband about this one.) If I look at my life, I'd say the stranger, foreigner meaning fits best. I've always felt I was different than others in my life. 
In school, through a series of crazy events, I skipped a grade. I wish I hadn't because I was always the different one in elementary school. My friends were in the grade before mine. In junior high, I had only one friend in my own grade. At church, in high school, I was not in the clique. I could be friends individually with a few of the girls, but not part of the group of nine. I later figured out I was just too much of an individual to fit. I hung out with my friends in the grade before mine outside of church, with other "loner" girls at church,  and with other Latin students at school. I didn't really get into my element until I got to college. 
It was at college, UCLA to be exact, that I met Kosta, my Serbian husband. So when I married, I was again the foreigner, always hearing a different language when we were with his family. Oh, they spoke English some of the time, but all the good discussions were in Serbian, and I only understood a few words. I felt this even more strongly when I went with Kosta to meet his aunts, uncles, and cousins in Croatia and Serbia. The culture shock really hit me. I had to get by with the bit of German I could remember from college when with his cousin living in Germany, and the Croatians and Serbs also could speak German.  By the time I left Yugoslavia, which it still was in 1972 when we were there, I truly did believe my parents named me well, even though they didn't realize what my name really meant. 
Even after leaving Europe, where we spent a month, I have known that I am a pilgrim and stranger in this world. Popular culture leaves me cold, and I realize I feel more and more alienated by it as I grow older. I see no reason to do what the rest of the world does, watch and listen to what it does, or read the books on the bestseller list, with a few exceptions. I don't want to put garbage in because I don't want to spew garbage out. I take as my standard the Biblical exhortation to think about what is true, honorable, just, pure, lovely, gracious, excellent, and worthy of praise. There are times I don't live up to this, but it's still my goal. 
That gets us to my last name. It used to be Hart -- a carefree deer. But Radisavljevic means "working all the time." That also fits. I've always worked hard at anything that interests me, and now that is writing on HubPages, Wizzley, Persona Paper, and stocking my Zazzle shops.
These sites, plus my six blogs, keep me spread pretty thin.  Two are at Blogger, and four are on WordPress, all of which are self-hosted. I also contribute to ReviewThis!Reviews.
That brings me to one other thing you ought to know about Barbara Radisavljevic. She tends to procrastinate about things she doesn't like to do. I know the standard advice is to do those things first, but  I am very good at rationalizing why it's OK to write or Zazzle instead of doing bookkeeping, setting up and maintaining websites, and trying to dispose of book inventory now that I've retired from bookselling. I want my house back. It's like a mountain I need to climb and I guess I'm waiting to find a ski lift that will take me there instead. 
Now you know the real Barb -- at least more than most people know. Whether she is Barb, BarbRad, barbsbooks, or WannaB Writer, she's the same. She wears a lot of hats, but they have to fit on the same head with the same thoughts and motivations. And whatever name she is acting under has to answer to the same God and has the same purpose of helping to make Him known.  
---
Disclosure: This page generates income for authors based on affiliate relationships with our partners, including Amazon, Google and others.