Yo Gabba Gabba Birthday Cake & Cupcake Ideas
by Tehreem
Kids love Yo Gabba Gabba like we loved sesame street! Make a wonderful Yo Gabba Gabba Themed Cake for your little angel and spread smiles on his face.
Have a Yo Gabba Gabba Birthday!
Find cool ideas for a cool cake!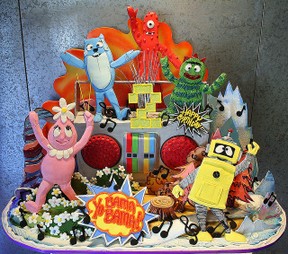 Yo gabba gabba is a television show for toddlers and preschool kids. This show is currently shown on Nick Jr. programming block. Like sesame street, this show is specially designed to teach children moral values and good habits in a fun way. The music, chharacters and DJ all are loved by kids and the lessons they teach help a lot in making their habits. If sesame street teaches ABC's, Yo Gabba Gabba teaches ways to spend the life!
The theme of this show will be perfect for a 1st to 6th birthday party. Kids will love to have their favorite TV characters to share their special day with.  For making a special Yo Gabba Gabba cake for your kid, you don't need to look for anything else. This page will provide you with lots of ideas to decorate and prepare your cake. Cake decorations, Toppers, Edible images and cupcake toppers are featured here. Instructions and tips to decorate the cake and many other ideas are waiting for you.
YGG Cake Toppers & Edible Image
Yo Gabba Gabba Cake Ideas
Make a unique YGG cake
Baking the birthday cake yourself will be a fun task.  While ordering a cake always seems easier but making one yourself for your loved one will show how much you love him. Making a cake at home wont be difficult. You just need to know how to make a simple cake. The decoration is the fun part.
There are many ideas you can consider to start your cake with.
The shape of the cake can be round, square, rectangular or even Topsy turvy. It doesn't matter at all. Choose something you feel comfortable making. Decide the size of the cake after taking a look at the guest list so you know how many people will be eating it.
To make a funky topsy turvy cake you can use a topsy turvy cake pan. These cake look fabulous and unique when completed.
You can decorate a simple cake with edible cake images.
YGG cake toppers and decorations can be ordered online. These products are of good quality and will be delivered at your doorstep.
You can use fondant to make your own cake toppers.
Yo Gabba Gabba Cake Gallery
Yo Gabba Gabba Cupcake Edible Images
Yo Gabba Gabba Cake Tutorial
Learn how to make a YGG cake
Yo Gabba Gabba Cupcake Ideas
Make some sweet cupcakes
YGG cupcakes will be a lot of fun to decorate. You can alternate the cupcakes with all characters or use only your child's favorite character to decorate your cupcakes with. Cupcake toppers and picks are easily available. you just need to make some simple cupcakes and insert the toppers on them.
If you are a creative person, then you can easily use fondant to make your own cupcake toppers. Make fondant characters or cuttings fror your cupcakes. Fondant disks can be cut out to place the toppers on. Or you can create a whole new idea of your very own to make your child's birthday special.
You might also like
Pirate Ship Cake
Instructions for making a pirate ship cake with template, pictures and recipe...
Minecraft Cakes and Cupcakes
Turn the most popular video game into a birthday party celebration! This pa...
---
Disclosure: This page generates income for authors based on affiliate relationships with our partners, including Amazon, Google and others.