Your Outdoor Space, Your New Entertainment Area
by TexasT
Think of your outdoor patio area as your perfect entertainment spot. What would you include? An outdoor kitchen, outdoor bar area, for more ideas, continue reading
Increase the Value of Your Home With A Outdoor Entertainment Area
One of the primary growing markets in the home improvements sector is outside design. In this stressful financial climate, we as home owners are turning to our outdoor spaces to take advantage of our additional 'outdoor rooms' for friends and guests, dining or simply lounging. There are now just as many types and styles of patio furniture as you'll find for interior decor. If you have made a decision to update your outside space you won't have any problem in designing and decorating your backyard patio space.
What Style? Wicker, Metal, or Wood
The first thing you will need to consider when improving your own outdoor space is the style of furnishings you will use, and how much you are willing to pay. The popular contemporary wicker or rattan furniture is made of man-made materials that will endure virtually any weather conditions and can be purchased in individual pieces to create any mix of seating arrangements you want. The furniture alone can be left outside throughout the year but would certainly improve the life of the outdoor furniture by using patio furniture covers when not being used. Plus if you do use seat cushions on the furniture these must be kept somewhere dry in wet conditions, even if they say the outdoor cushions are weather resistant, that doesn't mean weather proof, trust me.
Outdoor Wicker Furniture
A Few Beautiful Options
Outdoor Kitchen and Bar Area, A Must Have
For outdoor dining or if you plan doing lots of entertaining outside, you might like to consider having an outdoor kitchen and bar area built. These kitchens can be as basic or as elaborate as you want. Actually there's hardly any difference between what can be achieved with an outdoor kitchen and an indoors one. For cooking, you might want to use electricity or gas grills. You definitely want to have sufficient storage space for cooking accessories and you definitely want to have a built in refrigerator, kitchen sink and kitchen cabinets.
Need Ambiance, Get A Fire Pit
Yet another thing you could get as part of your freshly decorated and furnished outdoor space is an outdoor fireplace, fire bowl or wood burning stove. One particular very trendy form of fire pit is the firepit table. These can be bought in distinctive designs both square and round. The actual fire pit is incorporated in the heart of the table and typically is full of lava rock and fueled by propane. Some up market out of doors furniture sets include a firepit table to complement seating within the same range. Expect to pay around $500 and up for one of these types of groupings. Having said that on the other end of the price structure you can obtain a rustic metal bowl type style that uses wood for approximately $80 to $200.
A Few Examples of Outdoor Fire Pits
A Perfect Space to Unwind
In whatever way you plan on making use of your backyard, you'll be able to have it being functional and looking fabulous without paying a lot of money if you research prices. Prior to making any key purchases be sure to check out several websites on the internet to give you ideas of the way you want your outdoor area to look. I know we enjoy our patio at least 8 months out of the year. There is something so nice about coming home and sitting outside even if just for a few minutes to unwind after a work day. Maybe even with a glass of wine.
Ahhhhh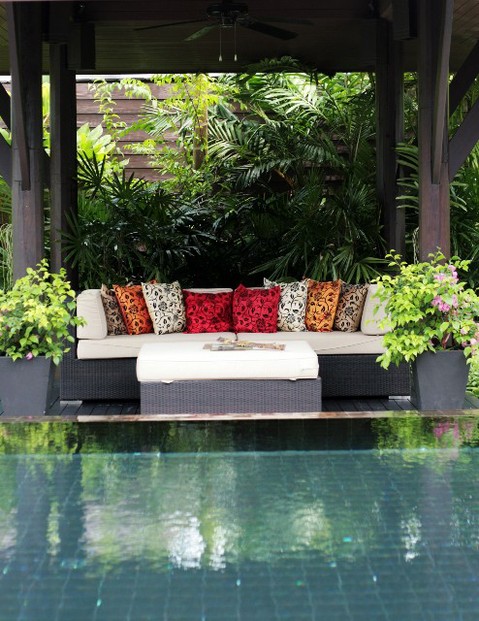 Ahhhhhh Time To Relax
---
Disclosure: This page generates income for authors based on affiliate relationships with our partners, including Amazon, Google and others.