21st Birthday Party Supplies & Decoration Ideas
by Tehreem
Having a 21st birthday blast? This page will help you in organizing an awesome birthday bash! Find party supplies, invitations and other adorable 21st birthday items.
21st Birthday Party Supplies
Legally adult!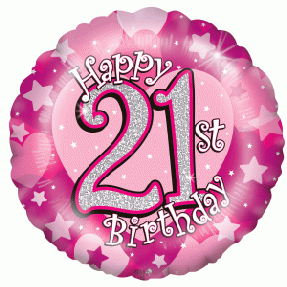 21st birthday parties are always a special event. This is the milestone when you are legally an adult and are now responsible for your own life. You complete your graduation, start looking for a job, are  officially allowed to go to bars, clubs and do whatever you want to do with your life. A 21 year old person becomes independent and fends for his own way in his life. Moving out to find a place of your own, finding a job, becoming responsible for your own deeds, it really is a big change in your life!
As is the occasion, the birthday party should also be really special and unforgettable. This page will provide you with fabulous supplies to make your 21st birthday party rocking and memorable. Party Invitations, Tableware, Decorations and fabulous cake and cupcake toppers, supplies and ideas all can be found on this page.
Join The Party!
21st Party Invitations
21st Birthday Invitations
Join our celebration!
Party invitations for a 21st birthday should be really special. You can customize printable birthday party invitations. Online invitations can be found on many sites. You simply have to tell the specifications of your party and the company will send you the printable invitation. Print out as many as you want!
If you are a creative person you can work wonders with a little glitter, some stickers, markers and cardboard or construction paper! but if you don't have time for this and have other things to keep you busy, you can always order the invitations online. Amazon offers a lot of variety of fabulous party invitations for 21st birthdays. A few most popular products are featured below.
21st Birthday Tableware
Start shopping for your party tableware well before the party date as you won't want to have less plates than the total guests coming!
Themed 21st party tableware can be found in markets and stores easily nowadays. Amazon features some cute striped 21st party dinner plates and napkins which i have featured below for you. While buying the supplies you need to keep the guest count in mind so you can buy enough supplies for all. Party packs are always suitable for tableware.
Surprise The Birthday Girl!
21st Birthday Tiara & Wine glass
21 year old means you can now legally go to bars and drink all you want. A hand painted wine glass will be perfect for a 21st birthday. Present the birthday girl with this amazing and beautiful wine glass to officially have her first drink in. Zebra print with a pink glittered 21 and a silver crown, this glass will be the perfect gift for her.
Tiara for a 21st birthday can be given to the party princess.
21st Party Tiara
Crown the birthday girl
Hand-painted Wine Glass
Perfect for 21st celebration!
21st Birthday Cake & Cupcake Decorating Ideas
Choose a perfect cake for the occasion
Choosing a cake for a 21st birthday will be really confusing but fun. 21st birthday cakes can be of so many different designs. but you should choose something really special which the birthday girl would love.
You can choose the design which you want for the day and order it at a bakery. They will make the cake gorgeously and delicately and hand it out in a perfect shape.
BUT! for a more fantastic option you can try baking the cake yourself this time! A 21st birthday cake doesn't require much shaping and carving. You can make a single or double tiered cake and decorate it with fondant or icing. Topping the cake will be the easy part as you can find many cake toppers for 21st birthdays easily in market. Some amazon products are featured below. They are the most popular and loved products and are also highly rated.
Unique 21st Birthday Cake Ideas
Click the links to view the cake images!
Beautiful Cakes & Cupcakes for the Birthday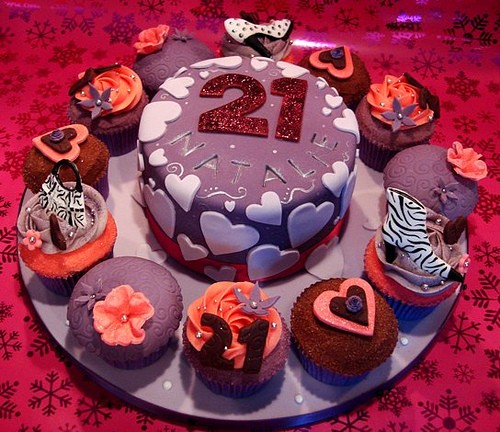 21st bday cake and cupcakes
21st Birthday Cake & Cupcake Decorations
Cupcake picks, birthday candles and many more
Your Birthday Girl would feel like a princess with this swarowski crystal cake topper on her special cake.
---
Disclosure: This page generates income for authors based on affiliate relationships with our partners, including Amazon, Google and others.