5 Ways to Make Your House More Eco-Friendly
by lostinasia
There are some simple things you can do to your home to make it more environmentally friendly and save money in the process.
Why Make Your Home Greener?
These days the environment is at the top of the list for governments and individuals alike. It is becoming increasingly more obvious that the things we do today have a huge impact on what the earth will be like tomorrow. Fortunately, there are steps we can take to minimize the damage we inflict on the environment, starting right in our own homes. The following are five simple things you can do to make your home greener.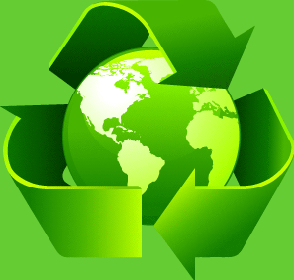 A greener world
1. Consider Renewable Energy
Electricity fuled by gas and oil is not only costly, but it eats up natural resources that are quickly becoming depleted. Renewable energy sources are a great way decrease your impace on the earth and save on electricity bills. Solar panels may seem expensive at first glance, but the money they can save over time makes them a solid investment. They harness the power of the sun to run all of the appliances and lighting in your home. In addition, they can store energy for those days, weeks or even months when the sun doesn't make an appearance. Wind power and hydropower are two other ways to use free and renewable resources to generate electricity for your home. When used in combination, these eco-friendly energy sources are a surefire way to make sure you'll never be in the dark.
2. Install Low Flow Appliances
Water conservation is an important element of a green home. The average home wastes millions of gallons of water a year on toilets, showers, dishwashers, and washing machines. This is not only a waste of water, but it can also drain your wallet. To save money and avoid wasting water unnecessarily, consider purchasing low flow appliances. There are some great high quality fixtures and appliances out there that are energy efficient and and conservative and won't break the bank, such as low-flow toilets and showerheads. When purchasing a washing machine, look for a front loading machine, as these use less water. And don't be fooled into thinking washing dishes by hand saves more water than a machine. Many new models out there are eco-friendly, and provided you only run loads when the machine is full, you may actually save on water consumption.
3. Switch to Energy Efficent Blinds
Energy efficient blinds work by using a unique honey comb design that keeps traps air to keep your house at the perfect temperature. On cold days, they keep warm air in and cold air out to keep your house toasty, and on hot days they block the suns rays from coming in to keep the house cool. This can save you tons of money on heating and air conditioning bills, and save you from using valuable fuels to heat and cool your home. In addition, they come in a wide range of patterns and colours so they can be easily customised to fit any decor or theme.
4. Build a Windbreak
A windbreak is a landscaping feature that protects the house from heavy winds and lowers the wind chill that a house experiences. They can also prevent hot air from blowing into the house, thus reducing the need for air conditioning. Windbreaks are usually made out of mounds of earth, shrubs and trees. This can lower heating costs considerably and reduce fuel consumption. In addition, they can be quite an attractive element to a property, especially after the trees grow into maturity. Trees and shrubs with dense vegetation like evergreens and holly bushes are best to use as they are more effective at blocking out wind. For anyone with a backyard or extra room on their property this is a good eco-friendly landscaping option.
5. Invest in an Energy Monitor
The first step in any situation is often awareness, and the same is true for energy consumption. An energy monitor can help you see exactly which areas and appliances in your home consume the most energy. This type of device can also tell you the exact amount of energy that is used each and every minute, as well as the total cost of said energy. This is a great eye-opener and a handy tool that canhelp you to start taking the necessary steps to decrease the amount of fuel you burn, and also reduce your electricity bills.
With a few small changes, anyone can make their home more eco-friendly and energy efficient. Environmentally friendly home improvements can be a great way to lessen the harmful effects we have on the earth and save money at the same time. In addition, a greener home can actually increase the value and appeal of your house for future buyers. So what are you waiting for? Make the change today for a brighter tomorrow.
More Information on Making Your Home More Environmentally Friendly
---
Disclosure: This page generates income for authors based on affiliate relationships with our partners, including Amazon, Google and others.