After Christmas Shopping
by marciag
Did you know that many people spend more money AFTER Christmas when sales have started and everything is cheaper?
Shopping After Christmas - The Best Way To Save Money
The general consensus is that December is the month where everyone spends most of their money. While this is for the most part true, you can in fact save a lot of money next month - in January, when Christmas is over and sales have started to get rid of the old stock in favor of the new, more expensive one.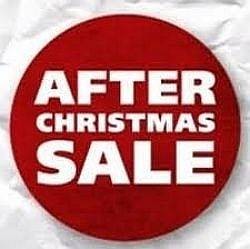 This is why the last few years has seen an increase in money transactions right after New Year. People have become wiser: they do buy gifts for Christmas for their loved ones, but come sales, they spend MORE money on things they actually need but can't afford throughout the year.
There are many things to buy after Christmas that one can think of, starting from the basic wrapping paper and Christmas decorations for the next winter, right down to expensive gym equipment and the previous model of the huge screen LCD television.
So let's see what people usually buy right after the holidays are over.
Do Men Buy Different Things From Women During The Winter Sales?
Recent studies have shown that indeed men buy completely different things than women during the After Christmas sales. But do we even need studies like these? We know that it's true.
Many women dream of that gorgeous gym equipment, especially when they're not the outgoing type and don't feel comfortable joining the local gym. Men, on the other hand, dream of power tools (what is with men and power tools anyway?).
But women are also more practical and this is when you will see them buying lots of Christmas gear like mittens, thick socks, pullovers, coats and hats for their family. Also they can stack up on Christmas wrapping paper for the next year. And let's face it, those gorgeous shiny Christmas decorations like these Christmas tree toppers stars at half price, do keep our eyes glued on them. They're just so cute, we've got to have them because they will go so well on our Christmas tree next year!
What Women Buy
Rainbow Mat

ONE FOOT PANELS AND 18 OZ. VINYL!Each 1' panel is covered with a different color of 18 oz. vinyl. Mats fold easily in 2' sections. Includes hook-and-loop fasteners on both ...

Only $191.99
525 America Women's Snow Flake Turtleneck Sweater

Snow flake turtleneck tunic

Best Fitness BFMG20 Sportsmans Gym

BEST FITNESS BFMG20 Sportsman Gym. The innovative BFMG20 Sportsman Gym is designed to help you take your home workouts to the next level... or the lower level. At just 79 ...

$738.99 $711.0
Why The Shopping Frenzy After Christmas
The recent years have seen quite a crisis in the world economy. It's not only the US that is feeling it, but pretty much every other country as well. Money is less, good paying work is more difficult to obtain and overall people spend less.
However there is the fact that we do need power tools, we do need a good TV when the old one is about to give up its ghost and we do need to pamper ourselves now and then. It's just part of life.
But it is also fact that if you have to spend $500 for a new snow blower for the next winter, you won't buy it in summer when the prices are high (due to no pressure to sell). You will, however, spend $250 on a new one the months right after Christmas, when the dealers and shop owners feel the pressure of having to bring new stock and getting rid of the old.
New things always are more expensive on the old, so shop owner will gladly lose a bit of money now knowing that they will more than make up for the small losses once the new wares will have replaced the old very soon. Afterall not everyone is shopping during the after Christmas sales, and store owners are banking on this secret knowledge.
What Else Can You Buy During The After Christmas Sales?
How Do You Feel About After Christmas Shopping?
And The Big Secret ...
What Men Buy But Don't Tell Their Wifes Until Valentines Or Birthdays...
Did you know that lots of men buy their Valentine's Day jewelry, birthday jewelry and even Mother's Day jewelry in the weeks right after Christmas? They've learned that not only women love expensive and beautiful jewelry, but also that said jewelry IS CHEAPER during these days.
And let's face it, jewelry is small, it fits in any small corner or nook. It won't be found until the husband or man in your life will want you to find it...
Of course, women are using the very same opportunities to buy their men that wonderful smelling after shave or perfume that will be the perfect birthday gift later on in the year.
---
Disclosure: This page generates income for authors based on affiliate relationships with our partners, including Amazon, Google and others.