Akatsuki Cosplay
by AAAnime
Get all the tips and products you need to help you realise the perfect Akatsuki cosplay.
Basic Akatsuki Cosplay
Akatsuki Cosplay
The Akatsuki is a group of criminal from the japanese anime/manga Naruto. Those characters are quite popular with fans of the Naruto franchise and we often see people cosplaying as them in anime conventions or other events related to the entertainenment world. Every member of the group is unique, but they all wear the same basic uniform. In this page I will show how to achieve a simple basic Akatsuki cosplay. Once you've got all the basic things figured out you will be able to cosplay as any member of the group or even as a new one that you made up yourself and people will still recognise that you are from the Akatsuki.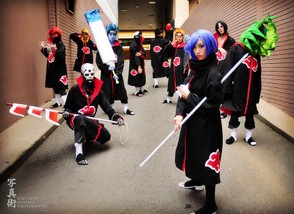 Akatsuki Cosplay
Akatsuki Cloak
Akatsuki Cosplay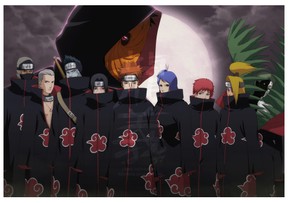 A good Akatsuki cosplay always start off with the very recognisable Akatsuki cloak. This cloak is a long black coat with red cloud on it. It is the symbol of the criminal group and the main item you want to get when you start your Akatsuki cosplay. You can either do it yourself by taking a black coat and sewing some red cloud to it or you can buy an already complete one made especially for people who want to cosplayas an Akatsuki member.
Akatsuki Straw Hat
Akatsuki Cosplay
When we first see them in the anime, the Akatsuki members wear a straw hat. Later, most of the time they are seen without it, but the purist and those aiming for a complete Akatsuki cosplay will want to add this to their costume. If you have budget restriction though than this item is the one that you can let go of without ruining your cosplay.
Ninja Straw Hat

Ninja Straw Hat. Licensed merchandise. Perfect for cosplay. One size fits most.

Only $29.95
Akatsuki Ring
Akatsuki Cosplay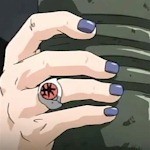 Another important element of an Akatsuki cosplay is the Akatsuki ring. Every member of the group has a ring with a different kanji on it. So you can't just match any ring with anyone from Akatsuki. When you do your cosplay, make sure to choose the right ting for the right member. You can also find an old ring in you house and change it a little so it will look like one from the Akatsuki. It's a good way to save some money when you do your cosplay.
Other Important Details
Akatsuki Cosplay
With the cloak, the ring and the straw hat your basic Akatsuki Cosplay is almost completed. Next you will need to find yourself a pair of shoes like those that most naruto characters wear, they kind of look like sandal, I've put some below for those who want to get some.
Other than the shoes you will also need to put some color on your nails. That's right boys, I'm talking about nail polish. But not just any nail polish, you have to choose one with a dark purple color, if you can't find that particular color than black will do. Once you've found it, use it to polish both your nails on your fingers and feet.
After all of that is done, you only need to add the personal details of the specific character you want to cosplay. Each character is different, but all of them wear a scratched headband representing the village they left. If you don't want to be a specific member of the Akatsuki and just wanted to do a basic Akatsuki cosplay than you're done.
More Akatsuki Cosplay Items
Akatsuki Cosplay
For those who wants a little inspiration I've put numerous pictures and video of people cosplaying as Akatsuki member. I hope it helps you find idea to perfect your own costume.
---
Disclosure: This page generates income for authors based on affiliate relationships with our partners, including Amazon, Google and others.