Amazon Kindle 4 Entry Level Ebook Reader
by Thamisgith
The entry level Kindle 4 may well be all the ebook reader that you need. If you just want to read books, it's ideal.
Introducing The Amazon Kindle 4
Small, portable and inexpensive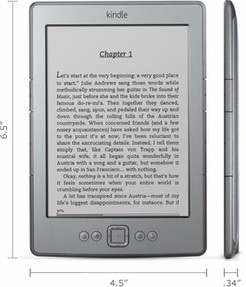 Amazon unveiled their new additions to the Kindle range on September the 28th, 2011. Unsurprisingly, the Kindle Fire and the Kindle Touch got most of the publicity at that time. However, the new entry level Kindle 4 - strictly speaking it's just the Kindle, but most people are referring to it as the Kindle 4 - is well worth a look.
If you're a book lover and are mainly interested in a reader which will be used mainly for reading books, as opposed to surfing the web or sending e-mails, then the Kindle 4 may very well be all the e-reader that you need.
Don't be fooled by its "entry level" tag, or the low, $ 79 selling price. The Kindle 4 is a fully functioning ebook reader, with the same great, Pearl e-ink technology display as its siblings.
If you haven't used an ebook reader before, then be prepared to be amazed at just how similar it is to reading text printed on paper. The screen is not back-lit, so it's much easier on your eyes than reading on a normal computer screen.
You will also have full access to Amazon's massive library of Kindle books using this reader.
How Can Amazon Sell The Kindle 4 For Such A Low Price?
There's not much doubt that the Kindle 4 has been designed and built "to a price". Amazon has taken a number of steps to keep the price down - but these may not interfere with your reading enjoyment. Much will depend upon how you intend to use your reader of course.
Here are some of the cost cutting measures used to keep the Kindle 4 price down:
No physical QWERTY keyboard or touch screen controls.
Internal memory is 2GB (compared to 4GB on the Kindle Touch and Kindle Keyboard).
No audio playback.
Battery life is "only" 1 month (compared to 2 months for other Kindles).
Special offers (adverts) are displayed on the screen saver and home page menu screens.
Let's take a look at these one by one so that you can decide whether or not any of these cost cutting measures would be significant for you.
Kindle 4 Cost Cutting Measures
Do they matter to you?
No Keyboard - No Touch Screen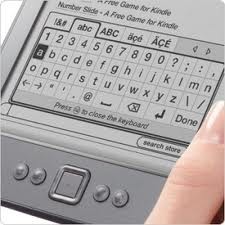 The Kindle 4 has no physical QWERTY keyboard and no touch screen functionality. When you need to input text, you open up a virtual keyboard by pressing one of the buttons at the bottom of the reader. You then use the central 5-way toggle switch to input text.
Whilst this is certainly not as natural as using a physical keyboard or a touch screen, it might not be a major inconvenience for you. Assuming that the main function of your reader is to read books, you'll probably be spending most of your time reading.
In all probability, the only time that you'll actually need to input text will be when you're on the Amazon Kindle store and looking for a new Kindle book to download. The other 99% of the time, the "page forward" and "page back" buttons, conveniently located on either side of the reader, will be all that you need.
Internal Memory
The Kindle 4 has 2GB of on-board memory, compared to the 4GB of the Kindle Touch and the Kindle Keyboard. Of this, 1.25GB is available to the user.
That's enough space for around about 1,400 - which should be more than enough for the most dedicated book lover. In the unlikely event that you do run out of memory space on your reader, you have free unlimited cloud storage on Amazon for all of your Kindle books anyway.
In short, it shouldn't be a major drawback.
Lack Of Audio Facility
Unlike the Kindle Touch and the Kindle Keyboard, the Kindle 4 has no audio playback facility. This means that you won't be able to listen to audio books, use the "read-to-me" function (where it is enabled by the publisher) or listen to mp3 files while you read.
Only you can say whether or not that would be a major drawback for you - but I do know many Kindle owners who have never used the audio facility on their Kindles.
It's probably also worth pointing out that, at the time of writing, the Kindle Touch and Keyboard are the only ebook readers that do have audio playback facilities - so the Kindle 4's lack is really just Amazon adopting the current industry norm.
Battery Life
The Kindle 4 has a stated battery life of one month (based upon an average of 30 minutes reading per day). This is half that claimed for the Touch and the Keyboard models.
On the other hand, it's considerably more than you might expect from either a notebook or tablet computer, whose battery life is much more likely to be measured in hours.
Again, it's something that will need to be reviewed on a personal basis, but the chances of being unable to charge your reader for more than a month seem pretty remote - so it probably shouldn't be a deal breaker for most people.
Special Offers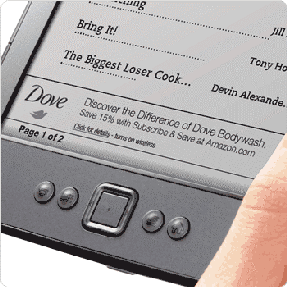 This may be the most controversial economy made by Amazon. $ 79 gets you a Kindle 4 "with special offers". That is to say, the reader displays adverts on both the screen saver and near the bottom of the home page menu screens (see image).

Some people seem to object to adverts on their readers, almost on a point of principle it seems. Other Kindle owners are quite happy to tell you that they have made their reader pay for itself simply by taking advantage of the deals on offer.
Here's an example of some previously run special offers from Amazon:
A Kindle book for $ 1.
Yoga classes for one month for $ 30 ($ 119 value)
Savings of up to $ 500 on selected HDTVs.
Groceries to the value of $ 30 at your local store for just $ 15.
On the face of it, these do seem to be genuine deals, and it's possible to see how Kindle owners could save a few dollars - and maybe even make their reader self financing.
Since the ads only run on the screen saver and menu pages, you won't be aware of them while you're reading. However, if your Kindle has been idle long enough for the screen saver to activate, an ad will be the first thing that you see when you pick your Kindle up again.
If you're unsure as to whether or not the ads would be acceptable to you, you could always buy the Kindle with special offers activated to see how you feel about them. If you really don't like the ads, you have the option to turn them off via the "manage my Kindle" page on Amazon's website. However, you will need to pay a further $ 30 for this.
Kindle 4 Verdict
Is it the right choice for you?
Amazon has built the Kindle 4 to a price - but has made a very good job of it.
If what you're looking for is a small, lightweight reader at a low price, and which you will primarily use for reading rather than surfing the web, the Kindle 4 may be the right choice for you.
---
Disclosure: This page generates income for authors based on affiliate relationships with our partners, including Amazon, Google and others.