Art Nouveau Art Deco Vintage Reproduction Messenger Bag
If you are looking for a unique gift for Valentine's Day, birthday, or another special occasion, these messenger bags are beautiful, decorative, and multipurpose.
Messenger Bags with a True Sense of Nostalgia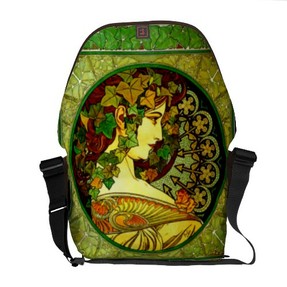 If you are a lover of art, and a lover of vintage, like I am, you will fall in love with these new vintage reproduction messenger bags by The Vintage Vamp.  These beautiful bags, and I have only selected a few to show you here, can be ordered through Zazzle.
I have been dealing with Zazzle for a number of years, both as a customer, and a vendor.  Zazzle is a company that knows how to do things right, and when they do make a mistake, they rush to correct it.  This new addition of messenger bags to their line of custom clothing, and stationary, is a ingeniously clever addition.  And as you can see by the beautiful work by The Vintage Vamp, they are stunning.
Zazzle has perfected the technique of print on demand, and their technology results in beautiful accessories.  This messenger bag is a perfect example, with the fine details, and the stylish look to the shape of the bag.  As you see it here, the bag is open, but if you click through the link below, you can see the bag from several views, open, closed, front, and side.
Art Nouveau Stained Glass ~ Vintage Alphonse Mucha Courier Bags
La Scapiliata by De Vinci ~ Vintage Painting Messenger Bag
Messenger Bags are Not Just for Women
Men use them too!
The designs that I have chosen to exhibit here on this page, are primarily messenger bag designs meant for women.  They are full of color, nostalgia, and fashion, either harkening back to the Art Nouveau Era like the Vintage Stained Glass Courier Bag, or to the Renaissance like the La Scapiliata Painting Messenger Bag.  These bags are meant to be a bold and brilliant accessory for a solid color outfit, with a jaunty scarf or shoes.
However, there are many masculine messenger designs also available through other of Zazzle's fine artist designers.  This item is quite new for Zazzle, so the selection is growing at a rapid rate.
Messenger Bag Shape
Besides the artistic look of these messenger bags, the shape of the bag is also ideal.  The bag is well balanced, and roomy enough for your homework, notes, or business book, with the option of addition add on accessories.

Here is the description of the bag by Zazzle:

A powerhouse of versatility, the Rickshaw Zero Messenger Bag is perfect as a workday commuter, overnight attaché, or travel bag! Vibrantly printed with your custom artwork or text on rugged polyester and designed with a unique accessories system, this bag is as customizable inside as it is outside. Handmade for you with a focus on environmental sustainability, this bag combines beautiful form, function, and a small ecological footprint.


Water resistant, extra durable (machine-washable).
Large main compartment and 2 front pockets.
Lightweight and forms to your body.
Quick-adjust cam shoulder strap.
Velcro strips accessory system; Holds a 13" laptop w/optional sleeve.
Handmade with a sustainability focus in San Francisco, CA.
As you can see by this description, Zazzle has put a lot of thought into the design, and manufacturing of the bag, including the focus on sustainability.
Messenger Bag Design
Messenger bags are designed on the bags that real messengers or couriers used to use to deliver important messages, letters, and mail primarily to business people.  In the modern world, messengers have been replaced by email, phone, and fax, but the style of the bag is still evocative of an earlier time when young boys and men would deliver these all important messages on bike, or whatever conveyance they would ride.
Messengers were focused on speed, and in the larger cities, you can still find bike messenger who deliver mail the old fashioned way.
Sturdy But Decorative, Stylish, and Fun
If you are looking for a unique gift for a friend, lover, spouse, or teen, and you can only afford to buy one gift, this messenger bag is one that will not only be appreciated by the recipient, but it will stand the test of time, and be used over and over again for all kinds of reasons.  I know that I want one.
---
Disclosure: This page generates income for authors based on affiliate relationships with our partners, including Amazon, Google and others.