Best Messenger Bag for a Teen Girl
by wenkrick
These messenger bags for school have a detachable flap so your student can change the design based on their mood.
Bookbags are No Longer Cool for Teens, But Messenger Bags are Hot!
This past August when I took my kids back to school shopping, I was informed by my teenage daughter that she was not going to carry a book bag this year. Apparently backpacks are "not cool". She said she would be just fine carrying her text books in her arms. But after a few days of watching her struggle with trying to carry around notebooks and binders and coming close to dropping them a few times, I decided to see if I could come up with an idea to help her carry her books around throughout the school day without having to break her arms.
This is when I discovered these very trendy messenger bags. My teen really liked these  messenger bags for girls. Yeah for Mom! I actually came up with an good idea for my teen!
Smiley Face Balls Messenger Bag - School Bag - Laptop Bag - Reporter Bag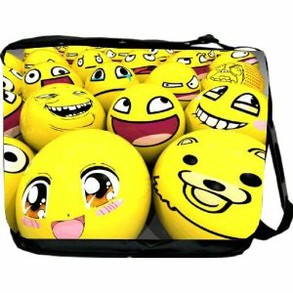 Smiley Face Balls Messenger Bag - Sch...
School Messenger Bags
A messenger bag is a large bag that has a shoulder strap which makes it really easy to carry your supplies. The strap is padded so it give your shoulder lots of comfort. The straps are adjustable so you can adjust it to a comfortable length. Each of these school bags have a large compartment, that protects her text books, folders and notebooks. The compartments also help to keep her organized since there is a divider as well. And there are lots of pockets and smaller compartments for her to store her cell phone, pens and other school supplies. There is even room for her lunch and snacks. These bags are large enought for a laptop computer so they also make the perfect laptop bag.

Teens love the fact that these messenger bags for school are very cool and stylish. They are cool! There is a huge selection of styles and colors. There are actually over 200 different styles of these messenger bags.  I like the fact that they are very durable and will wear well so they will last through the entire school year.

Your teen will love the selection. The really neat thing about these school bags are that the front flap is actually detachable. So kids can  change the front flap design based on their mood. How cool is that?!
This page includes some of the best messenger bags for girls.
Messenger Bag - School Bag - Laptop Bag - Reporter Bag - Unisex - Ideal Gift for all occassions!
Do you think these are the Best Messenger Bags for shcool?
---
Disclosure: This page generates income for authors based on affiliate relationships with our partners, including Amazon, Google and others.