Ball Chair Office Chairs
by BizzyBee
What on earth is a ball chair and do they make good office chairs?
What Is A Ball Chair?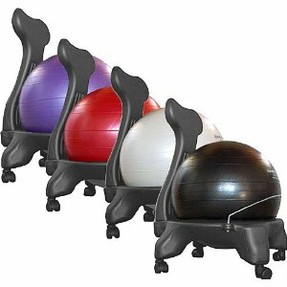 A Chair Ball office chair is just what you may need if you are looking something to improve your posture.
At a fraction of the price of many other office chairs, the Chair Ball is something to consider if you suffer from back pain or are beginning to notice that you are developing rounded shoulders.
Let's face it, sitting at your computer all the time is just not at all good for you.
If your job or your interests keep you tied to your computer, then at least make your sitting habit a healthier one by replacing your regular seat with a ball chair.
O.K...they do look a bit odd to say the least, but a ball chair or balance ball chair is actually really comfortable once you know how to use it!
A balance ball chair is much better than sitting on a balance ball by itself, for one thing, you won't be worried about it rolling away or being too low for your desk. The balance ball chair is well constructed, easy to assemble, very sturdy, very lightweight and very comfortable.
It is possible to slouch while sitting on chair ball office chair, but it is simply not comfortable to to so. It is much more comfortable to sit up straight on it.
Gently Does It With Your Ball Chair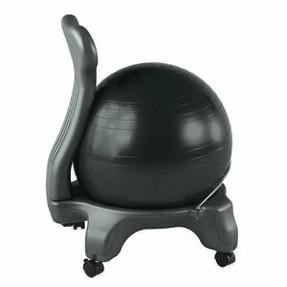 When you first purchase your chair ball office chair, you will need to go slowly at first.
Your spine will need to adjust to sitting up straight. You may even experience a little discomfort if you sit on it for too long.
Eventually you will be able to sit on the ball all day and improve your core strength as well as your posture.
The chair ball keeps you more aware of how you're sitting and just reminds you to use your muscles.
Ball Chairs Make Great Office Chairs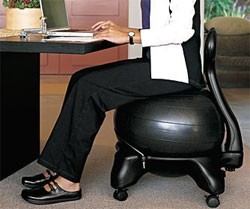 Once you have a chair ball office chair, you will notice that your back and hips don't feel stiff and sore.
Most of us, when sitting at our desks simply forget to get up and stretch like we are supposed to do, but with a ball chair, you will find that by leaning in different directions, your muscles will benefit from the workout.
Your ball chair will not only improve your posture, it will most certainly be the talk of the office, and your boss can clearly see that you are always 'On The Ball!'
Some Points To Consider With Ball Chairs
Be prepared that even though it is an air ball, the ball chair is not soft. It is in fact quite firm when you are sitting on it, so don't expect a cushioned chair feel.
Also the air pumps that are usually supplied with them are not really up to the job, so it may be a good idea to get an electric pump.
Don't ditch your regular office chair until you are used to your ball chair, this can take a week, sometimes longer. You will not be able to go right into sitting on your ball chair all day.
Finally, the back of the chair ball office chair is not actually a back, it is for balancing. It is not really intended that you lean back on them. The chair ball instructions do include exercise recommendations and the "back" comes into play then.
Would You Buy A Ball Chair For Your Office?
Ball Chair Links
Ball Chairs
Where to buy great priced Ball Chairs
Ball Chair Office Chairs
Great prices on ball chairs for your office.
---
Disclosure: This page generates income for authors based on affiliate relationships with our partners, including Amazon, Google and others.