Retro Kitchen Decor Ideas
by BizzyBee
Hold on to your Beehive! 1950's Kitchens are HOT HOT HOT and here are some very COOL ideas to get your kitchen sizzlin'!
It's Back To The 50's!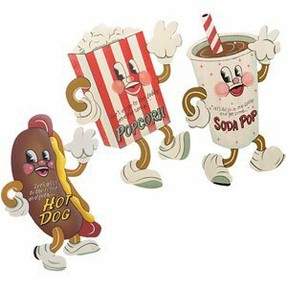 Yes folks, it really is true. If you haven't already spotted it on the high street, retro kitchens are making a welcome colorful comeback!
Beautiful retro kitchens are now all the rage in home decor and kitchen design these days.
Not only are they a way of reaching out for those bygone days of nostalgia and cultural heritage, they are also funky, quirky and and a whole lot of fun to put together!
Just Between You And Me, kitchen designs in the style of the 1950's are especially popular again, and this particular theme is now being favoured in newly built or newly renovated homes.
Retro 1950's style kitchens are back in high demand because of the colorful cheerfulness that the designs of that era convey and they are a popular choice now for many homeowners.
Putting together ideas for your retro themed kitchen is great fun. You can really go town with your creativity and imagination and place your own mark of individuality in your home. It will also be a conversation point for any visitors!
You Don't Have To Rip It Up!
But wait! You don't have to spend big bucks in order to enjoy the retro kitchen look . With a few changes here and there, you too can be enjoying a trip to the 1950's in your very own nostalgic retro kitchen, and here some Hot Diggity dog ideas to help you achieve the look, so you won't have the Home Of The Blues anymore!
1950's Song Titles
The author has shamelessly peppered this article with 1950's Song Titles.
See how many you can spot!
O.K, the answer will be at the end!
Ready To Shake Rattle And Roll?
Eager to Rave On about your Fabulous 1950's Kitchen?
Come On Let's Go!
Get inspiration for your retro kitchen from vintage magazines, websites or even classic t.v. sitcom shows and you'll soon be Putting On The Style.
Look out for vintage kitchen gadgets at antique stores, charity shops, flea markets, yard sales and in the U.K. Carboot sales. They will look fantastic when used as a display piece, so they don't have to be in working order.
Other gorgeous decorative ideas include hanging a retro telephone on the wall, and replacing your kitchen clocks with a big and bold vintage recreation. How about some vintage wallpaper too?
Vintage signs made out of tin are a super idea for a retro kitchen and there are a great selection of these now available.
So Much 50's Choice!
More Retro Booty Than You Can Shake A Stick At!
With such wonderful retro style kitchen products now available you can have bright,
bold and beautiful timers, blenders, mixing bowls,pop-up toasters, canisters, fridge magnets, hot dog rollers, cookie jars, clocks, tablecloths, kitchen towels, aprons, dining tables and chairs and even refrigerators! Cool huh?
No need to have a boring modern kitchen when you can achieve a spiffing fashionable retro look!
As they say, That's All There Is To That!
Did You Spot Them All?
1950's Song Titles
Shake, Rattle And Roll - 1954 - Joe Turner
Hot Diggity (dog ziggity boom) - 1956 - Perry Como
Rip It Up - 1956 - Bill Haley and His Comets
That's All There Is To That - 1956 - Nat King Cole
Fabulous - 1957 - Charlie Gracie
Home Of The Blues - 1957 - Johnny Cash
Just Between You And Me - 1957 - The Chordettes
Putting On The Style - 1957 - Lonnie Donegan
Come On Let's Go - 1958 - Tommy Steele
Rave On – Buddy Holly - 1958
Thank You, Thank You Very Much For Reading This Article...
I Am Now Leaving The Building!
Retro Kitchen Supplies
To purchase any of the items on this page, simply click on the image!
---
Disclosure: This page generates income for authors based on affiliate relationships with our partners, including Amazon, Google and others.