Bangalore Adventure Activities Outdoor Explorations
Bangalore has unlimited options when it comes to outdoor exploratory adventure destinations.
Outdoor Explorations
Adventure Activities
Bangalore has unlimited options when it comes to outdoor exploratory adventure destinations. Corporate team outings in Bangalore can be planned around adventure sports activities, which provide wholesome entertainment and much needed break to working professionals.
Trekking: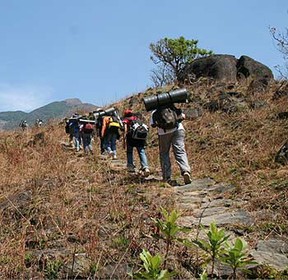 One of the most famous adventure sports in India is trekking. It is an exploration activity involving walking long distance through challenging, unfamiliar grounds. From simple walk through plantations and fields, to exciting hike through a rugged path amidst magnificent forests and rocky hillocks the options for trekking are limitless.
Check List:  The requirements for trekking are minimal when compared to other adventure sports, as no specialized equipments are needed to enjoy a trek. However, depending on the duration of the trek the requirements vary. Some must haves include very comfortable shoes, wind cheater, water bottle, lighter, Swiss army knife, trekking rope, medicines, some food. Checking on the weather condition prior to starting the trek is vital in planning and preparation.
Weather Condition: The best conditions for trekking would be mild temperature, with no rain predicted. Extremes of temperature, humidity, heavy winds, downpour, stormy conditions, pose as hurdles in trekking.
Trekking in Bangalore: Savandurga, Ramnagaram, Nagarhole, Masinagudi, Manchinbele, Makalidurga, Kemmanadgudi, Bheemeshwari, Chikmagalur, Anthargange, Coorg, Dandeli.
Camping: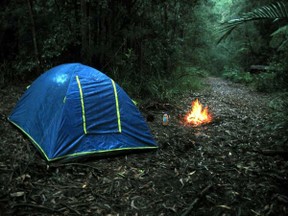 Yet another famous and also a favorite adventure activity for many adventurers, is camping. Nature lovers find camping to be the best way to relax and recharge by being one amongst nature. Camping trip may span for just a day to several days and nights at a stretch. Campers pitch portable tents and spend the night in them as part of their camping expeditions. Easy to cook food, a mini portable stove or lighters and wooden logs are generally carried along, as its availability is uncertain at the camping locations. Camping guides are available at most leading camping facilities.
Check List: Tent, sleeping bag, mini stoves, lighters, fuel, food, water, Swiss army knife, first aid kit, toiletries, change of clothing are some of the basic essentials while going camping.
Weather Condition: Sunny and mild weather is best for camping, as the surrounding would be fresh and bright for exploring and pitching up tents. Rains make the pathway slushy and inconvenient for camping.
Camping in Bangalore: Bheemeshwari, Coorg, Dandeli, Kemmanagundi, Chikmagalur, Manchinbele, Masinagudi, and Ramnagaram
Caving: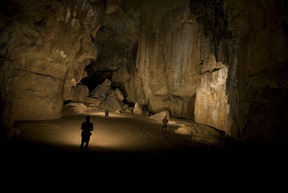 For the more exploratory ones, caving sports serves as a good recreational get away. Caving or cave exploration is the study of natural caves. There is no special training required to be a caver, just a thirst for adventure and energy to explore. Cave exploratory trips are organized by many adventure sport facilitators, who additionally give historic information about the caves as part of the package.
Check List: Torch light, comfortable shoes and clothing and you are good to go caving.
Weather Condition: Stormy weather may cause the cave to give way and cave in. Best to go caving when weather is good.
Caving spots in Bangalore: Anthargange
Adventure Thrill - Google Map
---
Disclosure: This page generates income for authors based on affiliate relationships with our partners, including Amazon, Google and others.