Barnyard & Farm Animal Themed Party Supplies & Decoration Ideas
by Tehreem
Find loads of Barnyard and Farm Animal Themed Party Supplies. Look no further for the perfect invitations, tableware,cakes, party favors and lots of new ideas.
Planning a Barnyard or Farm Animal Party?
Welcome Aboard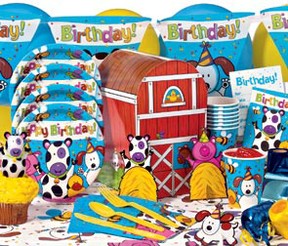 Farm Animals are always loved by everyone. A party with a Barnyard or Farm Animal Theme will be really loved and enjoyed. For a farm animal party you will need some really fabulous Farm Animal Party Supplies. We are here to help you with your party planning and decorations by giving you some unique ideas for your party.
On this page you will find many different ideas for planning your party, sending out invitations, making the perfect cake and choosing party favours for your guests.
Read on below to get some really fabulous ideas for your Barnyard & Farm Animal Themed Party.
Start By Preparing a Check List
Keep your thoughts organized
The first step towards party planning will be to make a checklist of all the things you are supposed to tend to. Making a party checklist will help you a lot in organizing a perfect party without forgetting any of the minor details. You can purchase books on party plannings which are always a useful thing as they are full of promising new ideas and also inspire you to come up with your own unique ideas. Click Here for an ideal party planning checklist.
Start your party planning at  least 4 weeks before the party date. This will give you enough time to consider all the tiny details and plan your schedule.
Barnyard & Farm Animal Party Invitations
Let The Guests know About Your Theme
Before moving on to party invitations, you must finalize your guest list. Ask the kids how many friends they are inviting over, so you can have a near estimate about the amount of guests you will be entertaining.
Party invitations should compliment the theme you have decided, Farm Animal Theme in this case. You can prepare the invitations at home or print personalized party invitations from sites which offer the.
Some Fabulous Barnyard & Farm Animal Themed Party Invitations are featured below. You can order them online and have them delivered at your doorstep in few days time. 
Barnyard & Farm Animal Birthday Party Invitations
Barnyard & Farm Animal Party Supplies
A Farm Animal Party asks for matching party supplies. Farm Animal Party packs will be convenient for kids party. While purchasing the party supplies, keep in mind the number of guests you will be entertaining. The Barnyard Party Pack Featured here is a complete party pack for 8 people. It has 
8 invitation cards
8 plates
8 cups
8 thankyou notes
8 cone hats
You can also buy all items separately.
Barnyard Birthday Party Kit
Barnyard Bash Basic Party Kit
This party pack will fullfill your needs for your party. It contains everything from plates to banner to thankyou cards. It saves you 40% of what you will have to spend for each item individually. This party pack includes:
Dinner Plates (8) 
Luncheon Napkins (16) 
Hot/Cold Cups (8) 
Thank You Notes (8) 
Dark Blue Cutlery (set of 8) 
Red Bright-tone and Blue Bright-tone Latex Balloons (12 each) 
Red Plastic Table Cover 
Emerald Green Curling Ribbon 
Banner 
Barnyard Bash Mylar Balloon (1) 
Candy Stripe White Candles (Package of 4)
 National Blue Crepe Streamer 
Red Crepe Streamer
Party packs decrease your total expenses by a huge percentage. And they also benefit you in that they contain all matching products and you don't need to buy matching products individually.
Barnyard & Farm Animals Cakes
Make a cake fit for a farm!
Deciding on a birthday cake is quite a challenge. A birthday cake can be either made or ordered.
If you want to order your party cake, make sure you do it in well known bakery or a trusted baker. They will provide you with exactly what you have in mind.
Baking a Barnyard or Farm Animal Themed Cake won't be difficult. All you have to do is bake a simple cake at home, cover it with icing or fondant and use some easily available BArnyard & Farm Animal Themed Cake Toppers and candles.
Farm Animal Cake Ideas
Inspirational Ideas
Girly Farm Cake
Girly farm cake for a 1st birthday. Truly Gorgeous!
Barnyard Birthday Cake
This barnyard cake will be a great surprise for your kid. You can always add some new ideas of your own!
Barnyard Cake
Fabulous barnyard themed cake for a bashful birthday.
Barnyard Themed Cake
Make this barnyard themed cake for a themed party. Get the guests drooling over your hand made cake!
Barnyard Cake
This cake will be cute selection for your party.
Farm Animal Cake Decorations
Farm Animal Cake Decorations can easily be purchased or ordered online. The cake topper kit includes four rubber farm animals (Pig, Horse, Cow and Chicken) which will be great cake toppers for a home made birthday cake. You can use fondant for creating fences and some greenery and place these toppers at different places for an illusion ofa complete farm. Barnyard kits are also available for online purchase.
The farm animal candles can be used in place of toppers. All depends on what you want to do to your birthday cake.
---
Disclosure: This page generates income for authors based on affiliate relationships with our partners, including Amazon, Google and others.