Best Adjustable Dumbbells
by smeti
What is the best adjustable dumbbells?
Don't waste your money on adjustable dumbbells until you read this review.
There are many benefits to using these types of dumbbells. For one, you don't have to deal with having a dozen sets of various weights lying on the floor. If you have detachable weight plates, this can reduce the amount of pairs but you waste time switching out the weights between sets. This is why these adjustable weights have been created.
When it comes to the different brands, there are several but I'm just going to cut to the chase and tell you that there are really only 2 brands to consider which are BowFlex and Power Blocks. So what are the best adjustable dumbbells? Let's find out.
PowerBlocks vs Bowflex Selecttech
These are the two most popular brands. Both have pros and cons. The best one for you will really depend on what you want to get out of these dumbbells. I'll write about both of them first, then compare them to see which is best. Let's start with the PowerBlock.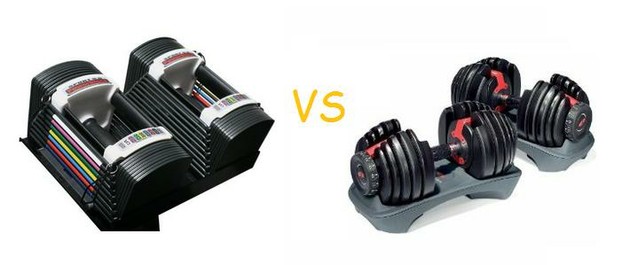 Powerblocks VS Bowflex
PowerBlock Review
Pros:
Maximum weight level can be increased to over 90 lbs per dumbbell.
Made of sturdy material.
Length of dumbbells isn't too long.
Cons:
Changing weights by pulling out a U shape metal piece and inserting it into the right holes can be a hassle. There are also a couple of 2.5 lbs bars which you can remove but that just adds to the hassle since it's not the easiest thing to do.
On one end of the dumbbell, there's a small metal that comes up which helps lock the dumbbells onto the stand but that can get in the way and even scratch you.
The bars that surround the grip can get in the way of certain exercises that need full range of motion from the wrist.
Bowflex Adjustable Dumbbells Review
Pros:
Aesthetically pleasing to the eyes.
Very easy to change weights. All you do is turn a dial. No hassle at all.
Nice, ergonomic type grip.
Sturdy.
Cons:
The dumbbells are a bit long regardless of how much weight you're using. This can interfere with certain workouts.
Only goes up to 52 pounds per dumbbell.
What are the Best Adjustable Dumbbells?
So which one should you buy? This really depends on what types of work out you do. If you're a heavy lifter, then definitely buy the PowerBlocks. If you're like most people though, 52 pounds per dumbbell should be plenty to get a good work out.
If you do a lot of motions such as turning the outer sides of your palms inward when doing bench presses, the PowerBlocks would be better because they're literally half the length of the Bowflex. I should say though that although the length of the Selecttech is a big long, you'll get used to it.
Now if you're looking for the best dumbbells for P90x, then the Bowflex Selecttech would probably be best do to the fact that you'll need to change weights quickly and turning a dial is a lot easier than trying to look for the right hole to stick a piece of metal into.
As for the price, these adjustable dumbbells are quite expensive. You can get a pair of Bowflex Selecttech 552 (most popular model) to about $300. As for the Power Block, you can get one that goes up to 50 lbs for a little under $400. If you want the ones that go up to 90 lbs, that will cost you a little over $650.
As you can see, these things are quite expensive so if you're looking for cheap adjustable dumbbells, your best bet would be to find used ones for sale.
Updated: 12/03/2011, smeti
---
Disclosure: This page generates income for authors based on affiliate relationships with our partners, including Amazon, Google and others.