Best Emergency Radio
by ExploreDecor
To keep you and your family safe, you need the best emergency radio to alert you to bad weather conditions before it's too late.
An Emergency Radio Could Save Your Life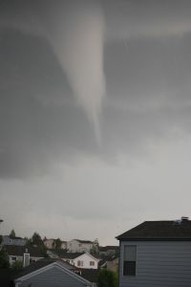 A scary scenario: The weather has been calm all day and you are in the kitchen fixing supper. The baby is sleeping in her bed at the other end of the house. Your two older children are outside playing. Suddenly you hear a noise, turn around, look out the window and see a tornado heading straight for your house. What do you do? Do you run and get the baby first or do you go outside for the older children and then get the baby? Can you get everybody together and get to a safe place before the tornado reaches your house? Are you panicking and cannot think straight? What about the dog? Where is the dog? Where are the children? You don't see the children.
No matter where you live, bad weather can pop up in a second. That's why it's important to have an emergency radio on hand. Emergency radios, also called weather radios, give you warnings of severe thunderstorms, tornadoes, hurricanes, flooding and other bad weather alerts.
Sometimes you may only have a few minutes to get to a safe area before bad weather strikes. An emergency radio alerts you of inclement weather to give you plenty of time for you and your family to reach safety.
The Safest Areas During a Weather Emergency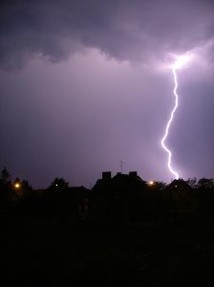 A weather "watch" means that the weather conditions are right and there is a possibility for inclement weather. A weather "warning" means that inclement weather has been spotted in your area and you should go to a safe area immediately. When your emergency radio alerts you to a weather warning, these are the safest places you can be during a weather emergency.
Tornado - Go to your storm shelter, basement or storm cellar. If you don't have one, go to an interior room in your home that does not have windows such as a bathroom, hallway or closet. If you are outdoors during a tornado, go into a building if possible. If there are no buildings close, lay down in a ditch or a low lying area. If you are in your car, get out and get in a building, ditch or low lying area.
Thunderstorm - If you are outside during a thunderstorm, get to a low lying area such as a valley or ravine. If you are in the woods, get under a thick patch of small trees. Stay away from anything made out of metal and crouch low to the ground with your head between your knees and your hands over your ears. 
Hurricane - Go to an interior room in your home as far away as possible from windows and doors. If strong winds are blowing, get underneath a sturdy piece of furniture.
Earthquake - Stay inside your house and keep away from windows, doors, skylights and any heavy objects that can fall on you. If you are outside during an earthquake, stay away from buildings, trees and electrical lines. Get down on the ground until the earthquake stops. If you are in your car, pull over to the side of the road. Do not park under or on bridges, under or near power lines or anything that could fall. After the shaking stops, resume driving slowly but proceed with caution and watch for damage or objects in the road.
The Best Selling Emergency Radio
The Midland WR300 Weather Radio is one of the bestselling items on Amazon based on the number of customer purchases. Actual customers who have purchased this emergency radio have given it a 4 out of 5 star rating.
Benefits of the Midland WR300 Weather Radio
Receives all the National Oceanic and Atmospheric Administration (NOAA) weather channels.
Specific Area Message Encoding (SAME) - This means that you can program your emergency radio to receive only the warnings that affect your local area. When a weather emergency occurs the Midland emergency radio emits the SAME signal, a 1050 Hertz warning alarm, notifying you to take immediate action and get to a safe area.
You can program the radio to receive alerts for up to 30 different counties. So if your sister lives in another town, you can receive those alerts too.
Up to date local weather reports.
Clear reception so that you don't miss important weather information.
Built in alarm clock and AM/FM radio.
An A/C wall adapter is included and the radio also runs on 4 AA batteries, so in the event of a power outage, you will still be able to listen to the emergency radio and receive alerts. 
Midland WR300 Emergency Radio
---
Disclosure: This page generates income for authors based on affiliate relationships with our partners, including Amazon, Google and others.