iRobot Roomba Robotic Cleaner Comparison
by ExploreDecor
Not sure which iRobot Roomba is right for you? This comparison will help you make the right choice.
What Is An iRobot Roomba?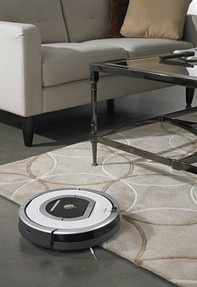 If you detest vacuuming or like to have really clean floors, you will love the iRobot Roomba. This little vacuuming robot loves to find your dirt and vacuum it up. Using an iRobot Roomba is the easiest way to vacuum your floors. Just push the "clean" button and away it goes. All that is required of you is to empty the dust bin and clean the rollers and filter, which takes less than five minutes. This saves a lot of time, compared to vacuuming the floors yourself.
The iRobot isn't just for carpet either, it sweeps tile, linoleum and even hardwood floors. It automatically adjusts to go from one flooring type to the next all by itself. It also cleans those places that you hate to, like under couches and beds and no moving heavy furniture just to vacuum.
The iRobot Roomba features a bagless dust bin (yeah, no more buying vacuum cleaner bags) and a bumper system that will not mark up your walls or furniture as it vacuums around them. It has built in cliff sensors so it won't fly off your stair steps. Also included with the iRobot are two virtual walls, which will keep the iRobot from going into areas that you don't want it to.
Before cleaning, the robot calculates the size of the room, the obstacles in the room, such as furniture and the amount of dirt on the floors.
The iRobot Roomba cleans in three stages: The side brushes spin to grab the dirt that is against the walls and in the corners of the room. Next, the two counter rotating brushes pick up the dirt and then the vacuum sucks up the dirt and places it into the bin. The filtration system traps dust and allergens inside the robot so you can breathe cleaner air.
After the iRobot is finished vacuuming, it automatically goes back to the home base to charge up for the next time you need to use it.
Below are the features of the most popular iRobot Roombas.
iRobot Roomba 530
The iRobot Roomba 530 is the cheapest priced Roomba and it will set you back about $300.00.
The 530 model doesn't have all the bells and whistles of the newer models, but it does an excellent job of cleaning your floors. The iRobot 530 will clean approximately 120 minutes or three to four average sized rooms before it needs recharging. This model is available in white.
Included with the iRobot Roomba 530 is two virtual walls, a self charging home base, power supply, rechargeable battery, a brush cleaning tool and an extra filter.
iRobot Roomba 560
The iRobot Roomba 560 costs around $50.00 more than the 530 model. You'll immediately notice that the color has changed to black and silver.
Improvements to the 560 include better navigation, more effective cleaning and an advanced filtration system. For convenience, a preprogram feature was added so you can schedule up to seven cleaning times per week.
Included with this model is a three hour charger, rechargeable battery, power source, two auto virtual walls, a brush cleaning tool and an extra filter.
iRobot Roomba 610 Professional
The iRobot Roomba 610 Professional is the most expensive of all the Roombas. This heavy duty model has industrial strength paint and bumpers and is designed for small businesses, large areas and households that require extra cleaning.
You can also schedule this robot for up to seven cleaning times per week. It has three cleaning modes: clean mode, max mode and spot mode. The 610 has a high capacity bin and it can vacuum up to four rooms on a single charge.
The 610 comes with lots of extras including a storage case, two virtual wall lighthouses, a home base, a power supply, two brush cleaning tools, an extra set of brushes, a rechargeable battery, two extra filters a debris bin and a sweeper bin.
iRobot Roomba 760
The iRobot Roombo 760 is from the newest 700 series models and it costs around $450.00. Not only has this iRobot changed its look again, it has many new features. 
What's new on the Roomba 760? A polymer bumper was added to further protect the objects that the iRobot comes into contact with. The battery lasts 50 percent longer than the previous models and the cleaning feature has been upgraded with a better sensor to find and vacuum up more dirt than ever before. Dual HEPA filters have replaced the standard filters to keep the dust down in your home. And last but not least, the 760 comes with a handy remote control.
The iRobot Roomba 760 comes with two virtual walls, one home base, a power supply, a remote control, an extra set of HEPA filters, two cleaning tools and a rechargeable battery.
Which iRobot Roomba Is Right For You?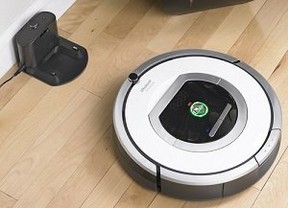 There are several iRobot Roomba models to choose from, so it can become confusing as to which one to buy. Factors to consider when purchasing an iRobot include the amount of dirt your floors accumulate, the size of your house and your budget.
If you live in a small to medium sized house that doesn't get too dirty and you don't want to spend a lot of money on a vacuum, the iRobot 530 should be perfect for what you need it for.
If you live in a household with a pet and can spend the extra few dollars, the 560 would be a better choice.
If your household has multiple pets and children, the 760 model does have a better cleaning system and if you can afford it, the 610 would be your best bet.
If you like the idea of scheduling your iRobot to clean while you are away or asleep, the 560, 610 and 760 models have this feature.
If you or members of your household have allergies, the HEPA filters on the model 760 will definitely keep the dust down in your home which will help with breathing issues.
Whichever iRobot you choose, this investment will save you time doing your household chores and give you the cleanest floors possible.
iRobot Roomba Quick Comparison
Below is a quick comparison of the most popular models of the iRobot Roomba.
| | | | | | |
| --- | --- | --- | --- | --- | --- |
| Model | Filter | Scheduling | Warranty | Dirt Pickup | Price* |
| iRobot 530 | Standard | No | 1 Year | Good | $299.99 |
| iRobot 560 | Standard | Yes | 1 Year | Good | $349.00 |
| iRobot 610 | Standard | Yes | 2 Year | Best | $600.00 |
| iRobot 760 | HEPA | Yes | 1 Year | Best | $449.00 |
*Average price, subject to change. Amazon offers free shipping.
---
Disclosure: This page generates income for authors based on affiliate relationships with our partners, including Amazon, Google and others.