Eatsmart Digital Bathroom Scale
by ExploreDecor
See why the Eatsmart Digital Bathroom Scale is my favorite scale of all time.
The Best Digital Bathroom Scale I Have Found
The last bathroom scale I had, I hardly ever used. It was always in the way so I put it up and then I just wouldn't take the time to get it out and weigh myself. I finally gave it to my sister when she needed a scale.
Then I came across the Eatsmart Digital Scale. I love this scale and I actually do use it. It is slim in size, easy to use and very accurate. I even use it to weigh my cats and the occasional package for the post office. (And yes, the cats do need to go on a diet!)
This scale has a larger sized platform than most scales, a non slip surface and a 440 pound weight limit. The Eatsmart scale gives me an accurate reading every time and the 4.3 inch LCD screen has a blue backlight so I can easily see my weight. (Even though sometimes I don't really want to!)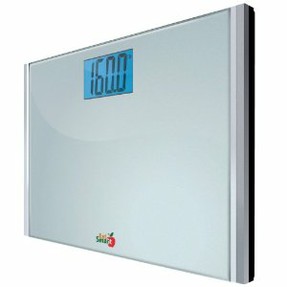 The sleek design gives this scale a stylish look and it doesn't look clunky like some bathroom scales do.
My Two Favorite Features of the Eatsmart Digital Scale
The two things that I love most about this scale:
I don't have to bend down to turn the scale on or tap it before stepping on to weigh. All I do is just step on the scale and it does its thing. This feature is terrific if you have a bad back or have trouble bending over.
My eyesight is not what it used to be and the large digital numbers on this scale are very easy to read. I don't even have to find my glasses before weighing. When I had my old scale with the dial, it was very hard for me to see the numbers and I just despised trying to count all the marks between the numbers to figure out what I weighed.
Oh, so easy on the eyes. Even in the dark.
What Other Eatsmart Digital Scale Users are Saying
You don't have to take my word on this. The customer rating based on actual customer reviews on Amazon for the Eatsmart Digital Scale is 5 out of 5 stars. As of this writing, 2,279 actual users of this scale have "weighed" in and the reviews of this scale are overwhelmingly positive. (You can click on the picture below to read all the customer reviews.)
This scale runs on 2 AAA batteries and they are included with this purchase. When you order this scale from Amazon, you will receive Free Shipping!
---
Disclosure: This page generates income for authors based on affiliate relationships with our partners, including Amazon, Google and others.