Five Best iPad Games You Should Download Right Away
by Kapalbility
These are the best iPad games that I have found super addictive. Hope you enjoy them as much as I did!
While the iPad can become a super productive virtual assistant, a classy art tool box or a compact book or newspaper, it can also become a huge arcade in a small slate computer.
My iPad is full of games. In fact, I blog about the best iPad games (do check that out) that I download into my springboard.
I play favourites, though, and this list is about the best iPad games that I found super addictive. Ready?
Fruit Ninja HD
($2.99 via iTunes)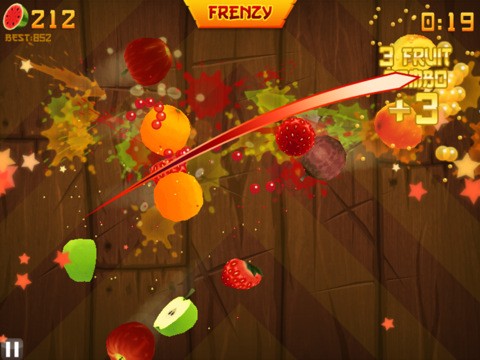 Fruit Ninja
Fruit Ninja is one of the staples in the iPhone or iPad. It is very easy to pick up and learn, but extremely hard to put down and master. Basically, you would have to swip on the flying fruits on the screen to slice them. Bonus points for combos. The aim is to beat your record.
The record in my iPad is 1358 points. No, that is not my score, but my girlfriend's. The highest I can muster is 700+ points.
Download Link:
Fruit Ninja HD - Halfbrick Studios
Muffin Knight
($0.99 via iTunes)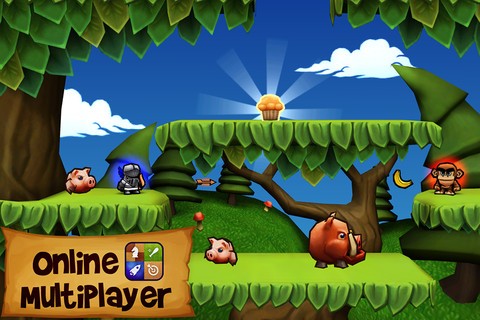 Muffin Knight
Two words: fairytale muffins.
Muffin Knight is sort of a rendition of Super Crate Box to the iPad. In this game, you move the knight in a single stage to collect as many muffins as possible. There is a catch to this, though. For ever muffin collected, the knight turns into another character with different abilities. There are seventeen characters in all, and the list includes a candy-vomiting zombie, a shuriken-throwing kitty, a sumo panda and a unicorn that poops rainbow-colored mines. Fun!
Download Link:
Muffin Knight - Angry Mob Games
Dungeon Defenders: Second Wave
($2.99 via iTunes)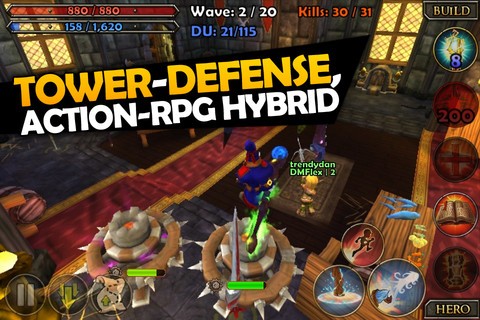 Dungeon Defenders
Dungeon Defenders is an awesome hybrid of tower defense and action hack and slash role playing game. Each level is consisted of a few waves of enemies and each wave gives you a chance to build defenses (the tower defense part) and when the enemies appear, you can help your defenses eliminate them (the action RPG part).
The game is super action packed and the game has tons of content for the asking price. Super quality game.
A little word of warning, though. For hard-core gaming players only. Casuals player will find this too tedious.
Download Link:
Dungeon Defenders: Second Wave - Trendy Entertainment
Tiny Heroes
($1.99 via iTunes)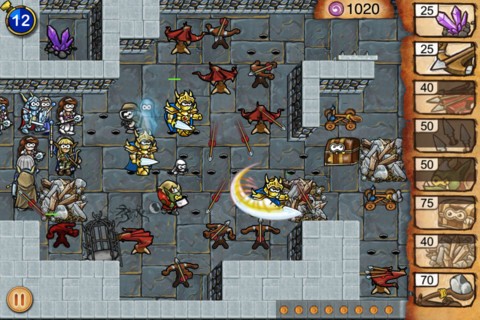 Tiny Heores
Tiny Heroes is not really an iPad game, but an iPhone app. But since you can enlarge an iPhone app and play it scaled twice to fit the large iPad screen, I would like to add this here.
Much like Dungeon Defenders, Tiny Heroes is also a tower defense game, but with a twist. Instead of being the good guy, you play the dungeon keep and have to keep the heroes away from your treasure. The game has tons and tons of traps to offer and the game is has a lot of humor. Read the Tinypedia!
Download Link:
Tiny Heroes - Simutronics Corp
Where's My Water
($0.99 via iTunes)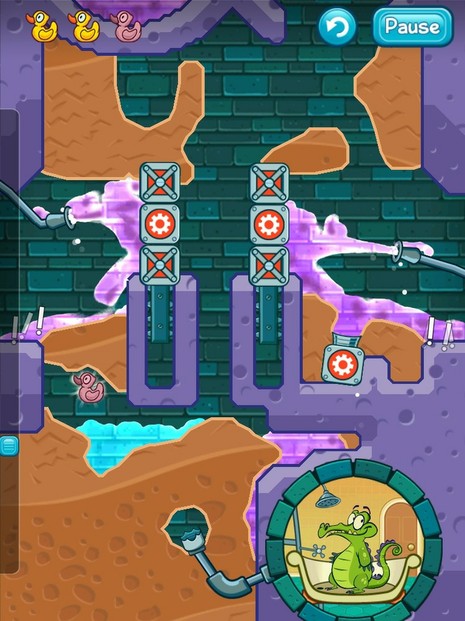 Where's My Water
Where's My Water is a physics based puzzle game where you are to bring the water from point a to point b. While my only complaint is that the water does not move like a real liquid, it is super fun to play and it is not too hard, nor too easy. It has a cute storyline behind it too!
Download Link:
Where's My Water? - Disney
More iPad Articles at MyiPadGames.com!
Best iPad Stylus
There are few problems when I use my finger when drawing on the iPad – they are too blocky, my hands obstruct my view and it leaves oily marks on my device. If you are like me, who are tired of these things, then fret no more because I scoured the market for the best iPad styluses I can find.
Best iPad RPG
Here is the list of the iPad RPGs that are currently in my iPad's springboard! Hope you enjoy the list of the best role playing games on my iPad!
You might also like
Where To Buy The iPad 3
If you are wondering where to buy the iPad 3, look no further - we list all t...
Otterbox iPad 2 Case
The Otterbox is one of the toughest cases around. Let's look at the Otterbox...
---
Disclosure: This page generates income for authors based on affiliate relationships with our partners, including Amazon, Google and others.