Best iPad Stylus - The Top Five
by Kapalbility
Best iPad Stylus - I love coloring on the iPad, but I hate using my finger to do that. What types of styli do I recommend? Check these out!
The iPad boasts the best touch reception among all touch devices, no doubt about it. That's why it is a super useful tool for note takers who type slower than they write, and recreational and professional artists (even frustrated ones, like me).

When taking a break from writing online for my iPad gaming blog or when I am on the train, I use the iPad to do some creative coloring. However, I do not like using my fingers to do that -- my hands obstruct my view and my fingers register too large lines. The solution? Stylus. Here are my top iPad stylus for your iPad!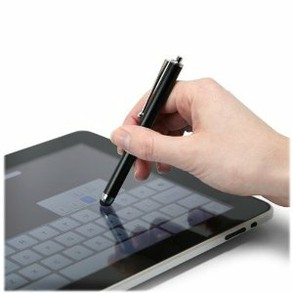 Boxwave Stylus (the stylus I use!)
1. BoxWave Capacitive Stylus for Apple iPad, iPad 2, and Amazon Kindle Fire (Jet Black)
This is the iPad pen I use. It is light, long enough to support my grip and of course, it registers my stokes just right. The black one looks real classy, too, super business-like, I'd say. The fun feature is that it has a jack that can connect to the headphone slot so it stays attached to the iPad. Well, as long as you don't use the headphones.
2. Griffin GC16040 Stylus for iPad, iPod, iPhone and Other Touchscreens
While this one is a bit on the heavier side, the Griffin Stylus registers lines as good as BoxWave. It also has a lot of positive reviews on Amazon.com. Check the reviews out!
3. Bamboo Stylus for iPad (CS100K)
Wacom claims that their Bamboo Stylus has a 25% smaller tip than the leading iPad styli (around 6 millimeters). This makes it perfect for drawing on the iPad. It comes with a full year's worth of warranty and comes with a sweet notebook app to boot! Downside? A little pricier than others in this list.
Bamboo Stylus for iPad (CS100K)

The Bamboo Stylus, from the leader in digital pen technology, is a brushed aluminum stylus for use with an iPad. The Bamboo Stylus is elegantly designed featuring a premium ...

WACOM

$14.98 $8.99
4. Acase Capacitive Stylus for Apple iPad
I used the ACase stylus (my girlfriend owns one for her 'droid) and this one registers quite as well as my stylus (the BoxWave one) and I think that this is almost the same. Also features the jack that can connect to the headphones.
5. Cosmos Pack of 3 Styli
I never used this product, but looking at the price, I'd say this is a catch. I checked the reviews and a majority are positive ones. The negative reviews say that the styli are not for drawing as it causes too much friction, so if you are an artist, you might want to steer away from this product. Still useful for tapping and writing.
Do-it-Yourself Stylus!
Hey, hey hey! If you are unable to purchase a commercially-made stylus for some reason (lack of a credit card or no spare money are the first two things that come to my mind) you might want to make yourself one. Super easy to make, although the conductive foam is hard to find. Try asking from electronics shops!
More iPad Related Articles at Squidoo.com
You might also like
Where To Buy The iPad 3
If you are wondering where to buy the iPad 3, look no further - we list all t...
Otterbox iPad 2 Case
The Otterbox is one of the toughest cases around. Let's look at the Otterbox...
---
Disclosure: This page generates income for authors based on affiliate relationships with our partners, including Amazon, Google and others.