Best Laptop Coolers
by thisisoli
If you are suffering from an overheating Laptop, let us help you out with our list of the best laptop coolers.
Introduction
When you are looking for the best laptop cooler there are definitely a few things you will want to consider, but when you get right down to it you need to read some laptop cooler reviews to find the laptop which is best for your own personal needs.
All laptop coolers are not alike, some are much better for specific uses, and others are more suitable for specific lifestyles. Depending on what you enjoy doing you may want to consider these key factors before you buy a laptop cooler.
Cooling Power
Noise Levels
Design
Portability
Functionality
Price
Finding the right mix of these is by far the best way to find your perfect laptop cooler.  But don't worry, I am not going to leave you hanging. I will still be giving you three of the best laptop coolers on the market to help you get started!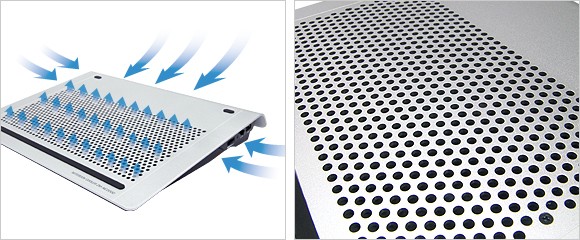 Laptop Coolers
Cooler Master Storm SF Laptop Cooler
19 Inch Powerful Laptop Cooler for Gamers
The Cooler Master Storm SF is a beast of a cooler designed to give fast and efficient airflow, enough to cool even the most powerful of gaming laptops. It comes with two 140mm turbo fans designed to provide some of the best airflow on the market. The downside - these also make a fair amount of noise. 
Despite the huge amount of effort put in to the power of the Cooler Master Storm SF laptop cooler, what really makes this is the overall design. This cooler is built to be the best hi-tech laptop cooler on the market, and every feature of it's design is geared towards this. 
The first thing you will notice is the the huge 19 inch cooling surface. This is well designed to provide more than enough space for even large 19 inch widescreen laptop coolers. On top of that The Cooler Master Storm laptop cooler also comes with a 4-port USB 3.0 hub, which may not mean much now, but in about a years time will be quickly replacing USB 2.0 devices everywhere.
Finally, it comes with a easy access carrying handle and wire slot.  Great for portability and keeping wires tidy!
It's final features are more aesthetic. From a futuristic design to a seven color LED light show that gives your laptop a distinct look in darkened gaming conditions!
NZXT Cryo LX Laptop Cooler
One of the most powerful laptop coolers on the market
The NZXT Cryo LX laptop cooler really is one of the most powerful laptop cooling solutions available today.  It has three 120mm fans providing a vast amount of airflow.  This makes it the most powerful cooling solution for laptops, however it's slightly smaller size makes it less ideal for those with hardcore gaming rigs, but still the perfect solution for those who deal with intense overheating issues.
Considering the amount of airflow, the Cryo LX actually has fairly low noise levels.  While it will never match up to the quietest laptop coolers, it still manages to keep the noise to a minimum.
While initially designed for 19 inch widescreen laptops, the NZXT Cryo LX does leave a little overhang with most 19 inches.
Surprisingly the Cryo LX does less with more. It has no LED display, and instead stays low key.  It does have the ability to fold (Great for portability), and it has a four port USB hub .
Zalman NC3000 Laptop Cooler
Powerful and Silent, The Zalman NC3000 is perfect for work and play/
The Zalman NC3000 is extremely high quality, silent running, and surprisingly powerful cooler for your laptop computer.  
The Zalman NC3000 is suitable for laptops up to 19 inches in size, and while it may not be the most powerful laptop cooler on the market, it still packs a pretty strong cooling punch.
What really makes the Zalman NC3000 so special is it's quiet cooling.  Thanks to the large high quality 220mm fan sends through a whole lot of air, with very little noise. These fans are super reliable, and rarely suffer form the fluttering and whirring noises that cheaper fans can often develop.
Feature-wise the Zalman NC3000 is also pretty well stocked.  An on/off switch, fan speed wheel and a USB pass through port or USB hub (depending on version). help make this a flexible laptop accessory!
---
Disclosure: This page generates income for authors based on affiliate relationships with our partners, including Amazon, Google and others.