Best Treadmills for 2012
by SamPhillips
Finding the best treadmills for 2012 starts now, with a whole bunch of new treadmill models from every major brand.
Finding the Best Treadmills for 2012
Exciting New Treadmills Make Shopping Simple
Whether or not you live in a cold neck of the woods like I do or not, and running outdoors is a seasonal event (those of you living in the tropics, for example, can roll your eyes now) - it's an exciting time to look at the best treadmills for 2012 shaping up as manufacturers compete for your business.
What happens in the industry is that while some big names like Landice and Precor are going to likely just tweak their current lineup here and there, the smaller brands are busy bees fighting for attention by jam-packing their treadmills to the brim with eye-catching features.
Some might think it's a bit of a moot point to have a shock-absorbing deck, or a lifetime warranty, or a great sound system...personally I'll take those features any day of the week.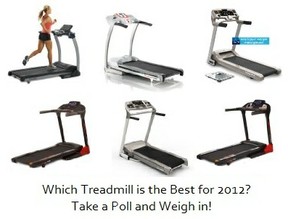 Following is a rundown of what I think are some of the best treadmills of 2012 - and all of this is based on two things:
1) Personal brand experience
2) Countless weeks of research
Mainly my research is inspired from being a dissatisfied customer of a number of gimmick fitness gadgets (my parents should never have found QVC or HSN on cable television).
For me, quality is huge, so I'm pretty picky with what treadmills I bother to review and recommend.
In fact, researching the various models has taken weeks of my time, and if you have your own experience with these models then please weigh in with a comment below (also taking suggestions for treadmills I need to look at personally).
Best 2012 Treadmills
Amazon's Best Treadmills
Landice L8 LTD Cardio Treadmill

Landice L8 LTD Cardio Treadmill - New 2012 Model Now in Stock! The Landice L8 LTD Cardio Treadmill is part of the well-respected L Series of treadmills. As with all of the ...

Landice

LifeSpan TR 1200i Folding Treadmill (2011 Model)

The LifeSpan TR1200i folding treadmill is durable, reliable, and loaded with valuable features, helping you walk, jog, or run with confidence in the comfort of your own home. ...

LifeSpan Fitness

Schwinn 840 Treadmill

The Schwinn® 840 treadmill offers integrated heart rate programming, multi-color dual-screen consoles and an optimally cushioned running surface. And for added convenience, ...

Schwinn

Sole F80 Treadmill (2011 Model)

The Sole® F80 treadmill boasts a continuous-duty 3.0 HP motor that delivers challenging speeds up to 11 MPH; the Cushion Flex Whisper Deck reduces impact on your joints by up ...

Sole

Sole F85 Treadmill (2011 Model)

The Sole® F85 treadmill boasts a continuous-duty 3.5 HP motor that delivers challenging speeds up to 12 MPH; the Cushion Flex Whisper Deck reduces impact on your joints by up ...

Sole

Precor 9.33 Premium Series Treadmill

Bring home the natural feel of an outdoor run with the 9.33 treadmill. Its Integrated Foot Plant TechnologyTM mimics your stride, while the Ground Effects Impact Control ...

Precor
Ad
What are the Best Treadmill Brands?
(Based on Personal Use and Experience)
How I Chose the Best Treadmills
Hint: They Offered The Most R.O.I.
To limit the entire treadmill industry down to only 7 or even 10 choices is really difficult to do, since there are plenty of treadmills and many quality brands to choose from, but below are my personal picks.
Since I am not filthy rich just yet, I've chosen a more reasonable price-range, otherwise called the mid-range treadmills.
These are not often (some never) sold in stores, they're sold factory-direct in most cases. Because of that, the manufacturers offer a lot more incentive for shoppers to buy their treadmills, since you often can't see the treadmill except for online or maybe at a friend's house.
Buying a treadmill directly from the manufacturer may sound counter-intuitive, but looking at the industry as a whole, these online brands deliver on their promises and compete by adding value.
You will not find industrial or commercial treadmills here, since that's another income bracket altogether. Most people buy the budget or (IMHO) worthless treadmills from discount shops.
I've had my fair share, and most come from ICON Fitness and are sold in budget stores ending in "-Mart" and they breakdown in a year or less. 
So I think I've found a sweet spot in the middle-of-the-road treadmills, hence my choices below.
Treadmill Accessories
Don't Forget These!
My Top 7 Best Treadmills of 2012
High-Value-Driven Treadmill Models
Smooth Fitness Treadmills for 2012
Some of the best treadmills (and elliptical trainers) come from Smooth Fitness, a name that many are familiar with. Unfortunately, these aren't found in stores and are exclusively sold online. As such, some 'reviewers' in various Q/A sites like Yahoo! Answers or forums like those at Runner's World assume the worst. 
The theory goes that if it's not sold in stores, it's not a good brand - in the case of Smooth Fitness and a few of their competitors, that's unfounded and doesn't rest on fact.
They've not only helped shape the online fitness industry (much like Amazon did to the book industry) but they've contribued the following treadmills:
Smooth Fitness 9.65TV and 9.65LC (New for 2012)
Top of the line for Smooth, and both offer slightly different features. The most notable is the in-built television in the 9.65TV, the 9.65LC has no television and offers about 20 fewer workout programs than its big brother.
One of the best parts is the new 4.0 CHP motor on both, as well as the over-sized running deck (21 inches by 64 inches), riding on a cushioned shock-absorbing system.
Lastly, the lifetime warranty on parts, frame and electronics makes these two models a real deal.
Smooth Fitness 8.35 (New folding treadmill for 2012)
Smooth offers 4 folding models currently, and the 8.35 is brand-new for 2012. Besides a huge deck (20 x 62), speeds up to 12 MPH and inclines up to 15 degrees, the over-built 8.35 doesn't feel like a folding treadmill: it's solid.
Top it all off with a sound system, fan and 7 year warranty on parts and electronics, with a 2 year warranty for in-home labor - this is a great investment well under $2,000.
Smooth Fitness 7.35 (Classic and Award-winning Folding Treadmill)
Too many reviews have been written over the years about the 7.35 class, I'm not sure what to add other than to say its accolades are well-deserved. It's a folding treadmill with a solid motor, sound system and MP3 jack, sturdy and has a firm deck that flexes a little with your downward thrust.
The added absorbency for lowering impact is a feature that started out on high-end treadmills but has made its way into more affordable machines, and the 7.35 is one of the best treadmills for 2012 for its continued performance. 
I wouldn't count out the other models from Smooth, these are just my picks of the litter.
General Benefits of Smooth Fitness Treadmills
Patented Technology: The big addition for 2012 is the mySMOOTHTM virtual trainer. The computer on-board the treadmill will offer workout suggestions and custom-tailer a fitness regimen to help optimize your time on the machine.
This is in response (so it seems to me) to their leading competitor, Yowza Fitness, offering the Intelligent Workout Management or IWMTM technology (see below).
Warranty: They're currently providing a 7 year warranty on their better models (for parts and electronics) with a 2-year in-home labor warranty; lifetime on frame. Such a robust warranty is hardly found even on treadmills being sold at club-quality-prices.
Construction: All in all, they're still one of the better values to be found, with beefy continuous-duty motors, padded running decks to absorb the impact, and many of their running decks are oversized at 20" x 62" or comparable.
Convenience: Last benefit of the Smooth Fitness line (and actually most online-only retailers): they deliver to your door or inside your room of choice. When dealing with a 200-300 pound machine, even hauling from a local store can be a chore (watch your back!).
Personally I'd pay for the added shipping options to get the machines delivered into the room of choice, but that's because I have thrown out my back when we moved last...
I was hauling my treadmill to our upstairs 'gym,' not a pretty site with me writhing in pain. Just food for thought.
Yowza Fitness Treadmills for 2012
Think of Yowza Fitness as Smooth Fitness, take two. The leaders (CEO and designer) of Yowza Fitness were formerly running the ship at Smooth Fitness, but here's a little tip:
Yowza Fitness makes better ellipticals than Smooth - but Smooth still makes better treadmills.
That's an observation that you can tuck in your bonnet so to speak (assuming anyone wears a bonnet).
Sleek Design: Generally speaking, the design of Yowza Fitness treadmills are slightly more sleek than those of Smooth - they take up less room, especially in their folding treadmills (like Siesta).
In contrast, Smooth seems to offer beefier models that are over-built (stout frames and decks, over-powerful motors since a 4.0 CHP motor is honestly over-kill on a home treadmill, etc.), while Yowza Fitness models are sleek and offer other patented technology not found elsewhere.
Patented Technology: The three big patents on Yowza Fitness treadmills are the SwingArmTM shock absorber, the TransformerTM folding frame which is sturdier than a typical budget folding treadmill, and the IWMTM or Intelligent Workout Management system.
Impact Reducing Technology: Like the Smooth models, Yowza Fitness offers a shock-absorbing deck, but the two models that offer the additional SwingArmTM shock absorbers (the Daytona and Siesta) feel more like a Landice treadmill (which can be accurately described as 'running on grass').
Only difference is that the Yowza models cost about 1/2 or less than Landice treadmills.
Smooth Fitness used to offer this technology, but the main designer behind Yowza Fitness took the patents with him (as I understand), so only Yowza Fitness offers the SwingArmTM technology to reduce impact during runs.
Here are my picks from Yowza Fitness currently, for the best treadmills of 2012.
Yowza Fitness Daytona
The flagship running treadmill from Yowza Fitness, it doesn't fold up but offers a lot for the user. Mainly, the 3.0 CHP motor (continuous horsepower) is plenty "guts" enough for most human beings (whereas some treadmills offer 4.0 CHP, like the Smooth 9.65 models).
The Daytona offers the IWMTM technology and basically it comes with a wireless scale. The scale talks to the Daytona CPU and determines your overall place in the BMI (Body Mass Index), and optimizes a workout for you.
Pretty simple for those who (like me) don't want to fuss with controls but just get on, run, and get going to the next task.
On top of that, Daytona offers the SwingArmTM impact resistance, which is in addition to a floating deck design that rests on "multi-durometer elastomer rings."
That's fancy talk for a deck resting on a bed of rubber rings, that are softer up front and firmer towards the rear; all the better to absorb the impact normally found in running. 
The combination of the two shock-absorption systems makes for a lower impact run, better for the joints.
It can go up to 12 MPH and 15 degrees of incline, and has a host of other features.
Yowza Fitness Sebring
The Sebring is the top folding or TransformerTM treadmill from Yowza Fitness (explained below). Like the Daytona, the Sebring offers the exclusive IWM technology that tailors your workout for optimal benefit - which I like: just set and forget, get on and go.
The Sebring offers a full-sized deck, 3.0 CHP motor and plenty of programs, features like a sound system and water bottle holder, to keep most runners happily occupied.
Sebring offers 12 degrees of incline and 11 MPH top speed, to suit the most avid runner.
Yowza Fitness Osprey
This is a folding treadmill - or TransformerTM treadmill as it's called. The frame folds or 'transforms' at the push of a button, which besides being cool like Optimus Prime is actually a good safety feature: no more worrying about being pinned or getting under a heavy deck.
Besides that (and Smooth's treadmills offer a similar feature called SmoothDropTM), the frame feels more sturdy while running.
On top of that, this modestly-priced treadmill offers a strong warranty (all their treadmills come with a 5-year parts/electronics warranty, 2-year in-home labor, lifetime on frame), sound system, water bottle holder and a compact design.
The 2.75 CHP motor gives the runner 11 MPH and 12 degrees of intensity/incline.
These aren't the only great treadmills for 2012 - check out the Sole Fitness F80 and F85, LiveStrong Fitness makes a few good models and high-end models worth a look, and the Scwhinn 840 is a top-rated treadmill according to hundreds of consumer reviews.
There you have my choices for the best treadmills for 2012, all with value in mind as well as overall performance. What about your choices? What treadmills have caught your eye for 2012?
Please Visit http://Treadmills-For-Sale-Site.com for In-Depth Treadmill Reviews
---
Disclosure: This page generates income for authors based on affiliate relationships with our partners, including Amazon, Google and others.