Betsey Johnson Shoes
by Angel
Betsey Johnson is a wild and crazy freak in the fashion industry. She has been designing clothes and shoes since the 1960s. Let's explore some of her unique shoes.
Who is Betsey Johnson?
Betsey Johnson is considered a very famous New York Fashion Designer. Even though she does most of her designs from her Mexican Villa that she calls Betseyville. She is such a unique person from her crazy unkept hair to her animal print and flowered clothes. She designed for others until 1978 and then started her own clothing line with much success.
A few words to describe Betsey Johnson clothes would be crazy, unpredictable, colorful, fun, rocker, vintage, and loud. She follows her own set of rules when it comes to fashion.
She was born in Connecticut. She is inspired by her dance background and the need for costumes.   She loved costumes and it shows in her clothes and shoe designs.  Some of her designs actually look just like costumes!
She has won the 1999 CFDA Award for Timeless Talent. This recognized her contribution to fashion throughout her career. She has also been inducted into the Fashion Hall of Fame in 2002.
She is the Wild Child of fashion. Take a look at some of her crazy cool shoe designs.
Foxeyy Platform Pump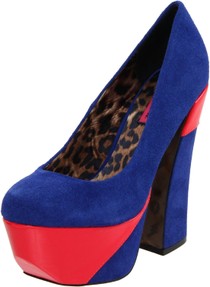 This is a wild and bright colored platform shoe. The platform pump offers height with the added comfort of the platform. This is the splash of color that you need with that outfit.
Photo credit:  Amazon
Diskko Pump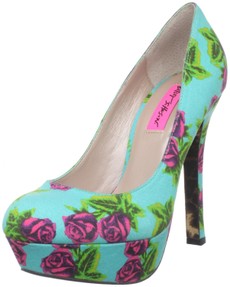 The Dissko pump is available in assorted designs. Shown in flowery print with heel. Thick platform for added comfort with a smooth lining with cushion insole. The platform is 1 3/4" with a 4 3/4" heel.   
Photo credit:  Amazon
Samanthaa Platform Pump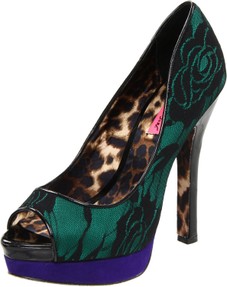 This design is available in Green Multi, Black Multi, and Blush Multi. The Green is by far my favorite. These shoes are sophisticated yet edgy. They are just like Betsey Johnson.
Photo credit:  Amazon
Dissko Pump in Leopard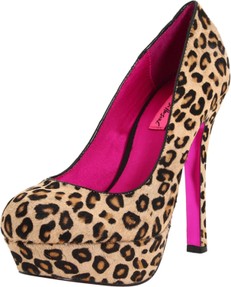 Here is my animal print favorite. I am loving this shoe with the pink accent. Get disco fever in this shoe people. It has a 1" platform and 5" heel.
Photo credit:  Amazon
Maxiee Pump
This is an all leather shoe. It comes in Multi, Cognac, Black, and Grey leather. Very comfortable rubber sole on this shoe.  
Photo credit:  Amazon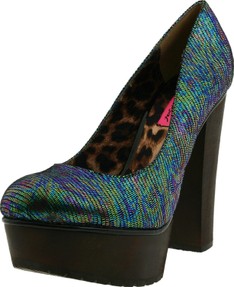 Glaam Open Toe Boot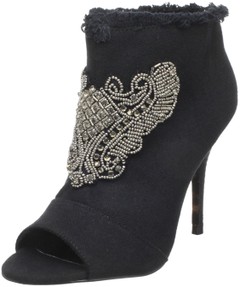 This is my favorite pick in Betsey Johnson's collection. These are definitely scream Rock and Roll. Comes in Black or Green Fabric. They are a canvas upper with peep toe. Rear zipper closure with frayed edging around the top. The heel is 3 3/4". Got to have these shoes. They would look great with a pair of jeans.
Photo credit:  Amazon
Related Website
1 Big Girl's Beauty and Fashion Spot
Beauty and Fashion Tips for the average woman.
Updated: 02/13/2012, Angel
---
Disclosure: This page generates income for authors based on affiliate relationships with our partners, including Amazon, Google and others.