The Best Portable Bluetooth Car Speakerphones
by WillApse
The best Bluetooth car speakerphones make handsfree calls simple. Ditch the wires, lose the headset and start enjoying calls in your car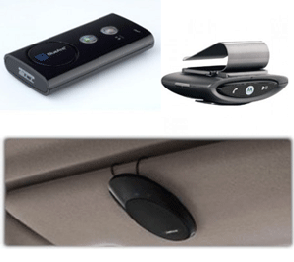 speakerphones
If you are using a headset for handsfree calls, the freedom of a speakerphone will be a revelation- nothing to get in the way of sunglasses, nothing to force into your ear, nothing to make you look like you should be guarding a VIP!
Plenty of car navigation systems offer handsfree calls too, of course. The drawbacks are that they are expensive and devices designed mainly for GPS don't always deliver the best call quality. The portable Bluetooth speaker-phones on this page were purpose made for the job and call quality is outstanding.
Portable devices never need to be left behind as targets for thieves and there are no installation problems, either.
Best Makes
Mototrola were the first to offer genuinely successful devices and the Motorola T505 has been a bestseller for several years. BlueAnt offer an especially neat and unobtrusive device with easy controls and great call quality. Parrot and Jabra are newcomers and both have something very worthwhile to offer.

BlueAnt Hands-Free Speakerphone
Bluetooth pairing to your cell phone is easy with a BlueAnt and the device sits on the sun visor held very securely with magnetic clips. There is spoken caller ID so you don't need to scramble for your phone to avoid unwelcome calls.
The speech recognition is not great- although some people speak exactly the way a machine expects and it works every time for them! The truth is, it is usually simpler to just reach up and press a button when you want to take a call. There is no voice dialer, so if your cell phone won't do this for you, you must make calls manually.
The important thing for most of us is sound quality and the BlueAnt delivers.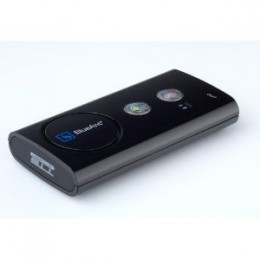 BlueAnt
Parrot SLIM Portable Speakerphone
The main reason that Parrot have been eating into BlueAnt and Motorola domination of the speakerphone market is voice recognition.
The Parrot works for most people, most of the time. All you have to do is load your phone book from your phone- the Parrot can do this fast!. After that, when you speak a name the Parrot will dial the number. Some people find it scary that machines are getting so good at human stuff!

Like the Blueant, the device clips on the sun visor and the sound quality is good. Build quality is little less than some people might hope for, though and it feels flimsy compared to other makes.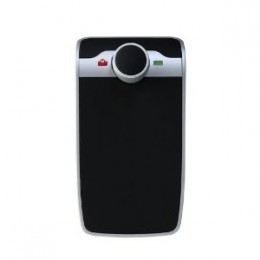 Parrot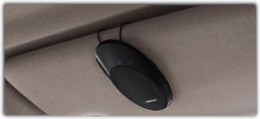 Jabra
Jabra Bluetooth Speakerphone and FM transmitter
The speech recognition package is adquate on the Jabra and most people get it to work smoothly, if they speak clearly.
Jabra SP700

Top quality DSP noise reduction and echo cancellation as well as voice activated controls...

Only $99.99
The big plus of Jabra is the choice of using the device's integrated speaker or streaming sound through the car stereo via an FM transmitter.
If you have a great sound system and your phone is packed with music, FM radio quality music is a big bonus. The FM transmitter in the phone hooks up to your radio in seconds.
The only real drawback is the lack of a home charger. You need a separate purchase.
Motorola T505- latest model in a long line of great speakerphones
Motorola were pioneers in the car speakerphone market, The latest version of the hugely successful T505 has all the virtues of the old model with even greater call clarity.
It offers spoken caller ID, voice dialer calls, an FM transmitter to hook up to your stereo and that unique Motorola design.
Build quality is good, as with most Motorola devices, and this will give long service.
The T505 is still one of the best buys around.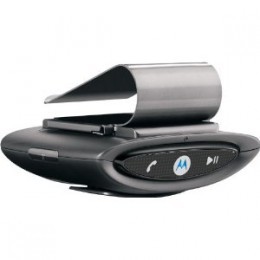 Motorola
MOTOROLA T505

Tried and tested. One of the most popular speaker phones of all time...

$159.99 $98.99
---
Disclosure: This page generates income for authors based on affiliate relationships with our partners, including Amazon, Google and others.