Buy Glass Candle Holders
Reasons to own a glass candle holder.
Candles and their Glass Holders.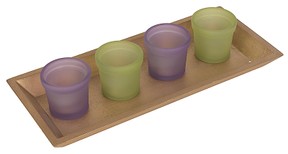 Having lived in Africa where electricity was and still is not assured, candles and lanterns became essential to daily life.  Something of the beauty of lighting a candle is lost in the mundanity of daily living. A saucer is a great place to stand a candle, just let a few drops of candle wax drop onto the saucer and stand the candle up on the melted wax.  This solidifies as it cools and acts as glue holding the light upright. No need for a fancy candle holder when this is regular, everyday life.
However, living here where electricity abounds, candle light becomes a luxury that warms the heart and calms the soul.  A retreat from the glaring brightness of modern living, a peaceful, romantic scene can be created.
All that is required to complete the look are the glass candle holders.
The feelings Candles can evoke
A combination of a candle, a glass candle holder and a few flowers can make a dining table feel surprisingly special.  
A scented aromatherapy tea light in a glass candle holder can keep a birthing mother calm.
A trail of candles in their holders can set the scene for a special night or a book reading to candlelight can fill the children with awe and wonder.
There is something special about candles.
Finding the right candle holder is a must to complement the feeling that a candle evokes.  Here are a few special ones.
The Apple Tealight Holder
A lovely unique design created from apple and glass.  It would fit into a romantic dinner table or a scented bathroom.  
A cheerful light capable of spreading cheer to those sitting or lounging near it.
The product of a great imagination!
Buy the Apple Tealight Candle Holder
What do you think of the Apple Tealight Holder?
Asian Themed Glass Candle Holders
This is another lovely glass candle holder.  This one comes as a combination of glass and paper.  A suitable gift, a lovely house warming present, a wonderful glass candle holder to keep.
Another unique glass candle holder.
Do you like the Asian Hurricane Glass Candle Holder?
Hand Blown Glass Candle Holder
This is made using a particular style of glass making-Sommerso.  A very demanding process that ends up with lovely pieces of colored glass containers that can be used for a variety of purposes like vases and candle holders.
This process results in pieces that add glamour and sophistication to any home.  this piece is definitely an art form that you deserve.
Obtain Sommerso Art Glass Candle Holders
Isn't this Sommerso Art beautiful?
Do you enjoy Art Nouveau and Art Deco Glass Candle holders?
A book detailing the images of what's available
Novica Crystal Sun Glass Candle Holder
This one is created by a guy called Marco Polo (Yes, his real name, he claims).  The design is a product of his imagination which makes him a very creative guy in my books.
This Crystal sun is made from Iron whilst the sun's face is blown glass.  It would make a stunning addition to your wall with the candle holder just behind the face of the sun so the light would reflect beautifully out making it look like a crystal sun in your home.  
Truly One of a kind!
Get the Handmade Crystal Sun Glass Candle Holder.
Orrefors Raspberry Glass Candle Holder.
This has been called magic.
Watching the light flickering in this glass candle holder is mesmerizing; you will be mesmerized, your guests will be mesmerized.  
Imagine what it looks like when it catches the sun as well - Lovely!
Great for a gift, great to own.
A quality item from Spain.
Buy this lovely Raspberry Glass Candle Holder
You might also like
Covered Bridges
Covered bridges are great places to visit. They offer a glimpse into the pas...
Coir Welcome Mats
Coir Doormats - They're considered one of the best ways to wipe dirty feet. ...
---
Disclosure: This page generates income for authors based on affiliate relationships with our partners, including Amazon, Google and others.