Buying a Fake Christmas Tree
by thranax
Buying a fake Christmas tree will both improve your holiday season and save your money in the long run. Fake trees have their own sets of benefits.
Fake Christmas Trees and You!
The option is there, it all depends on you.
Growing up as a kid we always had a real Christmas tree. Every year we would go to the tree farm and pick one out, bring it home on top of the van, and set it up in a base with some water. I think this is a great tradition for little kids who get to help pick out a tree. The problem is this task turns into a chore the older the kids and yourself get. To help get rid of some extra work and save some money a fake Christmas tree (artificial) might be exactly what your looking for. Artificial trees have a great set of benefits are work well in the long run. Buying fake trees can be a little tricky and there are things to look out for. While almost all options can be utilized it really is recommended to look into exactly what you need and can manage.
Benefits of all Fake Trees
Artificial Trees Benefits Include:
No watering
No dry pine needles in the house
Less risk of falling over
Cheaper over time
Can be pre-lit
Can support same weight ornaments
Many fake xmas trees are easy to assembly and are lighter then a real tree. While some might be to short for taller tree assembly it can still be easily accomplished on a step stool. Most artifical xmas trees are made of plastic.
Fake Christmas Trees are Easy to Enjoy!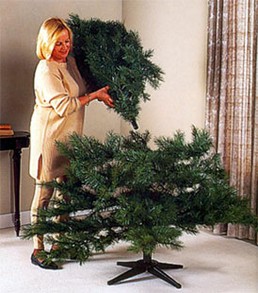 Fake Christmas Tree Assembly
Large Classic Christmas Trees
These large fake Christmas trees are a great choice for most homes and apartments. Its always good to see how tall of a tree you can support (make sure there is room for a tree topper!). These trees are traditional looks, some pre-lit some not. The basic ones support more decorating and you can use custom lights. These would be the best choice for people with kids who like to decorate the tree, for people without kids but still want a Christmas tree then the pre-lite Christmas trees are quick and easy.
Smaller Classic Christmas Trees
A lot of people cannot fit large trees in their houses or apartments. While the taller ones might be too big there are smaller 4 feet and 4.5 feet Christmas trees. These trees are scaled down models of the larger pre-lit Christmas trees and are very likely to fit in almost any room. These are small enough to go on tables and stands inside homes for corner trees or special display trees for example. Regardless of the use of these smaller trees, one thing is certain...they will help make a very Merry Christmas!
Small Fake Christmas Trees
Real Christmas Trees or Fake?
What is your Preference?
---
Disclosure: This page generates income for authors based on affiliate relationships with our partners, including Amazon, Google and others.