Camping: food 101
by supercarly
Off camping for the first time this year? Worried about food, where to store it and what to cook? Don't! Read our handy guide instead!
Storing food on your camping trip
Avoid food poisoning, contamination by vermin and theft!
Rotate your ice packs to keep your cool box cold. 

Storing food safely is essential in making sure you don't give yourself food poisoning, contamination of food by vermin, or having your food stolen by critters.
Keeping your foodstuffs in a box with a lid on will ensure vermin such as rats and mice do not crawl all over it, and contaminate it. Keep your food safely in the shade, in appropriate containers, secured with lids on. If you keep your food in the tent, uncovered, you could have the foxes, squirrels, or even holidaying dogs pawing and clawing their way into your tent for a free feed. Not to mention mice and rats, crows and magpies…no we will not mention them!  
Make sure your cooking area is left clean and all your rubbish is thrown away.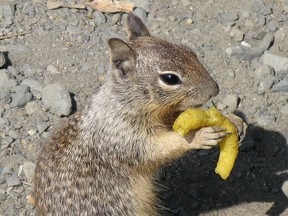 How to store your campsite food:
The first thing to do is buy two cool boxes.  Make sure they're fairly good quality, will hold a good amount and have a lid that firmly closes.
Keep the lid on the cool boxes until you need to take food out. TOP TIP:  use one cool box for food and the other for drinks.  This will ensure the food box is left undisturbed until food is needed for cooking at mealtimes.  
You'll also need to invest in a couple of icepacks.  The more the merrier!  
Freezing icepacks:
Most campsites have a facility where you can freeze ice packs. Buying extra ice packs and marking them with a permanent marker with your name on will mean you can identify your cool packs.  It'll also discourage other campers from 'borrowing' them out of a communal freezer.
What to eat
Planning meals for your camping trip
Cooking before you leave:
Now that you have your cool box it's wise to cook up some meals before you leave for your trip.
You can freeze some meals to use later in the holiday: this will keep the food fresh for use later.  It'll also help anything fresh stay cool.
Mealtimes - ideas:
Breakfast:  Fresh milk should be available from a farm shop or convenience store nearby.  Only buy a small bottle, a pint or so, at a time to last the day.  Use (sparingly) on cereal.
Croissants, toast, breakfast bars and crumpets also make yummy breakfasts.
Lunch:  Canned foods are really easy to store (they don't need refrigerating) and simple to cook on the stove, but they are heavier to carry, so they're not recommended if you're backpacking.  However, if you're on a family holiday with a car, go for it!  Load up with tins of beans, spaghetti hoops, ravioli, macaroni cheese etc.  These provide cheap lunches.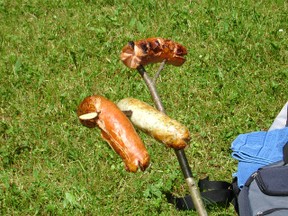 Top tip:  Empty tins can be washed out and used to store knickknacks, hold cutlery upright for drying or to tie string to for hours of fun pretending they're telephones.
Dinners:  Anything you'd normally cook for the family, portioned up into Tupperware boxes and frozen.  Leave one or two meals fresh for the first couple of days.  Cold pasta with mayonaise, tuna and tinned sweetcorn is also a delicious lunch!  Precook pasta before you leave, or cook it on your camp stove!
Or, if you fancy preparing something fresh, there are plenty of options.  It's harder to cook meat if you're doing it on a trangia, but a stove with two hob rings is more versatile, ensuring you can fry meat and cook up a range of dinners for the family.
A disposable BBQ is a good idea - it will allow you to 'grill' sausages, burgers, chicken and veggies. 
Brought to you by:
Campsites in the Cotswolds
Get back to nature without having to sacrifice creature comforts by visiting our campsites in the Cotwolds. You won't need to worry about cooking here: we have a local food delivery service, a takeaway, a snack bar, a restaurant and much, much more!
---
Disclosure: This page generates income for authors based on affiliate relationships with our partners, including Amazon, Google and others.