Can a Short Pear Shaped girl wear Maxi dress? How can I look good in my Maxi dress?
by hamshi5433
Ladies you can wear a maxi dress and look hot in it even if you think you`re too short to wear it or if you think you`re `fat` to wear a maxi dress! Maxi Dress Facts and Myths.
Who said you have to have an `Hourglass` figure to wear a maxi dress?
Wear Maxi Dress and Look Amazing!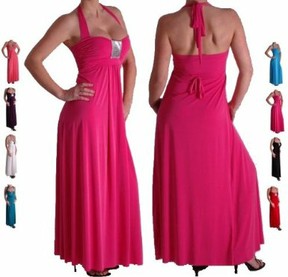 Guess what ladies?
You can look beautiful in a Maxi dress even if you don't have that so called `hourglass` figure. Don't assume that all the celebrities you see on pictures/movies have are blessed with natural curves, majority of them have undergone through numerous plastic surgeries, breast implants and so on to get those fake curves! So be proud of the way you are and just focus on what else you can do to naturally enhance your curves. Just follow these simple tips on how to wear a Maxi dress and I can bet you, you will love the outcomes!
Big Flower on Solid Black Graphic Print V-Neck Cap Sleeve Empire Waist Long / Maxi Dress
Also available in Magenta and Red!
Maxi Dress FAQ
Every Maxi Dress Question Answered.
When I first wrote my article about Maxi Dress Tips, I have found out that most girls search for this article in their own unique ways such as asking questions about their Maxi dress concerns. So I have decided to answer all the questions about Maxi dresses here. If you have more questions about wearing Maxi dresses, feel free to ask on the guestbook below.
"My arms are fat and flabby, Can I still wear a Maxi dress?"
Yes you can! and Here is how you wear it:
If you have fat arms, you can cover it up! Who said you have to walk out wearing the maxi dress alone? Spice it up with a nice pair of overcoats, thin cardigans or cropped jackets if it's too cold. This is what I do most of the times when I wear maxi dresses. I would always put on a cute cardigan or overcoat on top of my maxi dress so people will not pay attention to my arms whatsoever. And this is the trick, no matter what color your maxi dress is, if you feel too conscious about your flabby arms, then wear dark coloured, preferably black cardigan or overcoat on top of your dress.
Best Bolero Shrug Deals on Amazon
Ever Pretty Sexy V-neck Floral Printed Ruffles Summer Dres
Available in 6 more Amazing Colors
"Does Maxi dress suit Pear Shaped body? "
Yes it definitely does, just try wearing one and see!
Maxi dresses suit all body types but there are different kinds of maxi dresses. For example extremely tight fitted maxi dresses might only suit hourglass figures whereas the maxi dresses which are tight in the top half and flared in the bottom half will look better on other body types. Before you read about how to wear a maxi dress, figure out your body type and what sorts of dresses will enhance your body shape.
Read my article about `How to look hot in your Maxi dress` to know about which types of maxi dresses will suit your body shape and more detailed tips.
"Can Muslim girls wear Maxi dresses?
Muslim girls wear maxi dresses more than any other girls.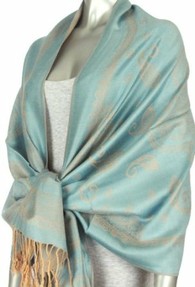 Yes Muslim girls love to wear maxi dresses and it suits them just fine. All you have to do in order to look trendy and decent is to wear tank tops underneath your maxi dresses and cardigans if you want to cover up your arms as well. Not all Muslim girls wear headscarf, so if you are one of them, you can just wrap a Pashmina scarf around your dress. Pashmina scarf and maxi dresses go well together and it will make you look really elegant and beautiful.
Wrap up with a nice Pashmina Shawl
Another amazing way to hide flabby arms in your dresses
"Am I too short to wear a maxi dress?"
Who cares about your height, just wear it!
If you feel too conscious about your height, just wear a nice pair of high heels or wedges with your maxi dress. I hate high heels because I simply cannot walk in them so my option is the wedges. Both will make you look taller and slimmer in your dress. If you're like and you know clearly that you just cannot walk in high heels, then don't bother with it and embarrass yourself in public. Just stick to a cute pair of wedges.
Wear High heels or Wedges with your Maxi dress!
I go for the Wedges
"Can you wear maxi dresses in winter?"
Unless you have an extremely bad health issues, you definitely can wear it.
I wear maxi dresses in both winter and summer. During winter times, I would just wear leggings, tights, socks or what ever inside my maxi dress and thermal vests to keep me warm. Don't forget to wear a cute jacket too. Leather jackets look hot with maxi dresses, so try them out for winter. The good thing about wearing maxi dress for winter is that you can wear as many layers as you like inside and no one will know!
You can even wear boots underneath your maxi dresses during winter. I wear ankle boots because they keep my feet warm and are very fashionable with the dress. But make sure you choose the colours of your dress wisely, don't wear a dress that will make you look like a clown.
This is what I wear underneath my all my outfits during Winter times!
Dulce Candy`s Maxi dress tips for Short girls
---
Disclosure: This page generates income for authors based on affiliate relationships with our partners, including Amazon, Google and others.