Cheetah3D 5.0
by karamela
This long-awaited upgrade to an elegant Mac 3D app promises significant render speed increases.
This long-awaited upgrade to an elegant Mac 3D app promises significant render speed increases. Cheetah3D 5.0 has been a long time coming - but then its developer had to get his mathematics Ph.D. out of the way first... When you first fire it up, the latest version of this Mac-only 3D app doesn't look any different from its predecessor: it still has the same clean, customizable interface as ever. About the only difference is a listing for a Node Editor as an available view for any of the interface panes. But more on that later.
Firstly, the render: it's still a model how to do it right, allowing for as many simultaneous renders as your RAM allows, across multiple open scenes files, and it still list all your renders as they're completed enabling you to step back through the list and save and delete. Now, though, this render list persists across restarts. There has also been some serious tinkering going on under the bonnet and rewriting to take advantage of Snow Leopard's more efficient multi-threading. The renderer can also use Intel's Core i7 Hyper-threading, so can spin off eight threads on a quad-core processor, and can handle 16 render threads in total on a dual-i7 setup. The overall rendering speed compared to version 4.7 is also worth noting: it's anything from two to ten times faster. Yes you read that right: a 2,048 x 1,560 frame with HDRI and radiosity that took 233 seconds to render in version 4.7 takes 23 seconds in Cheetah3D 5.0 on an eight-core Mac Pro. In fact, the new rendered is already finishing filling in buckets while the old one is still calculating the radiosity solution. While the average speed gains are more likely to be in the two to four times faster range, those are still enormous increases in render output. This mitigates somewhat against the lack of provision of marquee render tool for checking small regions of a scene - although this feature would be warmly welcomed by a lot of users.
The other amazing thing is that, despite this increased speed and thank to a new irradiance cache model, the new renderer produces far cleaner images, with better shading drop-off and noticeably fewer artifacts at lower sample setting. Especially when using HDRIs and radiosity. Small wonder that many architectural and product visualization specialists buy it for the renderer alone.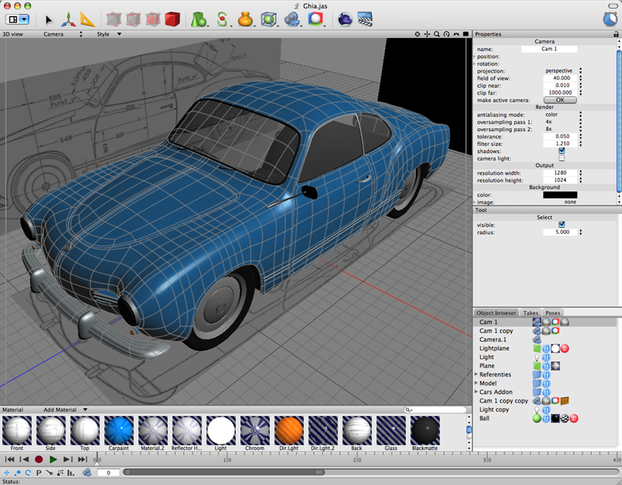 Cheetah3D 5.0 interface
Pros
Great new shader node network
Significant render speed boost
Better multi-threading and hyper-threading support
Cons
No subsurface scattering or glows
Materials save glitch
No marquee render tool
---
Disclosure: This page generates income for authors based on affiliate relationships with our partners, including Amazon, Google and others.