Maxwell Render 2
by karamela
Next limit's latest release introduces many new features, as well as welcome render speed improvements.
Maxwell Render is one of the newish wave of 'unbiased' render engines, and has a reputation for producing very realistic, physically correct rendering - but at the expense of a long render times. With the release of version 2, developer Next Limit is chipping away at those render and scene setup times even more, with amazingly higher render quality through a plethora of engine optimizations, plus a bundle of new stuff.
Tremendous rendering speed gains of 2x to 6x where touted in Next Limit's pre-release hype. These gains, though, are difficult to quantify in reality, simply because the Version 1.7 benchmark and sampling level systems are not measured in the same way as the new version 2 systems. Another aspect of the render engine that makes it hard to judge speed increases is the fact that Maxwell renders do not have a defined stopping point where the render is definitively 'finished' - that decision is down to you. Therefore, the only way to judge the increase in speed is by comparing renders of the same length of time from both versions of Maxwell. From this type of comparison, the speed gains can be easily recognized, with the noise levels being much lower in the version 2 rendering.
Hard to reach areas of the scene - in other words, those lit only by indirect light - benefit in particular. The network rendering system has been rebuilt from the ground up as separate application. Version 2 includes a robust wizard which helps guide the user through the set-up process, and is highly programmable, with setting for CPU priority, image output depth, camera selector and more. Cooperative rendering of channels such as shadow, alpha, Z-buffer and so on over the network is now possible, and network rendering feels much more solid overall.
Another area of major improvement crops up in the material system, in the form of stackable layers. Exceptionally complex material can now be created by stacking layers on top of each other, not unlike the layers system inside Photoshop. For example, you can create a base layer of shiny metal, and add a masked layer on top of it to create mud and grime with its own set of material properties.
IES and EULUMDAT files are now supported, which should be great help for architectural renders. In version 2 you need only apply an IES emitter material to a small sphere in the scene and load the appropriate data file. There is, however, a notable decrease in the benchmark wile using IES lighting.
Thin subsurface scattering was an oft-requested feature that version 1 was lacking. This is where you have 'simulated' subsurface scattering on single-sided non-closed mashes, for example leaves on a tree. This feature is well implemented in the material editor, and surprisingly quick to render.
Maxwell render is still time consuming render especialy for motion graphics designers.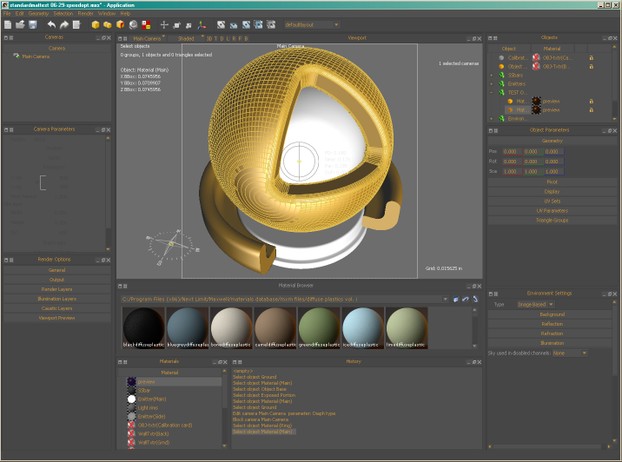 Maxwell Render interface
Pros
Easy to create realistic materials
Amazingly accurate lighting calculation
Robust network rendering
Cons
Render times can be fairly long depending on the situation
Standard license does not include any render nodes
You might also like
DSLR camera for filmmaking
When it is all said and done DSLR's are a great, cost effective way for amate...
Cheetah3D 5.0
This long-awaited upgrade to an elegant Mac 3D app promises significant rende...
---
Disclosure: This page generates income for authors based on affiliate relationships with our partners, including Amazon, Google and others.