Cinnamon and Sugar Pumpkin Seed Recipe
A fun recipe to make after working on pumpkin carving during the Fall Season, or after pumpkin harvest.
Making a Fun Snack out of Pumpkin Seeds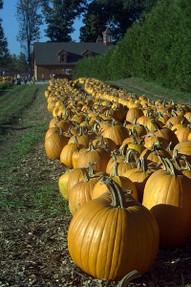 Every fall, many children enjoy the process of picking out a pumpkin from a pumpkin patch or a store, in order to hopefully carve it later for a fun jack o lantern.  Other people grow and harvest their own pumpkins to eat and enjoy.  I even know of a lady that makes pumpkin pie from fresh pumpkin, and she says it is wonderful!
I have come across a fun recipe for pumpkin seeds, and it makes a great snack that isn't too sweet.  With more and more people coming away from processed foods, this is a welcome idea. 
First, preheat your oven to 375 degrees, and make sure the oven rack is in the middle or center of the oven.  Prepare fresh pumpkin seeds for use in the recipe, by rinsing the seeds well in a strainer.  This will help to remove the pulp.  Pat these seeds dry, then proceed.
Ingredients:
2 cups fresh pumpkin seeds - Rinsed well, drained, and patted dry
2 teaspoons of vegetable oil
3 Tablespoons granulated sugar
1/3 teaspoon of ground cinnamon
Directions:
1.  Mix the cinnamon and sugar together, and set aside.
2.  Toss the seeds together with the vegetable oil
3.  Roast the seeds on a baking sheet, rotating or stirring them around every 5 minutes or so. Do this until the seeds are browned and crispy.  They will be very aromatic when ready to take out.  It shouldn't take more than ten or fifteen minutes.
4.  While the seeds are still warm, sprinkle the cinnamon sugar mixture over them and toss them completely. 
**These are best served soon after making, but can last up to five days or so in a covered and sealed container.    Know that depending on how fresh the seeds are, the baking time may be varied.  Fresher the seeds, the longer it will take.  You can try adding dashes of other spices as well, like some of your favorite pumpkin pie spices.  Use just a little bit however, keeping the cinnamon sugar the main feature here. 
Health Benefits From Pumpkin Seeds
Pumpkin seeds are a very healthy snack choice.  There are many great benefits that come from them.  Did you know that the seeds contain fair levels of essential nutrients and minerals?  They have copper, manganese, selenium, potassium, zinc, calcium, magnesium, and iron.  I was very impressed to see this list!  So in essence, you are getting a lot less processed chemicals that are in so many snacks, and getting a lot of great nutrients that our bodies need anyway.   There are  antioxidant properties as well, which is great in a time where we want our bodies to have strong resistance against infectious agents and free radicals.
Have you ever made a snack out of pumpkin seeds before?
---
Disclosure: This page generates income for authors based on affiliate relationships with our partners, including Amazon, Google and others.