Collage for Everyone
by indiablue
Find out the very latest information and examples of using collage in your art Journals
Have you ever wanted to find out about collage? Come along and I will show you the way.
What is a Collage?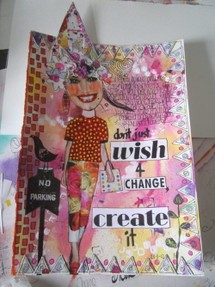 A Collage is an image that is made from other images, which are cut up and pieced together again in a different way. Collages can be used as Images in an Art Journal, as pieces of art in them selves or as way of showing off many pictures all overlapping each other. For example some people like to make a collage from their family photos.
 On this page I will be showing you Collages as I mvke and use them in my Art Journals. I will also have some Videos of people making Collages. I find it much easier to learn visually then by just reading so I hope the videos will help you too.
At the left you can see a collage that I made for one of my art journal pages. I not only used a number of images to make up the woman's form, but I  also added a number of drawn elements to add to the page.
Please note : All the pictures of collages are owned by me and created by me:-)
Fabulous Stencils for backgrounds
Do I need to color the Background?
Yes and No! Yeah I know, that's no help:-) I love making backgrounds on my pages. I think it brings the whole collage alive, so I always color my backgrounds. Over time I change my methods and as you would know , just like anything in this world there are trends.
Lately I use stencils by crafter's workshop and spray color washes by Ranger. I usually buy the most intricate stencils and make my own simple ones. The color washes come in some wonderful colors, and can be great fun choosing from.What I do is lay down the stencil on the page, with some of it off the page and then spray it with the color washes. I usually use two or three colors at a time and then I dry them with my heat gun, after lifting off the stencil. I do that 4 or 5 times. This makes beautiful background pages.
There are also some amazing NEW spray inks out by Dylusions which I am told are amazing. Can't wait to try them.
I also love using Pan pastels, and I have just bought a fixitive, which is fabulous and means you can create layers without them smudging.
If you just want a very simple background, you could use watercolor crayons and spray water on them to activate the paint, or just use  good acrylic paints.
Whatever you use, don't stress out just get that color on the page.
Oh BTW, you can also leave the page white, but you will still need to add color to it later probably otherwise the page might look very flat.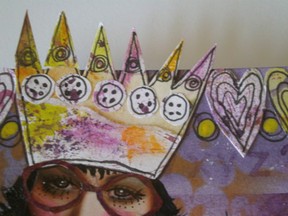 How to make a Journaling Collage Part 1
By Teesha Moore
Creating the collage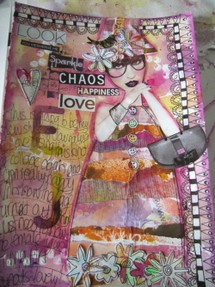 Creating the collage is the best fun. I find pages in  magazines that I like. Maybe they are of a woman. I would cut the head off  first. Then I would find a different body. It doesn't matter if the body is too small for the face. These things are what makes it really quirky and that's what you want. You need to be aware that these collages are only for personal use, as there is the copyright issue. However I like to change the images so much that they are unrecognisable.
I add new eyes or a new nose and change the mouth shape. I add hats or new hair and then I change all the clothes and add new legs and shoes. Just glue them together again and draw over them. Its great fun and easy too
How to make a Journaling Collage Part 2
By Teesha Moore
What Art Supplies do you use the most?
How To make a journaling collage part 3
By Teesha Moore
Finishing the collage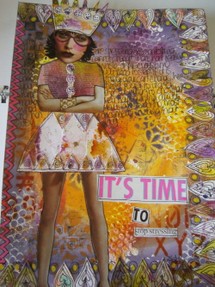 To finish the collage, it really depends on what you are using it for. In my Art Journal pages I add journaling or writing in some form. I sometimes add quotes to the page or my own thoughts. If you have difficulty journaling you could just add a list...for example....10 favorite places you love to go to or 5 items that are on your wishlist.
I also add some drawing and other cutouts for a border or in places on the background that is left clear. There are no rules with collage so just do what you want to do and have fun.
How to make a Journaling Collage part 4
By Teesha Moore
---
Disclosure: This page generates income for authors based on affiliate relationships with our partners, including Amazon, Google and others.