Cupcake Decor - The Sweetest Home Accents and Accesories
by Digby_Adams
You don't have to have a sweet tooth to love these cupcake inspired home accessories - clocks, salt and pepper shakers, placemats, coasters, and more!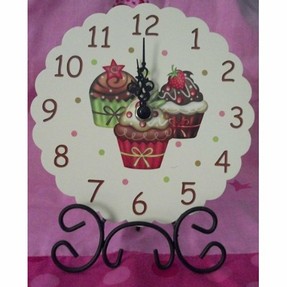 Cupcake decor is the most warmhearted interior design style that was ever created. One look at these delectible cupcake inspired home accessories and your mouth will start to water. The bright colors and fanciful designs remind me of carousel horses. The frosting and embellishments are beautiful and intricate. Whether you're decorating a small child's bedroom or playroom or your own kitchen, cupcake decor is guaranteed to bring a smile to your face!

I love fanciful design touches and I love making cupcakes so it's no surprise that I'm often given cupcake home accents as gifts. These cupcake clocks and towels, soap dispensers and coffee mugs bring a cheerfulness to the dreariest day.
Cupcake Clocks
It's always dessert time with one of these
I honestly wouldn't put more than a few cupcake decor accessories in a room at once. They are bright and ornate and should be used as focal points to surprise your guests. I love it when people sit down at my kitchen table for a bite to eat and then they see some unusual salt and pepper shakers or a quirky coffee mug. It brings an instant smile to their faces.

Coordinating your salt and pepper shakers with a theme is a fun way to decorate for an event. I'd love to put a cupcake salt and pepper shaker set out when I've got a book club coming over, and yes I'd serve cupcakes as a snack!

The second set shown to the right are perfect Christmas salt and pepper shakers when you want to be festive but don't necessarily want Santa and his raindeer on your dinner table. The cupcake with a peppermint in the center is a nice compromise. These type of unique and quirky functional items, are the perfect gift for people who have everything. Yes the probably already have salt and pepper shakers, but I bet they don't have cupcake salt and pepper shakers!

If one of your friends is a gardener and you want to give her a pick-me-up gift or a little Christmas present, she'll love the cupcakes decorated with flowers.
Cupcake Salt and Pepper Shakers
Add a little sweetness with your salt and pepper
Placemats are another way to add cupcake cheer to your kitchen decor. Sprinkie it around your entire home and patio with cupcake coasters. The worst curmudgeon will have to smile when they see these. Some of the cupcake placemats are even shaped like cupcakes.
Cupcake Placemats and Coasters
Spread cupcake cheer throughout your home
Cupcake Soap Dispensers
Colorful reminders that handwashing is important
Fill these colorful cupcake soap dispensers with your favorite handwash and put them in your bathroom and kitchen. They'll remind everyone in a nice way how important it is to have clean hands. You could even fill one with hand lotion and put it in your guestroom.

Cupcake decor is all about adding a whimical cheerfulness to your home. But it could become too sweet unless you balance it with other items. I actually would consider combining it with pink zebra print decor items. Especially black and white zebra stripes that are accented with pink. The soft bright cupcake decor shapes will be the perfect foil for the bold zebra pattern. Combine zebra stripes and cupcake decor in your little girl or baby room and you'll have a unique winning combination!

The cupcake lamps and nightlights are the perfect way to add light in a child's bedroom. They guarantee sweet dreams and happy thoughts.
Cupcake Lamps and Night Lights
Shine a little sweetness into a room
Adorable Hot Pink Strawberry Cupcake ...
SWITCHABLES SW-137 - CUPCAKE Stained ...

$38.95 $12.25

Sammy 8814-87 Cupcake Deliciousness T...
Good interior design is all about balancing colors and patterns and the size of items. But it's also about creating the feel of a room. I'm always thinking not only about how I want the people who live in our home to feel but about how the people who visit our home. I want them to remember their visits with us with a smile and warm feeling.

When we've got company coming for the weekend, I always try and have something baking in the oven when they arrive. It makes the house smell so warm and inviting. Offering them a warm and fresh-baked cookie is always a way to make them feel instantly at home. When they find a cupcake soap dispenser in the guest bathroom, they usally comment on it! It just relaxes them. And they enjoy their visit with us all the much more.

So if you want to make people smile and feel at home, add a cupcake or two to your home decor. At least these don't add any pounds!
You might also like
Covered Bridges
Covered bridges are great places to visit. They offer a glimpse into the pas...
Wall Murals
Wall Murals are the perfect solution to cover a very large blank wall or for ...
---
Disclosure: This page generates income for authors based on affiliate relationships with our partners, including Amazon, Google and others.