Discover Scuba Diving - A PADI diving program for beginners
by Hagenz
As part of the PADI program "Discover Scuba Diving" non-divers can participate in a trial dive in the open water.
Discover Scuba Diving - in a word DSD - is a trial program of the PADI Diving Federation. The PADI motto is "Dive Today", and this program is the perfect testimony of that. Here, absolute beginners can live - in a short period and with little effort - first experiences and impressions, and discover the adventure of diving in complete safety and with a lot of fun.
Conditions for participation
The PADI DSD program is aimed primarily at people, who
would simply like to try diving once, before they book a complete diving course. This enables them to see if diving is the right thing for them.
have no time or don't wish to attend a full diving course, and just want to dive once or twice with an instructor.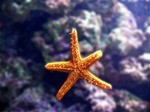 Discover the underwater world
The minimum age for participation in the DSD program is ten years. The upper age limit is open, as long as the participant is fit and healthy.
Discover Scuba Diving - Theory
The theory part of the DSD program is restricted to the essentials. Participants will be informed about the basic rules of diving, get to know the various components of the diving equipment and learn the basic safety rules; they can either watch a video, or an instructor will teach them using a flip chart.
The participants do not need to use any manuals or written materials. During a DSD program the active experience is paramount.
Discover Scuba Diving - Practice
The practical part of the DSD program is divided into two parts:
First, a practice dive takes place in the pool or in confined water. Here, the participants can familiarize with the diving equipment and experience for the first time how it feels to breathe underwater. Additionally, the instructor will demonstrate simple underwater exercises, which the participants will need to perform: for example, mask clearing, regulator recovery, octopus breathing and buoyancy skills.
In the second part, participants may dive together with a qualified instructor in the open water to a maximum depth of twelve meters. During this dive no exercises are carried out - the participants can simply relax, explore the underwater world and enjoy the sensation of weightlessness.
The PADI DSD program has many advantages
Participants can enjoy their first diving experiences and find out if they feel comfortable under water.
The DSD program is not a diving course - this avoids any pressure and emphasizes on the active diving experience. The fun factor is - after safety - in the first place.
If after participating in the DSD program you decide to join a PADI diving course, the DSD module will be deducted from the course - this saves time and money.
Related links about Scuba diving
---
Disclosure: This page generates income for authors based on affiliate relationships with our partners, including Amazon, Google and others.