Easter Basket Cupcakes
by WebWriter
How to make a cupcake look like a miniature Easter Basket.
Cupcake Easter Baskets
Cupcake Easter Baskets are decorative edible cupcakes made to look like miniature Easter baskets filled with candy. This recipe is a fun cooking project for kids to make too. Cupcake Easter baskets are the perfect desserts for Easter parties or an Easter brunch or dinner. Another use for these cute cupcake Easter baskets is to use a decorating gel to write names on them and then use for place settings. This is the perfect treat to leave for the Easter bunny too.  
What You Need To Make Easter Basket Cupcakes
1 package of white cake mix
White frosting
12 Pieces of string licorice or pipe cleaners
1 1/2 cups Shredded coconut
Jelly beans or any egg shaped candy, such as pastel M & M's or chocolate egg shaped Whoppers.
Green food coloring, or food coloring of your choice (pink and purple look nice too)
12 Cupcake liners
1 Cupcake pan
Optional: 12 Miniture chocolate Easter bunnies or 12 marshmallow Peeps
Optional: Decorative ribbon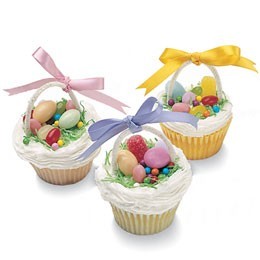 Easter Basket Cupcakes
Easter Basket Cupcake Directions
Bake 12 cupcakes according to the directions on the cake mix package.
After the cupcakes cool, frost each cupcake with white cake frosting. 
To make the grass for the Easter basket, add a few drops of green food coloring to the coconut; mix well. Cover the top of each cupcake with the green coconut. Cover the cupcake with the coconut so that the white frosting is not showing.
Place 3-5 jelly beans on top of each cupcake. Arrange the jelly beans on top of the coconut and gently press them down so that they stick to the frosting and wont roll off the cupcake. 
To make the Easter basket handle, make an arch with the string licorice, or the pipe cleaner, by inserting it into each side of the cupcake.
Serves 12 (1 cupcake each person)
Easter Basket Cupcake Variations
Optional Ideas for Easter Basket Cupcakes
If you used pipe cleaners instead of licorice, tie a small bow in the middle of the pipe cleaner. You could also add some curling ribbon instead of a bow.
Use different colors of food coloring, such as pink or purple, to create different colors of grass (coconut).
In place of jelly beans, use other egg shaped candies, such as the pastel M&M's or chocolate egg shaped Whoppers.
Add a miniture chocolate bunny on top of each cupcake.
Add a marshmellow Peeps on top of each cupcake.
Wrap each cupcake in a clear cello bag, add a colorful bow and as gifts.
Use as place settings for an Easter party.
Instead of making 12 small Easter basket cupcakes, make on big Easter basket cupcake (Use a pan like the ones from Amazon picture on the right)
Make One Big Easter Basket Cupcake!
---
Disclosure: This page generates income for authors based on affiliate relationships with our partners, including Amazon, Google and others.