Easter Egg Bread
by candy47
Easter Egg Bread made using store bought frozen bread dough. It's fast and easy!
An Italian Tradition
Brightly colored hard boiled eggs are synonymous with Easter, placed alongside neon yellow marshmallow peeps and chocolate bunnies in a basket dropped off by the Easter Bunny.  Along with all that sweetness and whimsy, Easter is also celebrated by preparing foods specific to the holiday with the food having special meaning.  Easter marks the end of fasting during Lent and the birth of Jesus.

In many Italian households you will find Easter Egg Bread at the Easter dinner table representing the breaking of bread with friends and family, while the eggs represent the birth of Jesus.

To make this bread I use store bought frozen bread dough.  It's easy, inexpensive, convenient and travels well if you've been invited to dinner.
All photos by the author
Things You'll Need
The Basics
1 lb. loaf frozen bread dough
4 partially hard boiled eggs (they'll continue cooking in the oven)

Easter egg coloring kit

white vinegar (for coloring the eggs)

vegetable shortening
9" round cake pan
Steps to a Successful Easter Egg Bread
Par- boil 4 eggs for about 5 or 6 minutes then remove from heat and allow to cool before coloring.
Grease a container and your frozen bread dough with vegetable shortening. Place the loaf, still frozen, into the container. Cover with plastic wrap and allow to defrost at room temperature. About 4 hours.  This would be a good time to color the completely cooled eggs.
When the dough has defrosted, divide it into 3 sections..
 4.  Roll each section into a rope approximately 16" long. Precision isn't very important, you can     either cut a little off if it's too long or roll the rope to make it longer. No matter how you slice it, it's still a one pound loaf and it all gets baked together as one.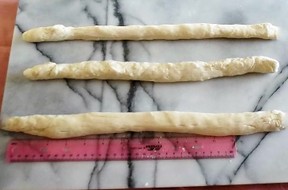 5. Join one end of each to the others then 'glue' the ends together with a little water. Braid the dough, one rope over the other as shown.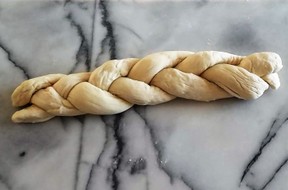 6. Form the braid into a circle and close the ends with a little more water. Place the ring into an ungreased 9" cake pan. Cover with plastic wrap and let rise for 30 minutes.
7. After 30 minutes, gently tuck eggs into the braid. Cover with plastic wrap and let rise another 30 minutes. (You can tuck the eggs in before rising, but I find the dough is easier to manipulate when it has risen a little.) The dough will continue rising around the eggs, securing them in place.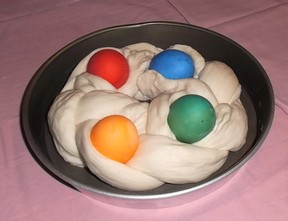 8. Preheat oven to 350 degrees. Remove plastic wrap and bake 35 - 40 minutes, or until golden brown.

     Some Tips to Remember:
Be sure to use vinegar when coloring the eggs to prevent the dye from running during baking.
Although you can color raw eggs and put them into the dough, it isn't a good idea for this recipe.  If the raw egg cracks in the oven, you will have runny yolk and egg whites all over your bread.  I try to avoid that!
All Your Supplies
Available at Amazon!
---
Disclosure: This page generates income for authors based on affiliate relationships with our partners, including Amazon, Google and others.