Focaccia Bread Recipe - The Real Thing!
by chefkeem
Step-by-step video instructions of a focaccia bread recipe that will make you very happy. Handmade artisan bread with a beautiful crust - and so easy to make!
The best focaccia bread recipe ever!
Moist, flavorful, satisfying, and easy to make.
This is simply the best bread I've ever eaten, made from my friend George's famous focaccia bread recipe. It will take a few hours to develop the dough, but the actual work involved is rather minimal. You can easily get a day's work done, while you're waiting for the bread dough to do its own thing.
You see, bread dough is a living entity, and one secret to achieving its fullest potential is, well, time. Bacteria need time to grow, gases need time to expand (and provide structure), flavors need time to develop. 
But who has time? Well, if you're not willing to spend a little time on the preparation of truly divine food, you'll just have to do with grocery store quality. However, George has developed a method that requires planning, rather than time. If you want to eat superior focaccia for supper, you'll do the first steps in the morning, and then a few more steps throughout the day. So, if you don't work from home...think weekend.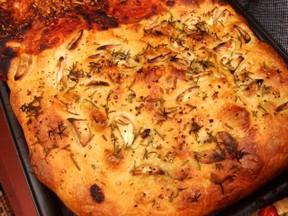 The end-product of George's focaccia bread recipe is definitely comparable to artisan loaves that have been prepared over the course of several days. (A good sourdough starter needs a long time!)
Another secret to this unbelievable focaccia bread is the use of Kanne bread drink, which is a sourdough extract from Germany. Unfortunately, it is currently not available for sale in the US. You may use kombucha or simply water, instead. I had great results with the full recipe amount of liquids in water.
Now, go ahead and watch these four videos of George Eckrich's informal focaccia master class. I had the great pleasure (and honor) to shoot this video course at his house in Austin, Texas. George is a co-founder of the Dr. Kracker flatbread bakery. He is a very kind and generous man, and you will learn a lot about bread baking by watching the master at work...
The correct flour for your focaccia bread
and a dough scraper you've always wanted (amazing product!)
Bread baking glossary
A closer look at specific terms
Preferment
Also called pre-dough, poolish, or biga (Italian breads); a mixture of flour, water and yeast that is prepared and fermented before the actual bread dough in order to help with rise, texture and flavor quality of the finished product.
Dried yeast
George says: "Dried yeast has almost completely replaced fresh or cake yeast for the home baker. Years ago, dried yeast required re-hydrating before mixing, and the home baker had to take great care to use the correct temperature of water so as not to kill the yeast. These days, most dried yeast does not have to be hydrated, and it is best to follow the directions on the package. Frankly, even when the package says to mix directly into the flour and water, I always make a small poolish or slurry to dissolve the yeast and to make certain that the yeast is active. I make this slurry first thing while I am organizing the kitchen and all my ingredients, and this mix is generally ready to go after 10 or 15 minutes."
Kombucha
Kombucha is a fermented tea product which contains acetic acid bacteria and yeast. It is widely available in grocery stores and health food outlets, and it comes in a large variety of flavors.
A gorgeous focaccia poster for your kitchen
You probably can smell the aroma...
Focaccia bread recipe
Ingredients and amounts
Preferment
1 3/4 cups water (about 80 degrees)
1/4 cup bread drink, or kombucha, or water
2 cups bread flour
1/4 cup spelt flour
1 package dry yeast
1 Tblsp sugar
Mix together, cover, set aside for 5-6 hours
Bread dough
1 cup water (about 80 degrees)
3 cups flour

1 package dry yeast

1 Tblsp sea salt

1 Tblsp sugar
PLUS preferment
Prepare the dough and mix it as described in the video...100 spoon beats!
Then follow George's instructions for folding and resting; bake in a 500 degree oven for 18 minutes, then 5 minutes at 350 degrees.
Now go wild with your toppings and eat the whole thing in one setting.
That's what I do.
---
Disclosure: This page generates income for authors based on affiliate relationships with our partners, including Amazon, Google and others.