The Best Electric Go Kart for Kids? Five Top Choices
by WillApse
This page is about the best electric go karts for kids that are fun, safe and durable- and won't drive you or your neighbors crazy...
Electric go karts have plenty of advantages over their gas cousins. They are quiet. They don't smell bad. They start without issues. Best of all, perhaps, you will not need to worry too much about maintenance.
Once you are sure electric is best, you need to be sure to buy the right model for the surface your kids most want to play on. Some karts are great on smooth, flat surfaces but stall on grass. Some will have no problems with grass but are not so speedy- or comfortable- on hard surfaces.
Also-
A good vehicle should run for about 45 minutes on a single charge.
The brake will stop the kart in a couple of meters
There should be no chance of the kart turning over
Razor Ground Force Electric Go-Kart
This is pretty close to a real go-kart. It is low on the ground and has small wheels so you need a smooth flat surface to get the best from it.
In a parking lot it will speed around at 12 mph, corner sharply without becoming unstable and allow for very fancy figure of eights. On a smooth side walk it it will give a good ride but it doesn't cope so well with grass, ruts or bumps.
If you are used to electric toys like Power Wheels or Peg Perego you could be surprised just how much faster this is, so you need to be sure your child is ready for the speed. It is aimed at kids of 8 years and above and that seems a good guide. They will be too fast for most 5 or 6 year olds.
Not recommended for grass or rough terrain.
It has two 12v batteries giving 45 minutes on a charge.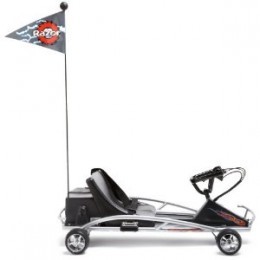 groundforce
Razor Dune Buggy- happy on grass!
This will handle some rough terrain at up to 9 mph with a powerful high torque 350 watt electric motor.
The 8 inch, knobby pneumatic tires give good trip as it conquers grass, mud and sand, The terrain following suspension means you won't get a spine jarring ride.

This is good choice for a big backyard as well as beaches. Parents often buy these for children of 6 or 7 years old.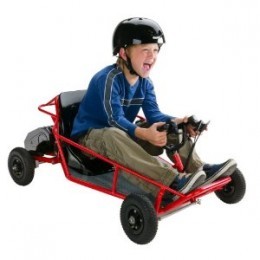 Dune Buggy, for rougher terrain
Razor Dune Buggy

Active rear suspension, tires with great grip- kids can master sand and dirt with this machine ...

$579.99 $399.52
Dirt QuadRazor Dirt Quad- purpose made for off-road
FunThis will handle even tougher terrain than the dune buggy. It is a miniature quad bike that loves hills, ditches and water.
It is the high-torque drive train and built-in torque reducer that delivers the remarkable off-road and climbing capabilities when coupled with large pneumatic tires.

Shatter-resistant plastic fairings on a tubular steel frame mean strength and durability- though be warned this vehicle is pretty heavy, you will need two strong people to lift it.
It can reach 9 mph.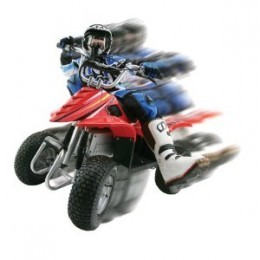 offroad funster
DrifterRazor Ground Force Drifter Kart
Some people complain about the tires shredding on this model which is why it is well down this list.

It is designed to race and drifting is part of that. If drifting shreds the tires you have to ask if Razor got this model right.
Having said that, plenty of people buy them and some people love them- perhaps they have a good surface for racing. You should make your own decision.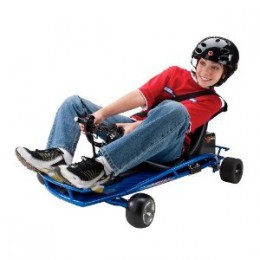 Drifter
Razor Ground Force Drifter Kart

Based on the original Ground Force Razor brings you the new Ground Force Drifter the electric powered drifter kart. From fun zones to pro tracks, go-kart racing is a staple of ...

Only $499.99
EZ Riders Superhero Stealth- For KIds of 3 to 5 years old
EZ Rider are well known for their scooters and karts aimed at younger kids. This little go kart has a top speed of 2 mph on a 6v motor.

The weight limit is 88 lbs so this is not for Uncle Albert to steal a ride.
---
Disclosure: This page generates income for authors based on affiliate relationships with our partners, including Amazon, Google and others.