Energy Saving Outlet
by nyfamily5
Energy saving outlets allow you to reduce your energy consumption and also save on your electric bill.
Energy Saving Outlet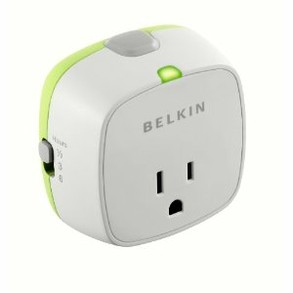 Energy Saving Outlet
Save Energy - Save Money
Saving energy also means saving money on your electric bill and these energy saving outlets help not only save electricity and money they increase the life of any batteries that you are charging by not over charging your batteries.  Overcharging any battery shortens the battery life and reduces a chance of a fire.
With a touch of a button you can select the time to charge your device, 30 minutes, 3 hours and 6 hours and they automatically will turn off stopping any standby energy that is not only wasted by costly as well. This is a simple and inexpensive way to conserve energy in your home.
Simple To Use Energy Saving Outlets
These energy saving outlets are simple to use.  Simply plug the outlet in your existing outlet and push the button to set the time you want to charge your electrical device and the outlet will simply shut off after the designated time.
Recommended Charging Times
There are specific recommended charging times for certain types of devices for instance
30 Minute Charging Time  Is recommended by the maunfacturers for hot coil items, such as hair straighteners, cloths irons, soldering irons, toaster ovens, coffee makers, and fans.

3 Hour Charging Time is recommended by the manufacturer for Mobile Electronic Chargers, such as cell phones, MP3 players and digital cameras

6 Hour Charging Time is recommended by the instructions for Large Cordless Chargers, such as for handheld vacuum cleaners and cordless drills
Charging Times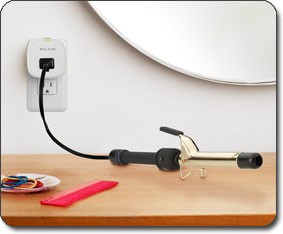 Charging Times
Energy Saving Outlet-Not Just Charging!!
Not only is a energy saving outlet beneficial for charging your devices, these handy little gadgets are great for turning off heaters or fans, turning off the TV and lights at night or just about any electrical device that does not need to be in constant use.
Electrical gizmos and gadgets that are continually plugged in draw precious energy even if they are turned off.  The energy saving outlet eliminates any standby electricity to those devices..
Top Rated Energy Saving Outlet
The top rated energy saving outlet is the Belkin Conserve Socket, Energy-Saving Outlet which is top rated by you, the consumer.
Meeting today's needs for conserving energy at an affordable price.
Belkin Conserve Socket

Belkin Conserve Socket
Easy Ways To Conserve Energy
In The Home
There are many ways that we can all conserve energy in the home every day with little effort.
Turning the lights off when we leave a room
Unplug appliances or lights that you do not use or use an energy saving outlet
Use remote control power strips to power down your computer
Use energy efficient bulbs, such as LED
Make sure your weather striping or caulking is sealed
Keep air conditioning filters clean
---
Disclosure: This page generates income for authors based on affiliate relationships with our partners, including Amazon, Google and others.